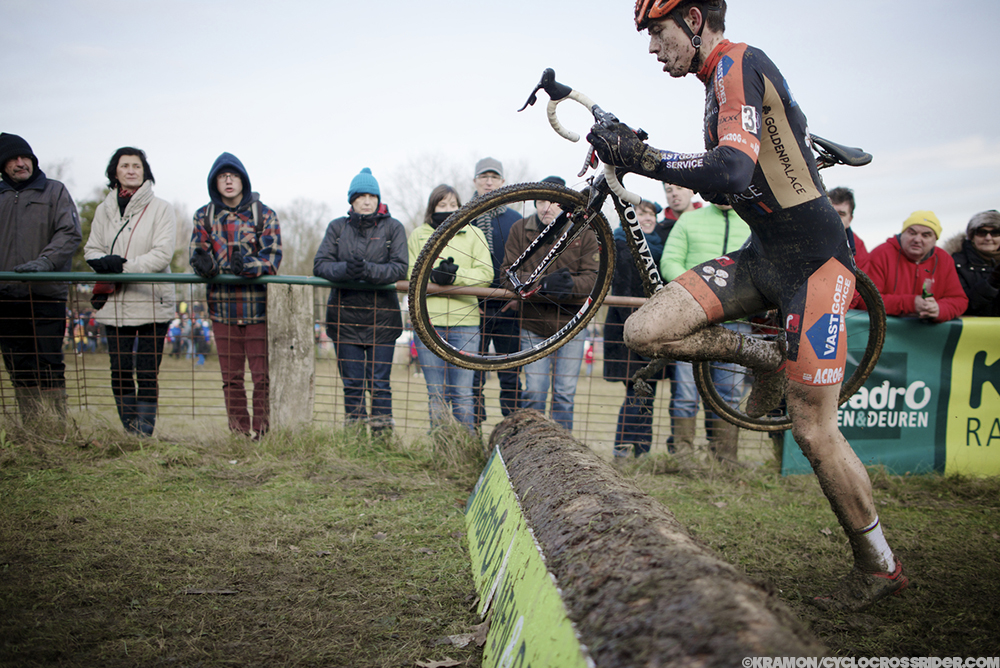 Van Aert the favourite for elite Belgian title

ON the back of his stella performances this season and particularly during the Christmas period, twenty-year-old Wout Van Aert (above) goes into the Belgian National as favourite and perhaps only Kevin Pauwels or Tom Meeusen (both in action below) can possibly beat the youngster in Erpe-Mere.
Defending champion Sven Nys and 2013 champion Klaas Vantornout are reduced to outsiders. Other names who should be up near the front are Rob Peeters, who may well try to ride with team mate Van Aert in the early stages, and in-form Gianni Vermeersch - both these riders were named by Sven Nys as podium candidates along with himself. Although Erpe-Mere is a flattish course it does have a couple of steep wooded run-ups, several bridges and an always boggy woodland section and will be a true championship test at this time of the season.
World Under-23 champion Van Aert did not pre-ride the course this week, but his team 'mentor' Niels Albert did check it out and recorded it on film for him.
"Through the video I am well briefed," said Van Aert. "I know what I need to know and the course pleases me. It's heavy, but that means that the best will win - that's what I prefer. It also ensures that you as a rider can more easily accept a possible defeat. A more tactical race can be less of a true race. These conditions put me in a good mood."

Heavy course
It's now accepted that it's going to be 'heavy' on Sunday with some sections of running and the debate has mainly centred on exactly how much will have to be run. Earlier in the week even, the conditions even led to one maize field section being removed from the course. Kevin Pauwels has already declared it to be "not my kind of course" but is still realistically in with a chance of victory or certainly a medal.
Continuous heavy rain throughout Thursday has forced the course director to make further small modifications to the Erpe-Mere lap. One meadow section, that includes the barriers, will not be included in Saturday's races so that it's condition can be preserved for the main races on Sunday. Even the heavy rain on Saturday afternoon led to an 80 metre wet section of the course being removed for the women's race on Sunday - it will be used by the Under-23 men and Elite men.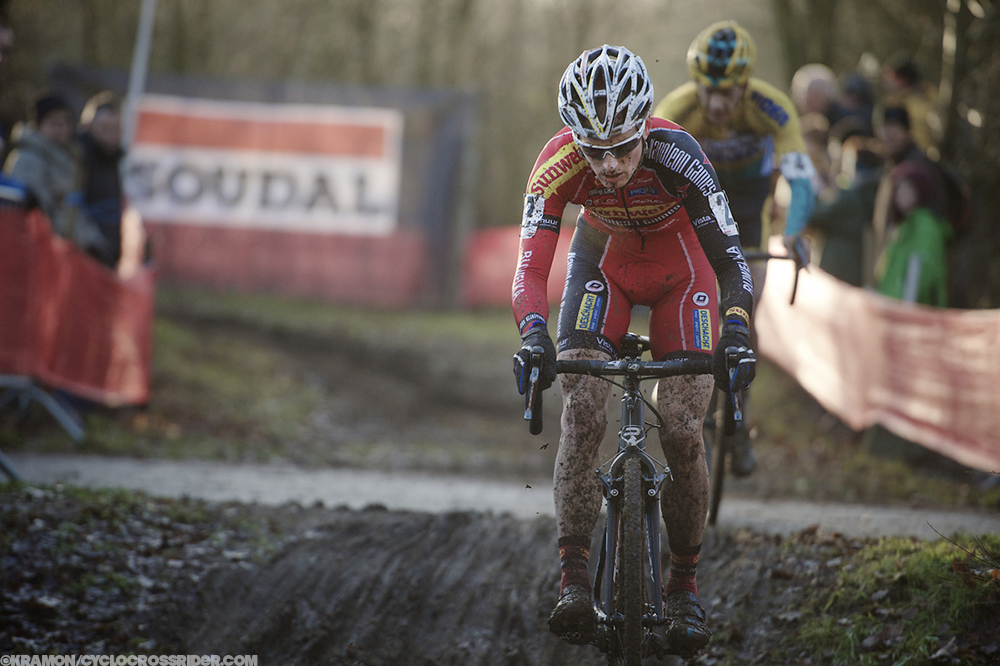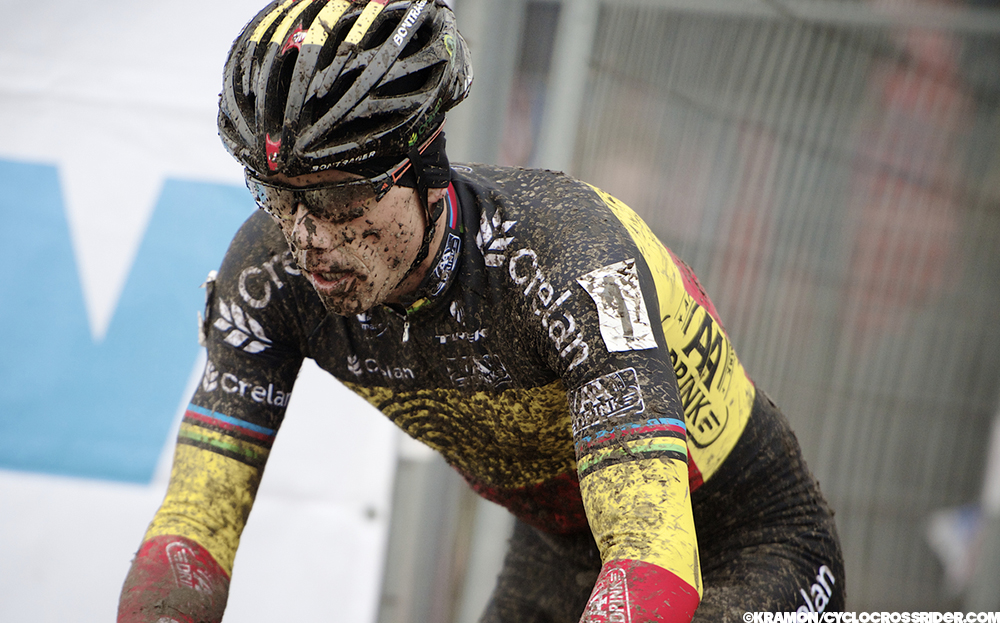 Sven Nys is only an outsider to retain his Belgian driekleur jersey.
Youngest-ever champion?
If Van Aert were to win his first-ever national title (at any age category) on Sunday he would become the youngest post-War senior champion - younger than Erik De Vlaeminck was when winning the first of his four titles in 1967. We have a profile of Wout Van Aert and the World Championship dilemma he also faces here.
Laurens Sweeck starts as favourite in the Under-23 race with Van Aert having chosen to move up and the Elite women's race should be an exciting and close battle between defending champion Sanne Cant and Ellen Van Loy.
The Belgian men's 'cross title was first competed for in 1910 and the winner Philippe Thys who went onto win the 1914 Tour de France. We remember Philippe Thys here.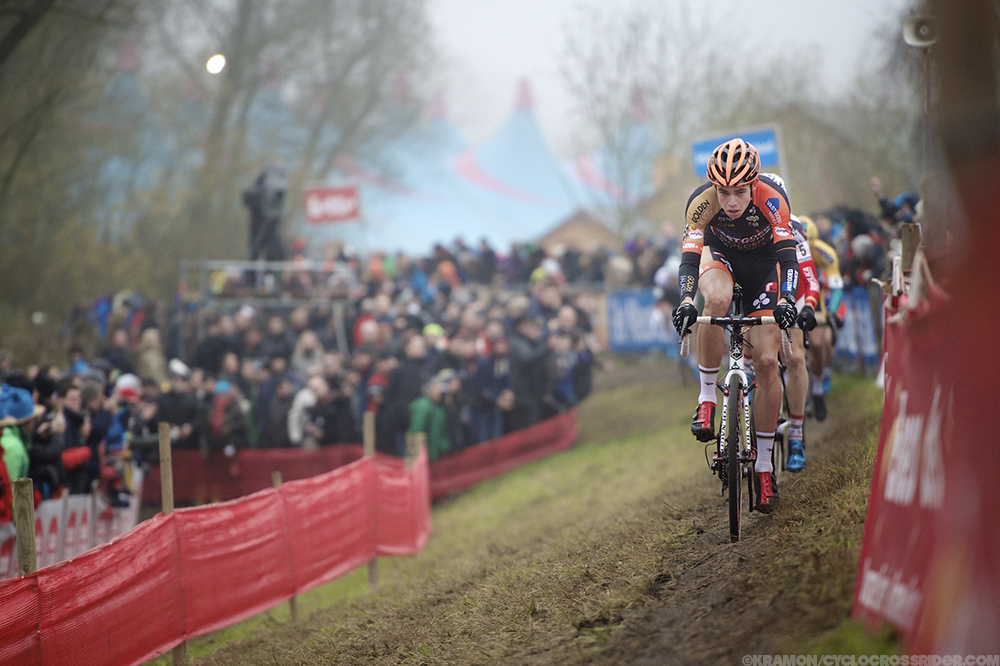 The course
Paul Herygers calls Erpe-Mere an "old school course" and says more rain (which fell throughout Thursday) will 'improve' conditions which on Wednesday were sticky. His Sporza course preview (from earlier in the week) is here.
After strong winds on Friday evening, the course was hit by another band of heavy rain on Saturday afternoon during the Junior men's race won by Eli Iserbyt.

Reigning 2014 Belgian national champions

Elite men: Sven Nys
Elite women: Sanne Cant
Under-23 men: Jens Adams
Junior men: Eli Iserbyt
BELGIAN NATIONAL CHAMPS (BK), Erpe-Mere
Saturday January 10th
12.00: Nieuwelingen 1e jaars (30 min)
13.30: Nieuwelingen 2e jaars (30 min)
15.00: Junior men (40 min).
Sunday January 11th
11.00: Under-23 men (50 min)
13.30: Elite women (40 min) & Young women (30 min)
15.00: Elite men & without contract (60 min)
Venue: Domein Steenberg, Oudenaardsesteenweg, Erpe-Mere. Parking details here
Main photos: ©kramon/cyclocrossrider.com

We have reporters and photographers in Erpe-Mere this weekend so we hope to have some great coverage for you after the racing. We may also be adding more items of interest to this page (below) as the weekend goes on so please check back.
Updates from Erpe-Mere
Saturday morning: Here's how parts of the course looked on Saturday morning (via Sporza).
Saturday 15.21: The course after heavy rain fell during Saturday afternoon.
January 10, 2015
Saturday 16.07: Eli Iserbyt retains his Junior men's title in the rain.
Mudface @IserbytEli #bkErpeMere pic.twitter.com/luI3I95hSY

— Renaat Schotte (@wielerman) January 10, 2015
Driekleur voor @IserbytEli op #bkveldrijden #bkerpemere http://t.co/nv15KnHRRb pic.twitter.com/bRAxKaHS6l

— sportbe (@sportbe) January 10, 2015
Tomorrow is the moment of truth #bkerpemere #cyclocrossnationals @CYCLOCROSSRIDER @wielerman http://t.co/VwFrjfEPYb pic.twitter.com/pCVACQBvrL

— Merel Reyntjens (@Merel_GP) January 10, 2015
Sunday 09.50: No rain this morning but conditions are definitely heavy.
Modder pic.twitter.com/sXlqKOPTY7

— Start-box Live (@startboxive) January 11, 2015