Full TV Coverage of both main races...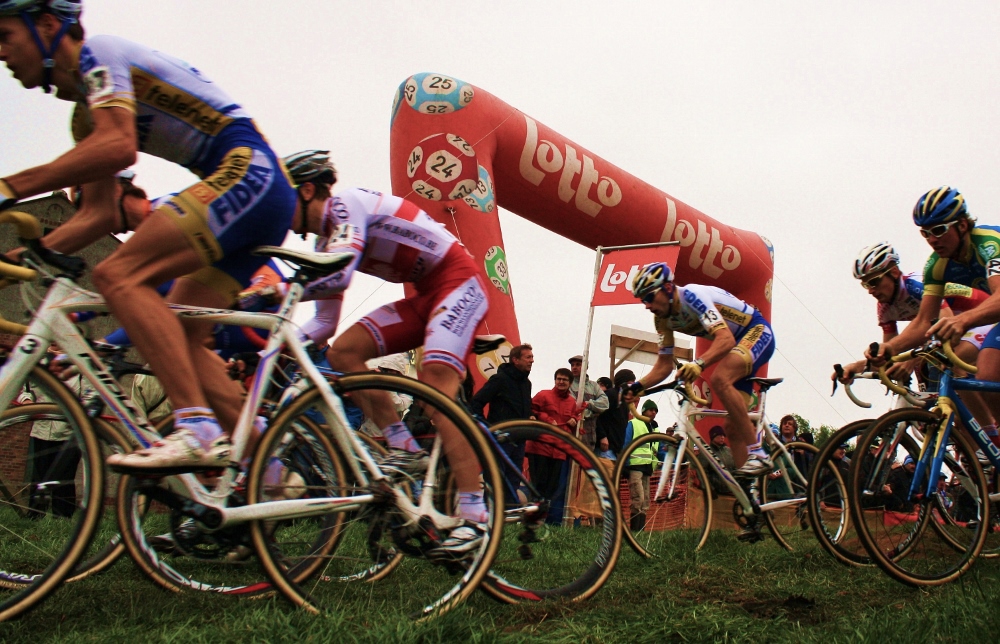 Ronse is a rough, traditional farmland course with thick strength-sapping grass and big climbs.
FLEMISH national broadcasters will go some way to placating their many cyclocross fans on Sunday when they will broadcast the elite women's Trofee race from Ronse as well as the men's. Many Flemish fans were all of a fluster last Sunday when most had to resort to 'second-party' online livestreams when live coverage of the opening round of the Superprestige was dropped from national television (see our article here).
The broadcasting confusion for the Flemish (and Dutch) is set to continue for the whole of the season as some big races are broadcast nationally whilst many move to a digital channel from Telenet.

Dutchwoman Sophie de Boer won in Ronse last year after a close battle with British champion Helen Wyman. The women's race starts at 13.45 local time.
Sven Nys won the men's race in 2014 as this season's dominant rider Wout Van Aert – newly recovered from a broken collarbone - could only finish seventh nearly two minutes behind, but Van Aert went on to win the series easily.
No Stybar this season
Behind Van Aert in 2014 was former World champion Zdenek Stybar finishing in eighth place before crashing and breaking one of his collarbones in Ardooie just four days later. That was the end of World champion Stybi's brief 2014-15 'cross season. Stybar's Etixx-Quick Step team announced recently that the Czech star would not be racing top level cyclocross this winter.
The injury to Mathieu van der Poel and Stybar's absence leaves the way open for the Belgian's to dominate Ronse – only Dutchman Lars van der Haar can perhaps spoil the party and Ronse is a course that does not suit him too well. All the big names will be bringing their 'A-game' to the Hotondberg hillside so expect to see a good old battle between Nys, Van Aert, Pauwels and Vantornout no doubt spurred on by the debate in the Belgian press this week (see our article here).
Tom Meeusen won last season's Trofee Sprint classification based on points gained at the timing point on the second lap and although Ronse is not his kind of course he will be looking to race well after a disappointing start to the season.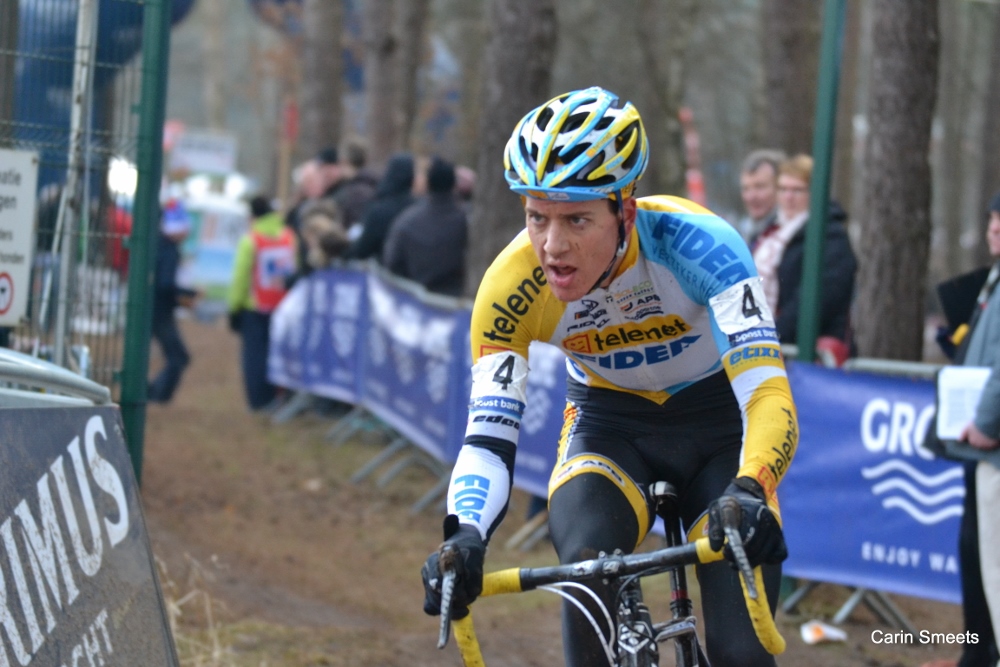 Telenet-Fidea will be hoping to see more from Tom Meeusen - winner of last season's Trofee Sprint classification.

Good humoured Walsleben
Another rider who will be fired up is former German champion Philipp Walsleben who took the MC to task over his questions at the Trofee press conference-cum-launch this week. The man on the mic asked a Belgian rider which big races he was looking to win this season and then right afterwards asked Walsleben which races he thought that he might do "OK" in. Walsleben dealt with it well and showed the good humour that he demonstrates to viewers on big race start lines when he is one of the few riders who smiles to camera.
Last season Van Aert won the time-based Trofee by a clear margin (6 minutes and 17 seconds) and after winning the opening rounds of the UCI World Cup and Superprestige series already this season, a win for the so far unbeaten Van Aert on Sunday would accelerate the debate about whether the 21-year-old can win cyclocross' Triple Crown.
Start times (all CEST)
10:00 Nieuwelingen
11:00 Junior men
12:00 Under-23 men
13:45 Elite women
15:00 Elite men
2014: Trofee in Ronse here
2014: TV re-run