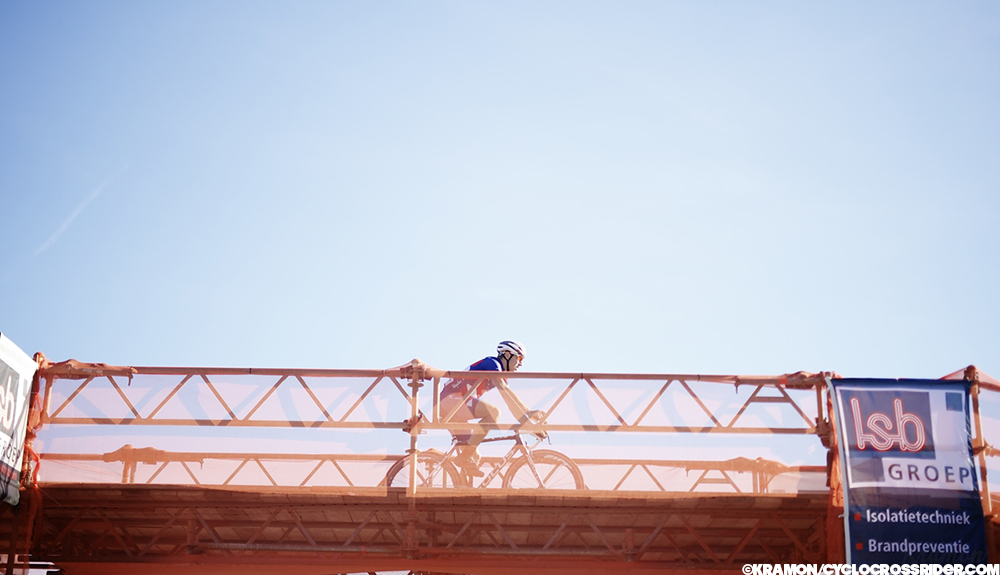 IT'S World Cup week (or fortnight) and the excitement is building up to the second round in Koksijde on Saturday (November 22nd) closely followed by the historic third round in Milton Keynes, England (on November 29th). That means the return to Europe of a number of transatlantic, globetrotting travellers.
American champion Jeremy Powers left the USA on Monday to travel via London for the second of his four racing spells in Europe. The popular American achieved his goal of a top ten finish in the opening round in Valkenburg (above) and he returns to Europe with a total of ten UCI wins to his credit so far this season.
The grassy Milton Keynes course that may favour him (Powers) more
This will ensure a second row start for Powers in Koksijde as he sits 12th on the UCI World rankings. Powers has only raced in the Koksijde sand once - placing 32nd in 2011 - and it is perhaps the grassy Milton Keynes course that may favour him more when he races in the UK – home of his title sponsor Rapha – for the first time.
Jeremy arrives in Europe off the back of two UCI C1 wins this month: in the snow of Jingle Cross on November 15; and at the Cincy3 weekend on November 1st. Our big pre-season interview with Powers is here and a pre-Valkenburg chat here.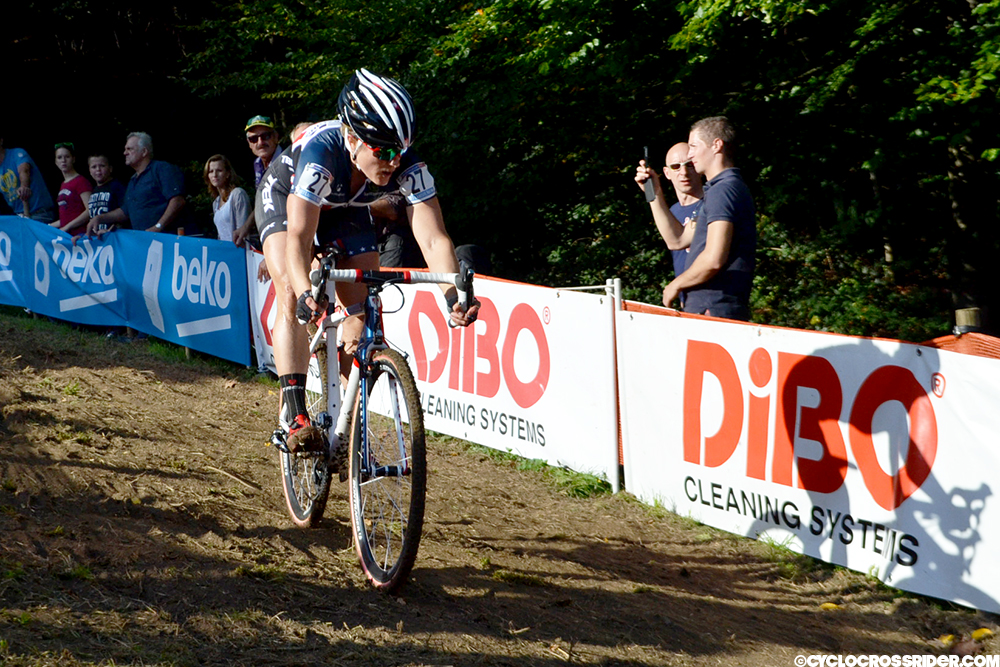 The American women's champion Katie Compton (above & main photo) has also been back stateside and won the first-ever Pan-American Championship on November 2nd. Compton has however not raced since and will come into Koksijde perhaps missing a little bit of an edge after illness has kept her from racing.
Compton will soon be back at her European base near Kalmthout with the nearby sandy 'Kalmthoutse Heide' heath to train on ahead of Saturday's race in Koksijde. Compton won the first World Cup round in Valkenburg and has won on three occasions in Koksijde (2013, 2012 and 2010) – beating Sanne Cant and Nikki Harris twelve months ago. Compton's big rival World champion Marianne Vos, who is currently training and racing in South Africa, is not expected to race 'cross until December - despite being on the Koksijde entry list.
America will also be represented by Belgian-based Elle Anderson (below), the national silver medallist, who returned to racing from a bout of illness to finish 8th in Gavere last weekend (but bruised her back in the process). Anderson impressed everyone with a fifth placings in Gieten, Ronse and Valkenburg, but got sick after the Koppenbergcross.
Cyclocrossrider Strava Club member
Elle, who is a member of the Cyclocrossrider Strava Club (join here), told followers on Strava, "I was so glad to be back at the races and the course was epic. Just the kind of European mud I came here for! After being sick for nearly three weeks, and still not 100%, I was fairly pleased with 8th place. A World Cup is up next!" Elle told us at the beginning of the season how much it meant to her to be following in the footsteps of the late Amy Dombroski here.
Compton and Anderson will be joined in Koksijde by compatriots: Meredith Miller (winner of CrossVegas); Crystal Anthony and Rachel Lloyd.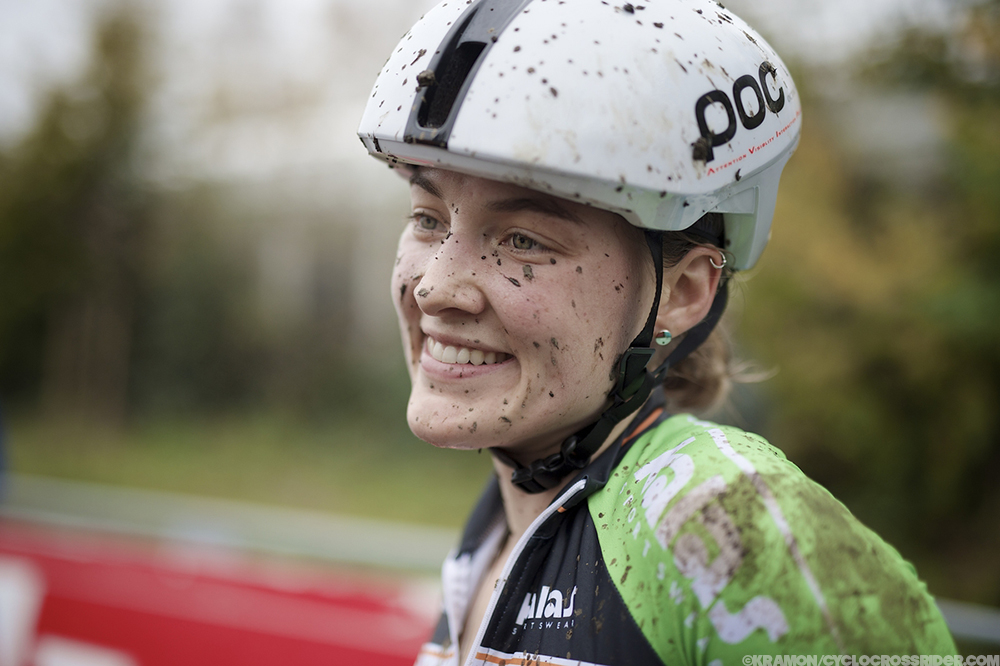 Four-time American elite champion Jonathan Page has been racing in Europe since early October and travelling to Switzerland to race the new EKZ CrossTour races as well as some of the big Belgian races. With a number of top ten placings in America, the 38-year-old will be looking to recapture that early season form especially after his early mechanical meant a lowly placing in Valkenburg. Allen Krughoff and Jeremy Durrin will be the other two American elite men in Koksijde.
The Durrin Diary coming soon
Gabby and Jeremy Durrin (as implied above) are also on their way to Europe after starting their season in the States. We'll have an interview with the Anglo-American couple from Neon Velo about their season so far on the site this week.
A development group of American junior and Under-23 riders are also travelling to Europe for two weeks as Koksijde does have non-World Cup races for those categories.
Great Britain will not send a national team to Koksijde, but have a full compliment of 16 riders in Milton Keynes. Ian Field, Nikki Harris, Helen Wyman, Gabby Durrin and Hannah Payton will race in Koksijde for their trade teams in the World Cup events. Wyman comes into Saturday's race after a spell of training in Spain and did not race in Asper-Gavere.
Just a reminder that Katie Compton will appear with Sven Nys at the Trek Store in Milton Keynes on the evening before the World Cup. We understand that there are still a few free tickets available – full details here.
Sven Nys Clothing, in partnership with Cyclocrossrider, will have a stand in the Expo Village at the Milton Keynes World Cup on November 28-30th. We'll be selling a selection of Official Sven Nys and Crelan-AA Drink team clothing and some Limited Edition Cyclocrossrider items. Full details here.