NETHERLANDS: Van der Poel dethrones Lars as Vos wins fifth
IF Belgian riders and fans thought that conditions in Erpe-Mere were severe then the Dutch Championships in Veldhoven served up a course that was even muddier. By the time of the elite men's race practically half of the course was unrideable and running ability became a big factor.
Nineteen-year-old Mathieu van der Poel had chosen to race in the elite race instead of defending his Under-23 title and his decision was justified when he took the title away from two-time champion Lars van der Haar. David, the older Van der Poel brother took the silver medal with Van der Haar down in third place, but neither were close to the new champion.
"I'd hoped to compete for the title and had counted on a fight with Lars and David. I knew I had an edge over this tough course though," Mathieu said afterwards. Asked which race he might race in Tabor, Van der Poel said, "I feel at home with the elite."
It's understood that Mathieu's World championship winning father Adri would have preferred him to race Under-23 in Veldhoven, but the victory was enough for them to announce soon afterwards that he would race elite in Tabor (once the UCI had accepted his request to move up).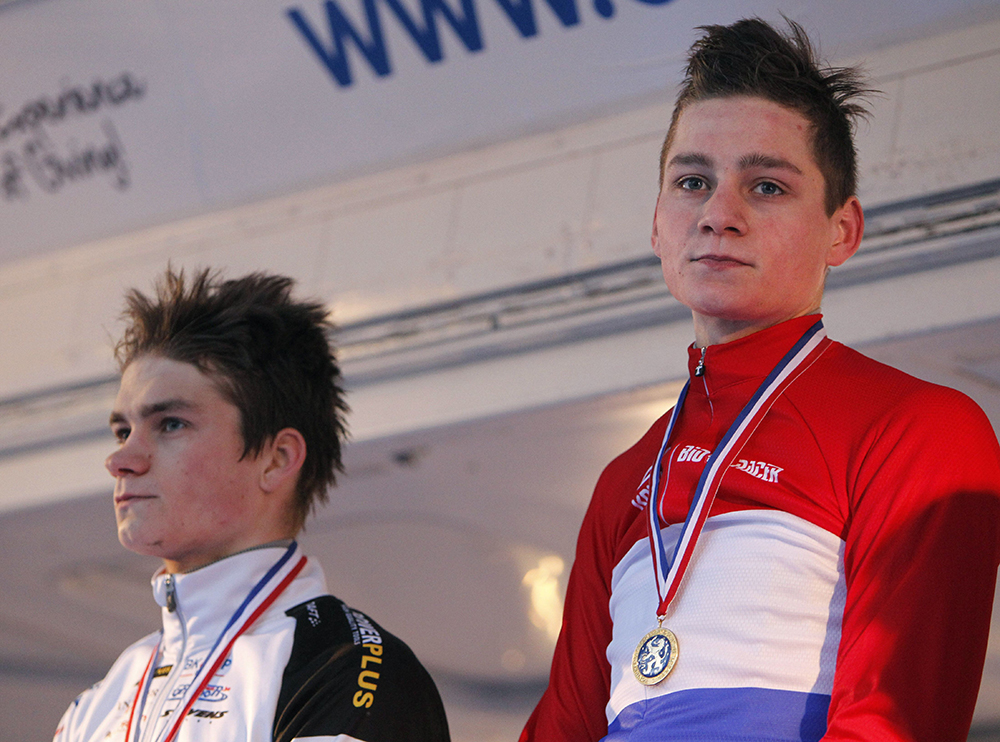 World champion Marianne Vos claimed her fifth national 'cross title in a row. Vos rode solo after the first lap and the rest were left to battle for silver and bronze. That contest was won by Sophie de Boer after Sabrina Stultiens had to fight back from tenth place after a early incident on the slippery course.
"I did not have a good start and when turning on the grass I made a 180 degrees pirouette and was down in tenth position. Marianne meanwhile had flown," Stultiens said afterwards.
Highlights of the men's race here from NOS
Results: Elite men: 1. Mathieu van der Poel 2. David van der Poel 3. Lars van der Haar 4. Twan van den Brand 5. Niels Wubben 6. Patrick van Leeuwen 7. Corne van Kessel 8. Gert-Jan Bosman 9. Kobus Hereijgers 10. Hans Becking.
Elite women: 1. Marianne Vos 2. Sophie de Boer 3. Sabrina Stultiens 4. Sanne van Paassen 5. Lucinda Brand.
Under-23 men: 1. Stan Godrie 2. Joris Nieuwenhuis 3. Sieben Wouters.
Junior men: 1. Max Gulickx.
Van der Poel toont rood-wit-blauw in Hoogerheide http://t.co/OgOSUqpiEm pic.twitter.com/WPgRKDmv8t

— GP Adrie vd Poel (@gpadrievdpoel) January 16, 2015
brothers @mathieuvdpoel & @Davidvanderpoel 1st and 2nd Dutch Championship @KNWU cycle cross, pic after finish taken pic.twitter.com/ssveqwU27h

— Paul Raats (@PaulRaats) January 11, 2015
GERMANY: Meisen and 19-year-old Lambracht take gold!
MARCEL Meisen (Corendon KwadrO), perennial second place finisher at the nationals, beat defending champion Philipp Walsleben (BKCP-Powerplus) to take the black-red-gold jersey for the first time in his career in Borna, writes Christopher Langer.
"Sascha Weber had a fast start, but so did I. At the end of the first round I bridged to Sascha and directly increased the tempo. In the second lap Sascha dropped from my wheel and I had a little gap," said Marcel after the race (Meisen and Weber are pictured at close quarters above © Armin Kustenbruck/EGO-Promotion).
The many who thought Walsleben was a shoe-in for the win hadn't been checking the international results of late: both Meisen and Sascha Weber have been moving up the ranks. What few people knew: Walsleben was suffering from a cold, so the German title was truly up for grabs.
It wasn't Walsleben's day: he had an unfortunate crash on a descent and also flatted. The course – a bit of a sloppy mess in the field sections on Saturday and still heavy and tacky on Sunday – had dried up considerably for the elite races. The forest sections may not have been fast, but they were calculable; the steep, quick descents were a bit easier to navigate, but Walsleben wasn't the only one who saw the muck close-up.
Meisen: "The course was great – especially the passages through the forest and the short uphills played to my favour. There weren't that many real mud sections, but quite a few that were slow and where you had to keep the momentum high. But when I have a good day, a lot is possible!"
Two laps before the finish, Marcel led with over two minutes and played it safe to the line. Behind him, Philipp Walsleben was fighting for second with Weber, but couldn't hold the power and ended up a respectable third. Phillip's younger brother Max Walsleben deserves honorable mention for some exciting racing: after only three cross starts in 2014 and a long road season, he battled from a back line start up to 5th.
Meisen was a happy man after the win. What it meant? "Above all it's nice to finally be German champion for once and be able to wear the kit. There will be more international attention for me, and for the team it's also a success: we managed to get three national titles!"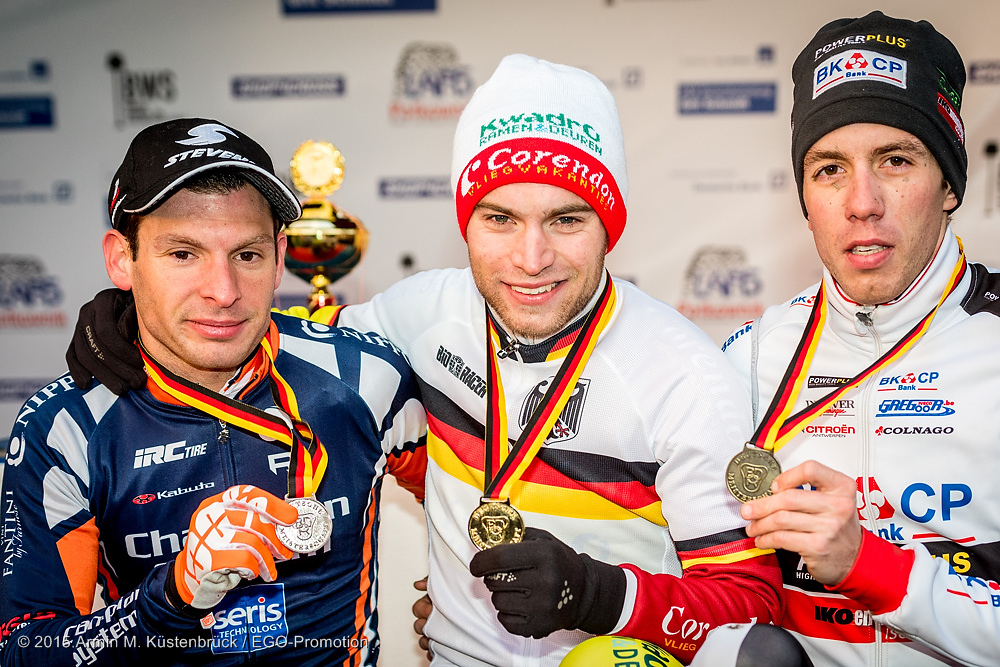 Hanka Kupfernagel, last year's German champion and multiple world champion only managed a fifth place in Borna; she still hasn't completely recovered from training injuries sustained late last year. Deserved winner was 19-year-old Jessica Lambracht ahead of Lisa Heckmann (both Stevens Racing Team) and mountain bike legend Sabine Spitz, who probably had been hoping for a better result.
Some talents are appearing among the younger riders: Felix Drumm once again dominated the Under-23 race, while Juri Hollmann is truly one to watch: now he's German champion in the Under-17s – with some more international experience, he will certainly be one of Germany's hopes for the future.
Results: Elite men: 1 Meisen; 2 Weber; 3 Philipp Walsleben; 4 Quast; 5 Max Walsleben.
Elite women: 1 Lambracht; 2 Heckmann; 3 Spitz.
Under-23 men: 1 Drumm. Junior men: 1 Cords.
Report thanks to: © Christopher Langer, CROSSMASTERS cyclocross team.
FRANCE: PFP wins again as men's race provides surprise
IN Pontchateau, multi-discipline national champion, and World road race champion, Pauline Ferrand-Prevot was the comfortable winner of her second successive 'cross title ahead of Caroline Mani and Lucie Chainel-Lefevre.

Ferrand-Prevot told reporters that she hopes that she can play a "leading role" in the World Championship in Tabor on February 1st where she will face pro team mate and defending champion Marianne Vos.
Fabien Doubey won the Under-23 men's race and a minute's silence was held before racing for the victims of the recent terrorism incidents in France.
Elite Men (& brief highlights of Elite women)
The elite men's race in France produced perhaps the greatest surprise over the fast grassy course at the UCI World Cup venue of Pontchateau though. Clement Lhotellerie beat last season's Under-23 champion Clement Venturini into second place. Lhotellerie was twice French junior champion in 2003 and 2004, but strangely the rider from the French Ardennes has not been selected by the French for the Worlds in Tabor due to a lack of "significant results" at World level according to the website of the French federation.
Back in 2004 Lhotellerie won a bronze in the World junior 'cross championship. Runner-up Venturini will race in the Under-23 race in Tabor.
The eight-time champion Francis Mourey, whose performances do seem to have fluctuated this season (third in Milton Keynes), could only finish third.
"I quickly felt I did not have the good legs today," Mourey told L'Equipe after the race, "Sometimes, you have to bow to the strongest."
Lhotellerie, who was a road pro for three seasons (2007-09) before being banned for five months for testing positive for methylhexanamine at the 2009 Liege-Bastogne-Liege, told L'Equipe, "The last page is turned and I have the right to be proud of what I did today."
Results: Elite men: 1 Lhotellerie; 2 Venturini; 3 Mourey.
Elite women: 1 Ferrand-Prevot; 2 Mani; 3 Chainel-Lefevre.
Under-23 men: 1 Doubey.
CZECH REPUBLIC: Teenager Toupalik is youngest elite champ
@adamtoupalik werd net nationaal kampioen cyclocross in Tsjechië - Congratulations Adam on your impressive victory! pic.twitter.com/BnGV44Ov4d

— BKCP Bank (@BKCP_nl) January 10, 2015
EIGHTEEN-year-old Adam Toupalik became surely one of the youngest ever male national cyclocross champions when took the Czech national title by 50 seconds ahead of Vojtech Nipl and Michael Boros. BKCP-Powerplus pro Toupalik is a winner of several junior World Cup rounds and was 11th in the European Under-23 championship in November.

Neither defending champion Martin Bina nor his team mate Radomir Simunek finished the race.
Results: Elite men: 1 Toupalik; 2 Nipl; 3 Boros.
Elite women (held earlier in season): 1 Nash.
SPAIN: New champion in the Spanish mud
Results: Elite men: 1 Hernandez Gutierrez; 2 Ruiz De Larrinaga Ibanez; 3 Hermida Ramos.
Road pro Samuel Sanchez finished 33rd.
Elite women: 1 Gamonal Ferrara.
AUSTRIA: Olympian Gehbauer dominates
After warm temperatures at Saturday's training races, things got much colder for the Austrian nationals in Lassnitzhoehe, Styria, Wolf Becvar reports (Photo: Quno).
With heavy rain setting in at 11am the already muddy and snow covered course was turned into a peanut buttery mud slush as temperatures dropped down to 4°C. The difficult terrain was perfectly suited for Alexander Gehbauer who had an explosive start and managed to motor away from his opponents in the first of 11 laps - defending champion Daniel Geismayr was unable to hold his wheel.
Karl Heinz Gollinger, the overall Austrian cyclocross cup winner, crashed in the early stages and also had to watch Gebhauer (above) ride away.
None of the pursuers was able to make up time on Gehbauer (who was 9th at mountain bike cross-country at the 2012 Olympic Games in London) who was not only the fastest on the selective course but also the only one to ride the very technical traverse switchbacks with a precision and stability like no one else. Twenty-three-year-old Gehbauer secured his first national title, Geismayer came in second and Gollinger, who dominated the Austrian cross season, ended up in third place.
"These types of tricky conditions suit me and my equipment worked great!" Gehbauer, who is really using the cyclocross season to prepare for his season as an elite mountain biker, said afterwards.
In the women's race the new 'old' national champion is Nadja Heigl. The 18-year-old won the title for the third time and will compete in the women's junior world championships race in Tabor, after riding her first elite women cyclocross World Cup season this year. Runner-up was Silke Schrattenecker in front of Viktoria Zeller.
Results: Elite Men: 1. Alexander GEHBAUER, 2. Daniel GEISMAYR, 3. Karl Heinz GOLLINGER.
Elite Women: 1. Nadja Heigl, 2. Silke Schrattenecker, 3. Viktoria Zeller.
IRELAND: Montgomery is new Irish champion
Here's a fun little film capturing the Championship racing in Swords, Ireland where David Montgomery and Francine Meehan won the senior titles. Many Irish cyclocross riders were disappointed after the event though by the decision of Cycling Ireland to not send any riders to Worlds Championships.
Results: Elite Men: 1 David Montgomery; 2 Tim O'Regan; 3 Glen Kinning.
Elite women: 1 Francine Meehan; 2 Maria Larkin; 3 Claire Oakley.
Many thanks to the numerous people who offered information and help in compiling this page and to the various TV coverage sources.
A full list of National champions is on the UCI website here
Main image: © Cor Vos courtesy of Stevens Bikes.