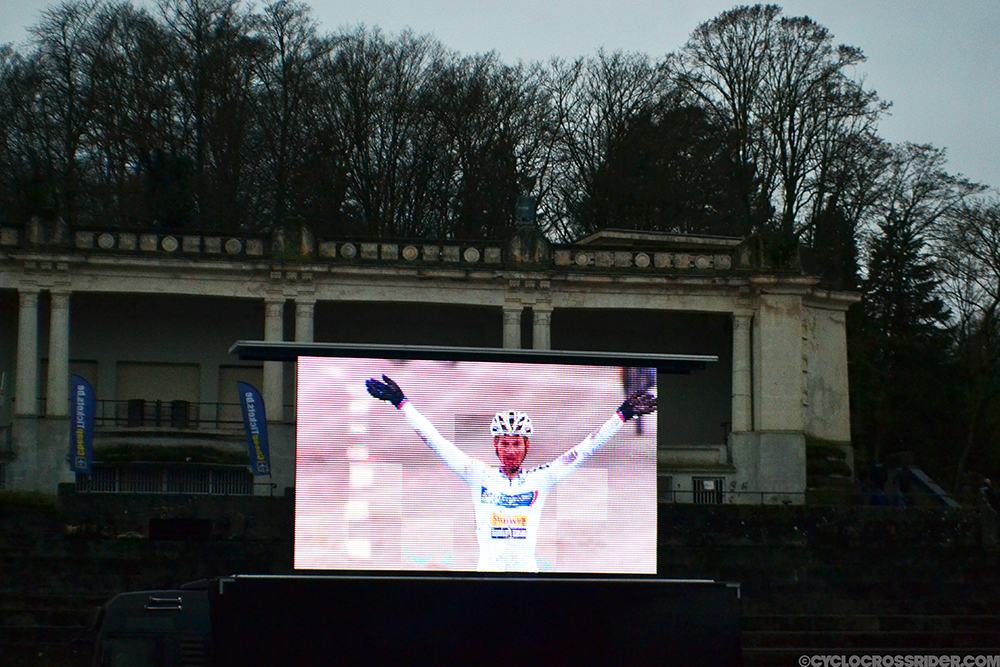 KEVIN Pauwels is most definitely back at the top of the sport after winning the fourth round of this season's UCI World Cup. The quietly spoken Belgian won commandingly in Namur on Sunday and the victory took him back to the top of the UCI rankings. Pauwels won in a last lap decider from Lars van der Haar over the tough Citadel course and it means that Pauwels also takes the Dutch champion's world number one ranking spot.

"With two races to go it's looking really good," said Pauwels about his now 77 point lead in the World Cup, "The next two races really suit me so I will look to lose as few points as possible."
Interestingly it was two riders from the second row of the grid who set the early pace – Swiss rider Marcel Wildhaber and German Sascha Weber - as the main favourites settled in behind. Wildhaber was the silver medalist in last season's Swiss championship (behind Lukas Fluckiger) and recently won the C2-ranked UK National Trophy in Milton Keynes. The Swiss rider has twice finished twelfth in Namur and impressively he hung on to take sixth place – his first-ever top ten World Cup placing. Weber, a two-time German Under-23 champion, finished ninth – his best position in an elite World Cup.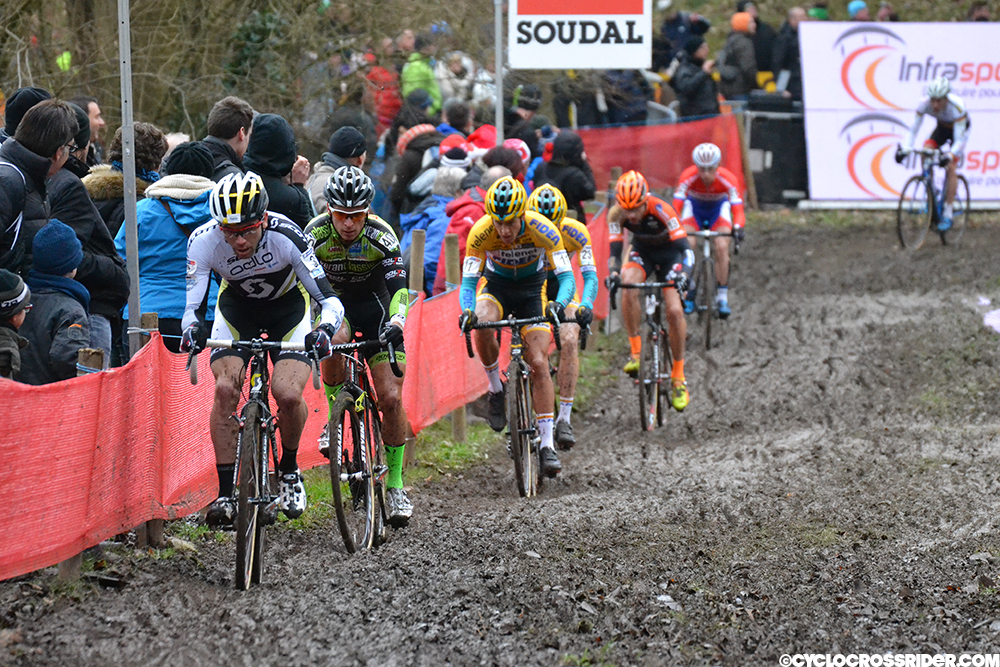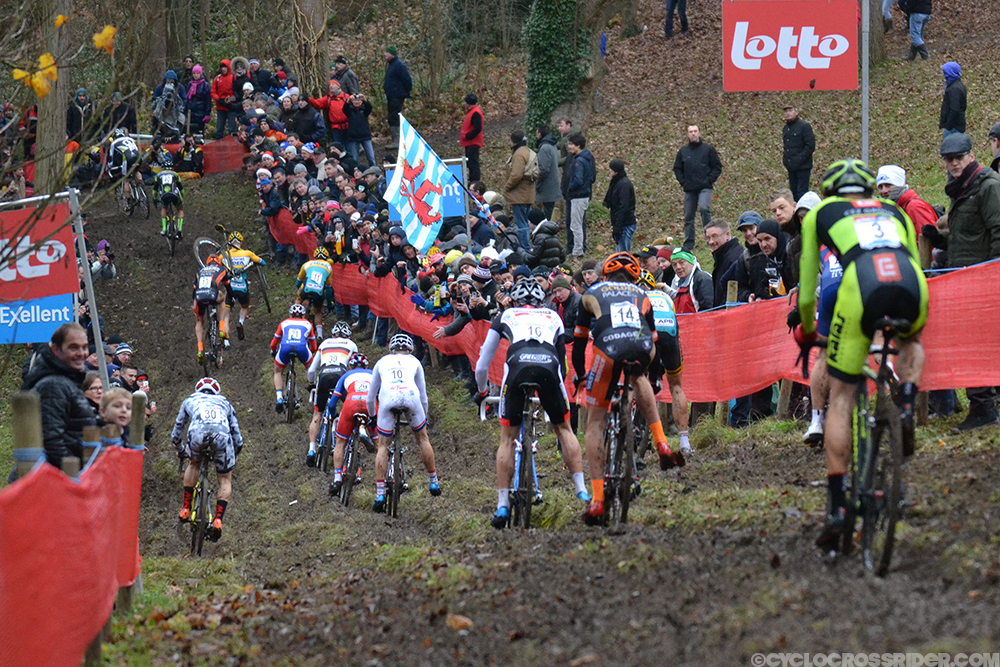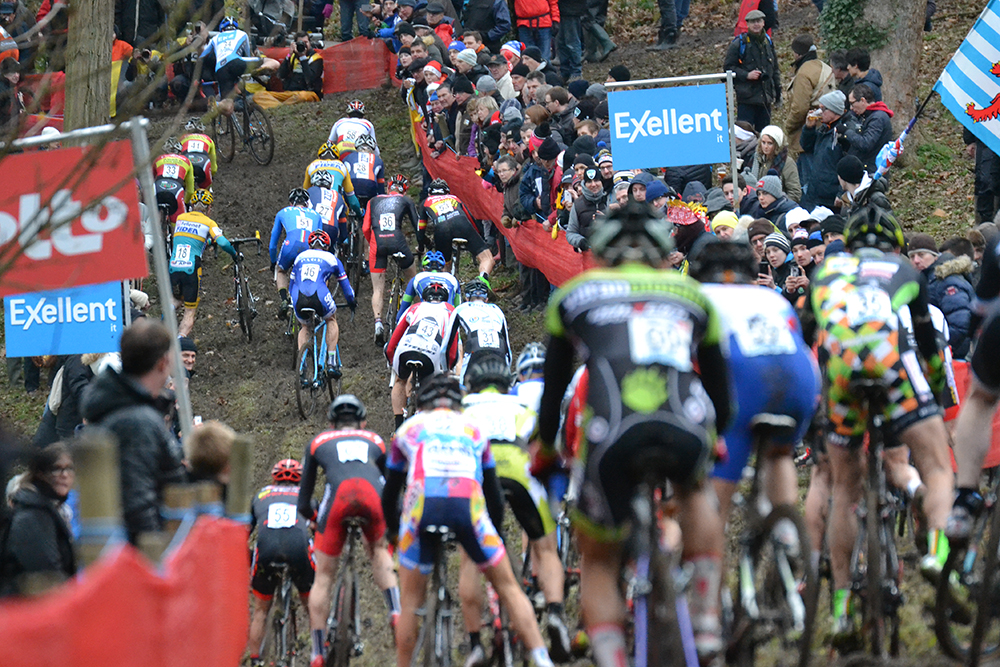 At the end of the second lap of the tough Namur course there was a large lead group of eleven riders all in contention with Weber and Wildhaber still at the front.
Meeusen makes first move
On the third lap (of nine) Tom Meeusen was the first big name to make a move and open a gap as Pauwels was still down in eighth place in the group. Philipp Walsleben led the chasers in pursuit of Meeusen who had a nine-second advantage. The chase group consisted of: Walsleben; Van Kessel; Wildhaber; Van der Haar; Peeters; Pauwels and Weber.
It was Dutch champion Van der Haar who was first to reach Meeusen on the fourth lap as behind him Corne van Kessel and Pauwels joined up to chase as well. Just after halfway these two pairs came together and it looked like the podium was likely to be decided by these four riders: Van der Haar; Pauwels; Meeusen and Van Kessel. Walsleben was in fifth place with Rob Peeters.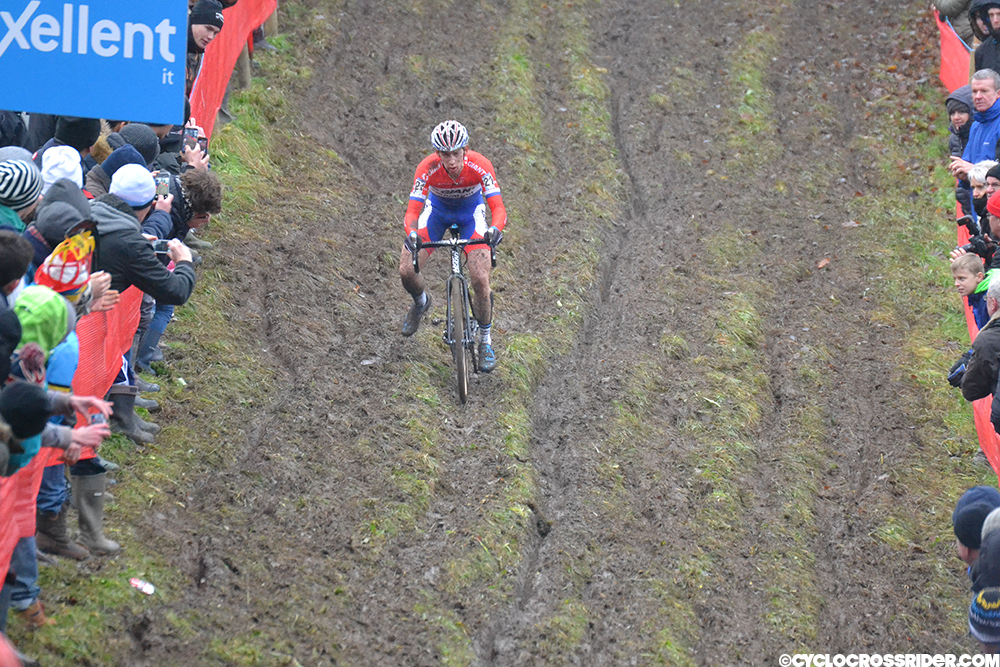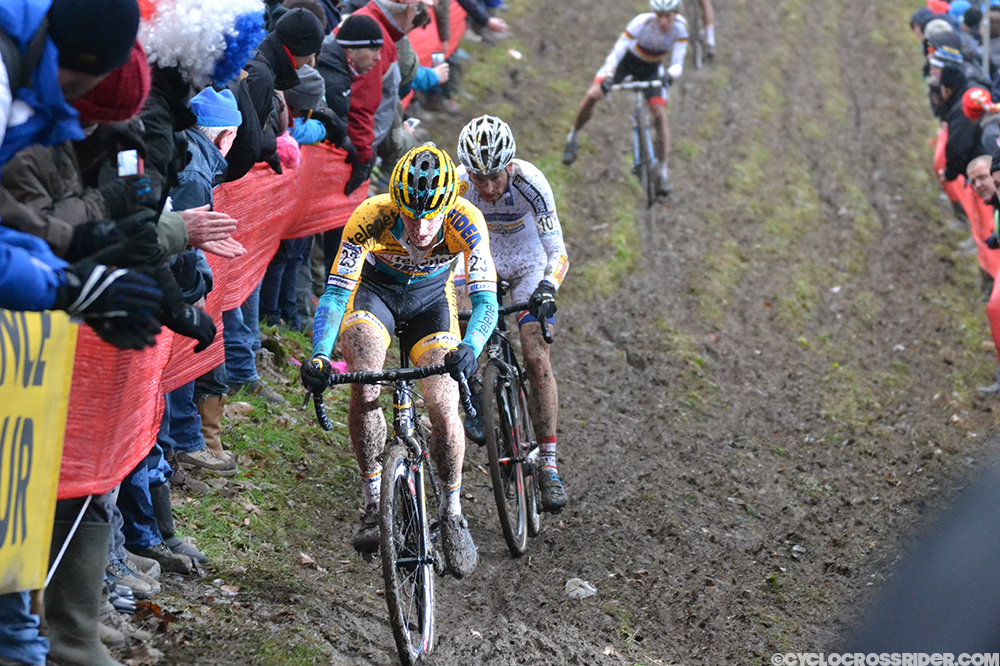 The defending World Cup title-holder Van der Haar was the next to attack alone as Tom Meeusen fell off the pace dramatically (slumping from first to fifth place) and Van Kessel crashed badly to end the Telenet-Fidea riders' challenges for the podium. Van der Haar had finished fifth in Namur twelve months ago on the way to winning the title and it was Kevin Pauwels, who had won here in 2012 – the season he became World Cup winner – who began to chase him.
At three laps to go, Van der Haar led Pauwels by seven seconds with Walsleben now in third at 19 seconds. The Dutchman continued to push hard and his lead grew slightly again.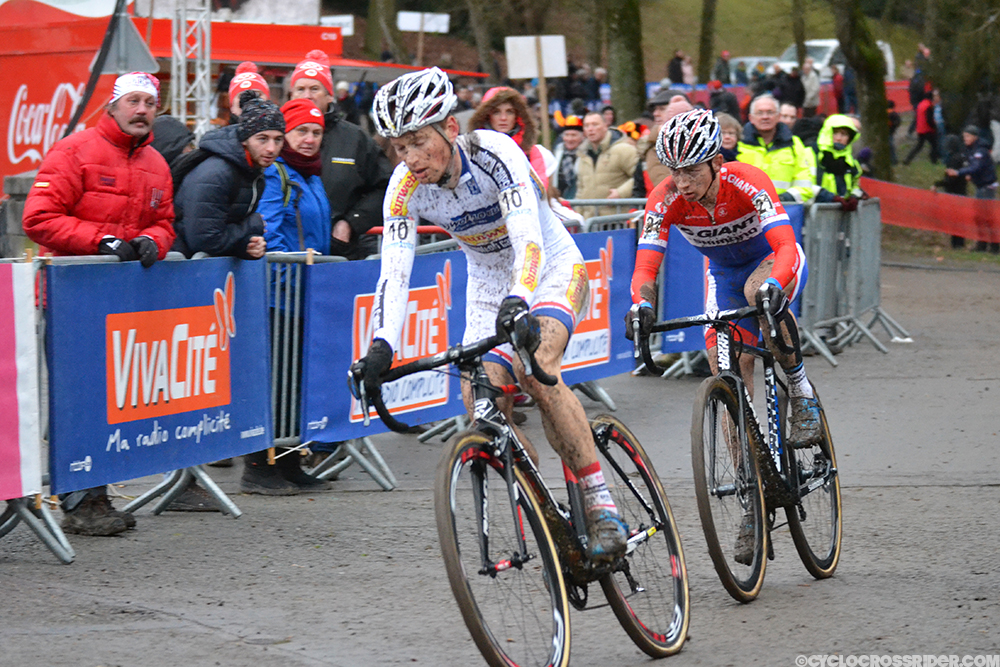 Two-man finale
With just over two laps of racing left though Pauwels caught Van der Haar after the two big run-ups to set up an exciting two-man finale. German champion Philipp Walsleben was still in third place and behind him the order was: Meeusen; Van Kessel; Rob Peeters; and Wildhaber. Last year's winner Francis Mourey rode almost the entire race in the top ten, but never showed near the very front of the race and eventually finished eleventh more than two minutes off the winner.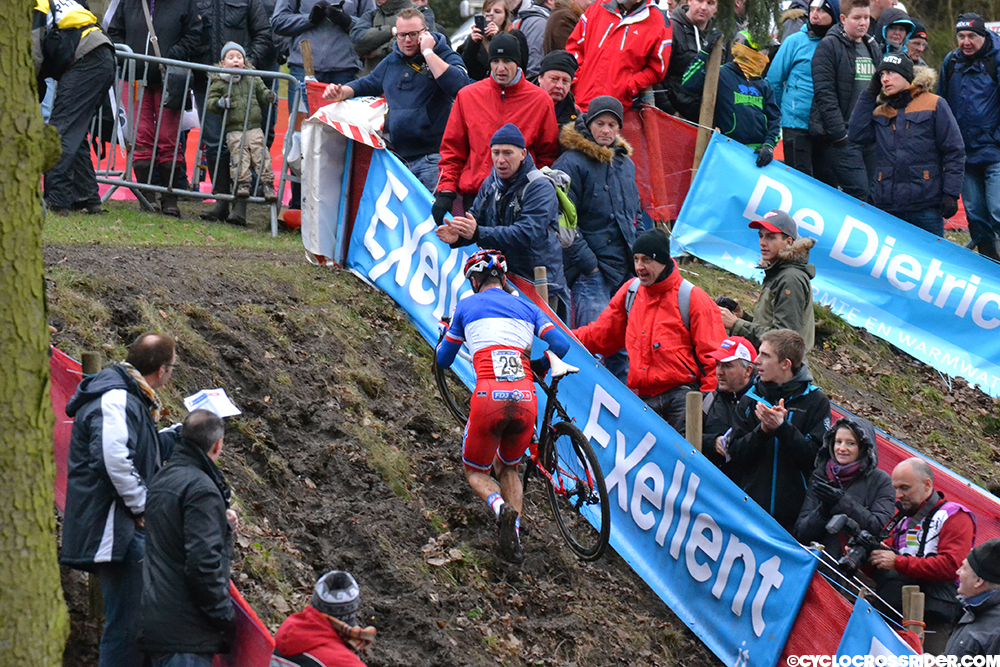 American champion Jeremy Powers (below) finished in 16th place and was followed home closely by Jonathan Page in 18 th place with British champion Ian Field coming home in 32nd.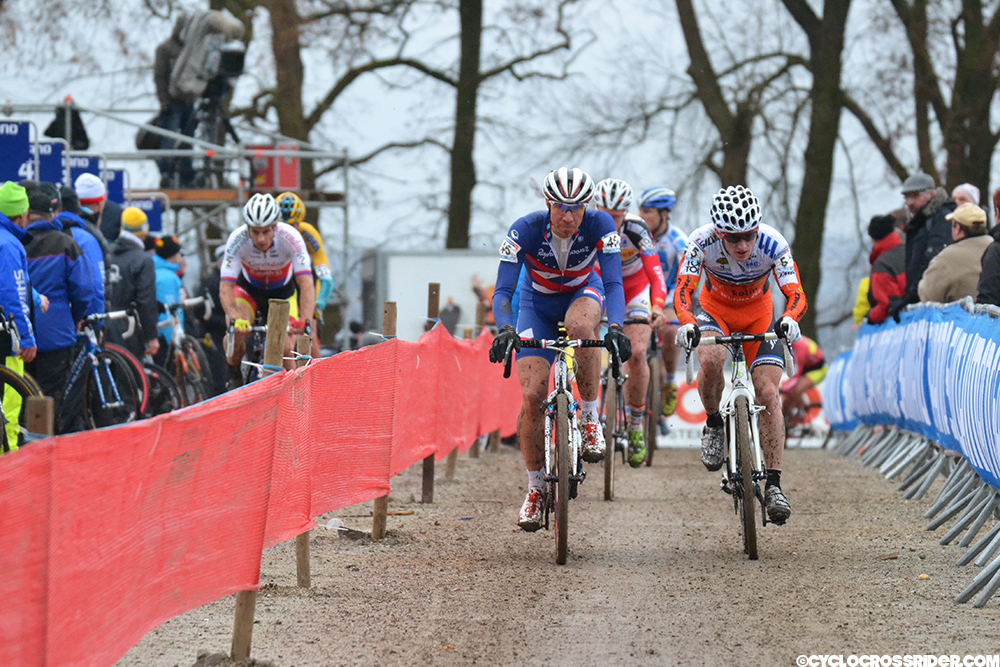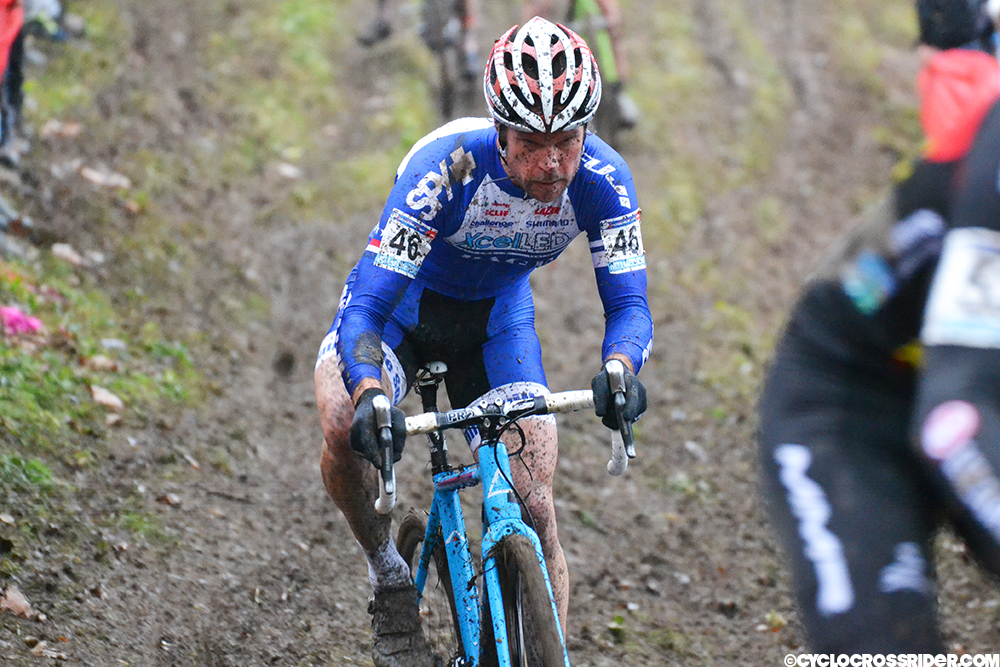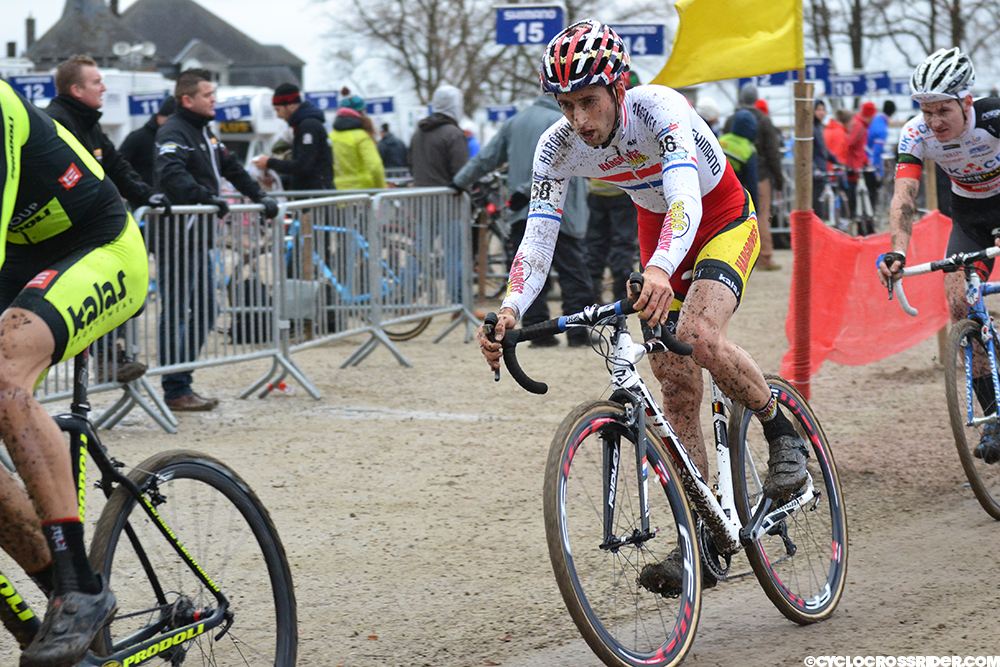 Garry Millburn (below) raced his debut World Cup race and showed off his Australian national team jersey in Europe for the first time. Millburn, who is spending the Christmas period racing in Belgium, finished 55th.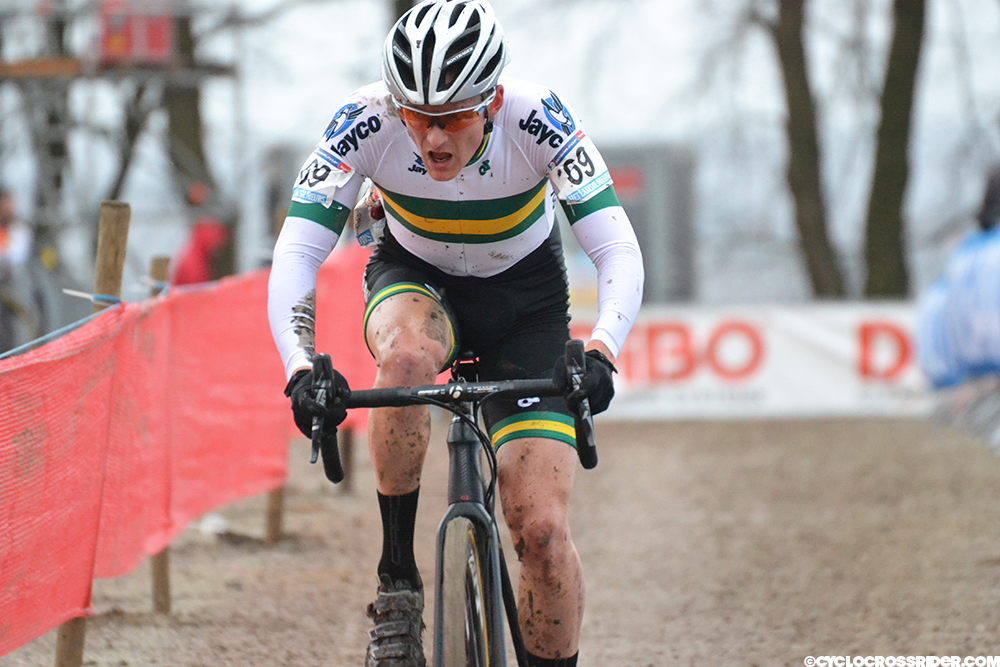 As the two leaders eyed each other going into the final lap and Van der Haar declined Pauwels' request to lead, Walsleben began to close and was only nine seconds adrift. The decisive moment came on the long, straight, off-camber descent - approaching it Pauwels began to put more pressure on Van der Haar, but they turned onto the descent more or less together.
Van der Haar made a slight slip on the upper part of the descent whereas Pauwels had a 'clear run' – using a 'new' upper line - and by the exit of this tricky section the Belgian had a four or five second advantage. Pauwels ran strongly up the two run-ups that followed and his advantage grew further and Van der Haar began to slip back towards Walsleben.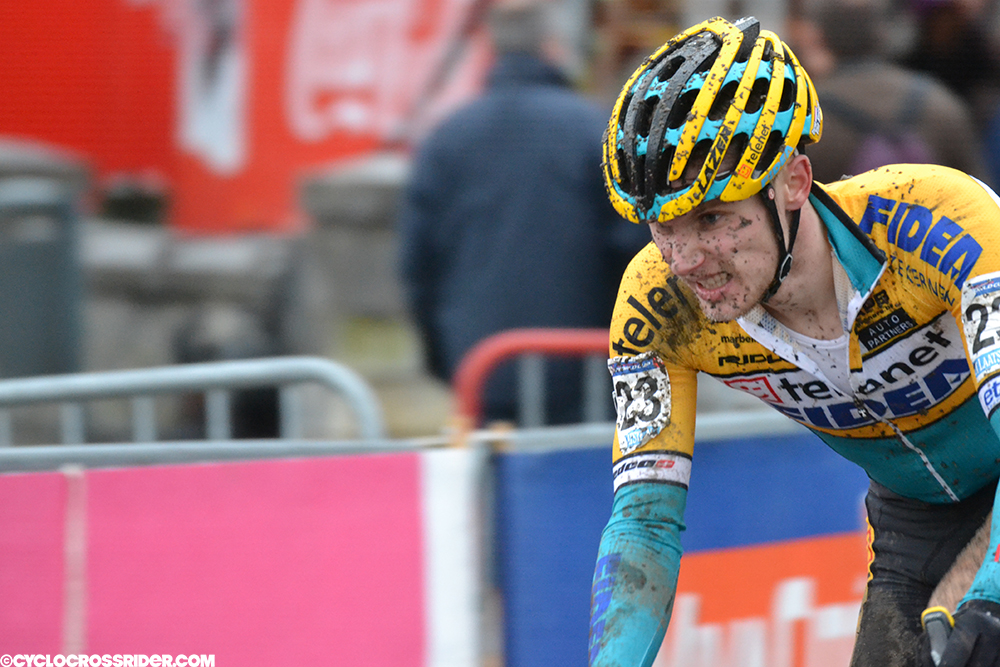 The top ten had a more mixed international flavour than perhaps usual
Pauwels crossed the line with a ten second margin to strengthen his lead in the World Cup and continue his best season since his 2011-12 World Cup win. The top ten had a more mixed international flavour than perhaps usual as Belgium missed the presence of Sven Nys (who decided not to start after his poor race in Essen on Saturday), Klaas Vantornout (ill) as well as the now retired Niels Albert. The absence of these two riders perhaps also contributed to what seemed like a smaller crowd than usual atop the Citadel – a crowd that actually felt no bigger than that at the previous round in Milton Keynes.
Elite men's results
1 Kevin Pauwels

2 Lars Van der Haar

3 Philipp Walsleben

4 Tom Meeusen

5 Corne van Kessel

6 Marcel Wildhaber

7 Rob Peeters

8 Jens Adams

9 Sascha Weber

10 Julian Taramarcaz

Overall World Cup standings (after 4 rounds)
1 Pauwels

300 points.
2 Meeusen

223.
3 Van Kessel

218.
4 Walsleben

214.
5 Van der Haar

210.
Watch again! Elite men's World Cup