Race Highlights, Last lap and other TV coverage: here.
YOUNG Dutchman Mathieu van der Poel won the 2014 Scheldecross on Saturday (December 13th) with ease – riding solo from the halfway point and winning by 41 seconds.

The Scheldecross may be a newer addition to the Belgian pro calendar, but the sandy riverbank course always produces some interesting racing as well as dramatic views across the estuary to Antwerp.
The third race in the Soudal Classics series (which does not have an overall classification competition) was skipped by some top riders including: Sven Nys (training on Mallorca); Kevin Pauwels; and Lars van der Haar.
That left the way open to a handful of younger riders to stir things up in the opening laps and Under-23 riders filled the first two podium steps as Laurens Sweeck chased Van der Poel home.
Tom Meeusen did his best to hold off the youngsters by sharing the lead on the first two laps, but the Belgian was concerned by criticism of his win ahead of Van der Poel last Sunday in Overijse.
"I was criticised for 'sitting in' too much last weekend. Mathieu and Laurens were very strong today though, I thought that I had the strength to follow Mathieu's wheel but really he was very strong and I settled for a podium place," Meeusen said afterwards.
It was Belgian under-23 Laurens Sweeck who launched the first solo attack on the third lap and Meeusen did not hesitate in leading the chase with Van der Poel, Rob Peeters, Corne van Kessel and David van der Poel for company. Potential winner Klaas Vantornout seemed out of contention some 29 seconds down on the leader.
Over the fourth lap it was Mathieu van der Poel who successfully bridged across to Sweeck as the chase group imploded and Meeusen fell back to seventh place. Sweeck is perhaps the 'forgotten' young rider who started the season well but who's rides are often overshadowed by Van der Poel and Wout Van Aert.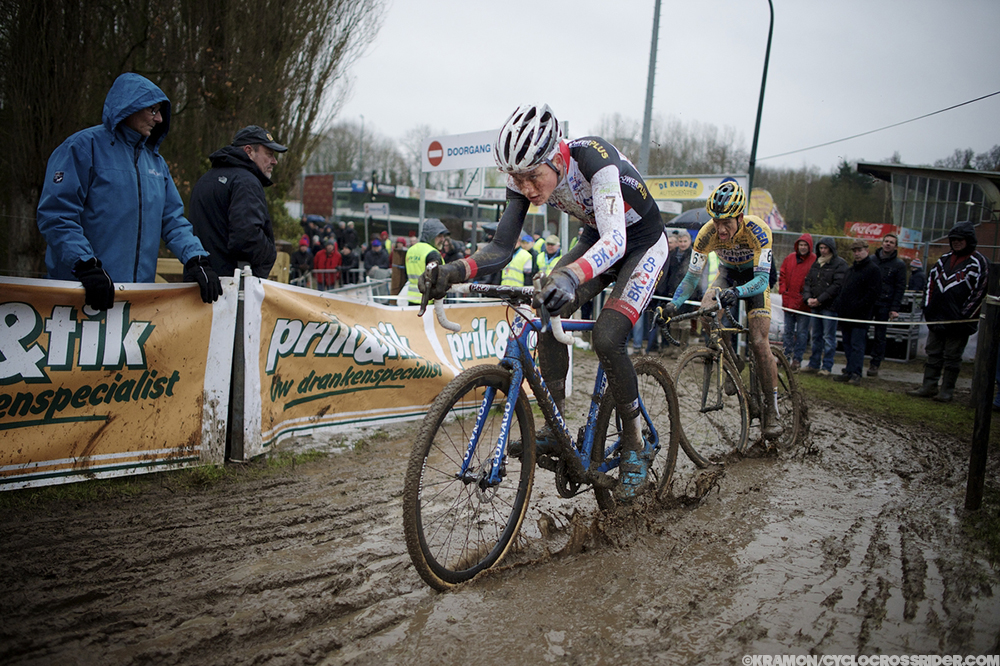 Van der Poel and Meeusen battle last Sunday in the race where Meeusen was criticised in some quarters.
Barrier victims
The tricky riverside course had begun to claim victims. First Bart Aernouts crashed to the ground, before Ben Berden hit the hurdles and then the other Aernouts, Jim, also crashed hard into the wooden barriers.
The halfway point, after five laps of the ten lap race, was the signal for Van der Poel to attack for real and he put in a couple of very fast laps leaving Sweeck trailing by 11 seconds, the chase group of Peeters, Van Kessel, Van der Poel David and Philipp Walsleben (all looking at one another) at 31 seconds and Meeusen off the back of them at 41 seconds.
On the eighth lap Van Kessel, perhaps unwittingly, laid the foundations for team mate Meeusen's podium spot by going clear in third place. This move allowed Meeusen a free ride as Peeters and Walsleben were forced to chase. With Van der Poel and Sweeck both alone the only remaining battle was for the third podium place.
At the bell Van der Poel led Sweeck by 27 seconds with Van Kessel now swallowed up by the chasing group just over a minute behind the leader. Meeusen seized his moment to attack and passed Peeters over the barriers and cemented his third place with a fast traverse of the sand strips.
It was a victory that nineteen-year-old Van der Poel certainly enjoyed and Sweeck was also happy in second as he limped home with a flat rear tyre. Vantornout finished outside the top ten over two minutes down so perhaps expect to see a strong ride from him in Mol on Sunday evening.
Elite men / Under-23
1 Mathieu van der Poel

2 Laurens Sweeck

3 Tom Meeusen

4 Rob Peeters

5 Philipp Walsleben

6 Corne van Kessel

7 David van der Poel

8 Diether Sweeck

9 Bart Wellens

10 Sven Vanthourenhout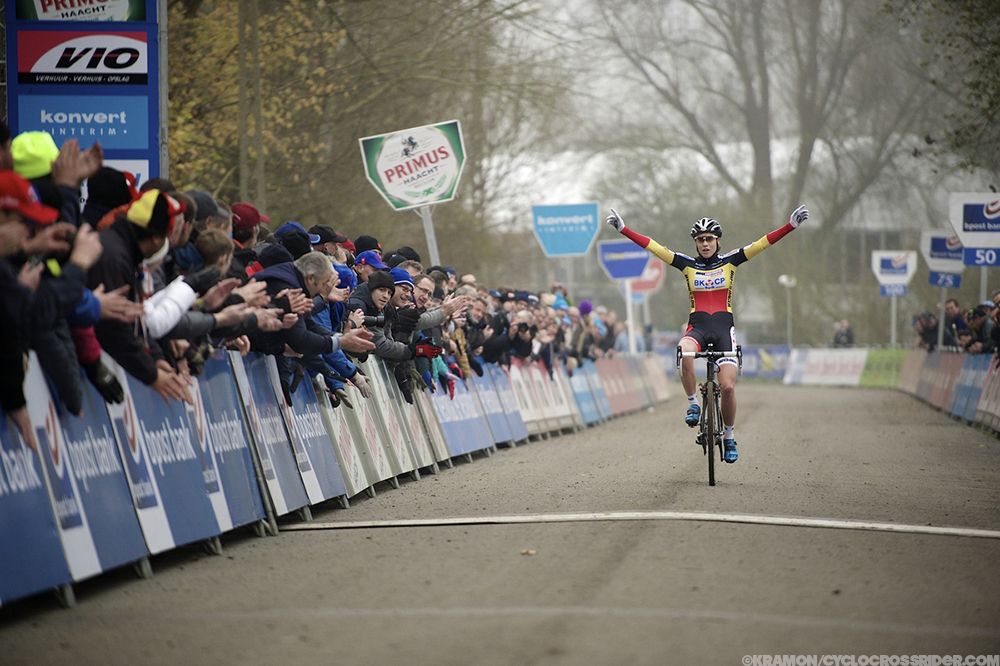 Elite women
1 Sanne Cant

2 Ellen Van Loy

3 Loes Sels

4 Maud Kaptheijns

5 Jolien Verschueren