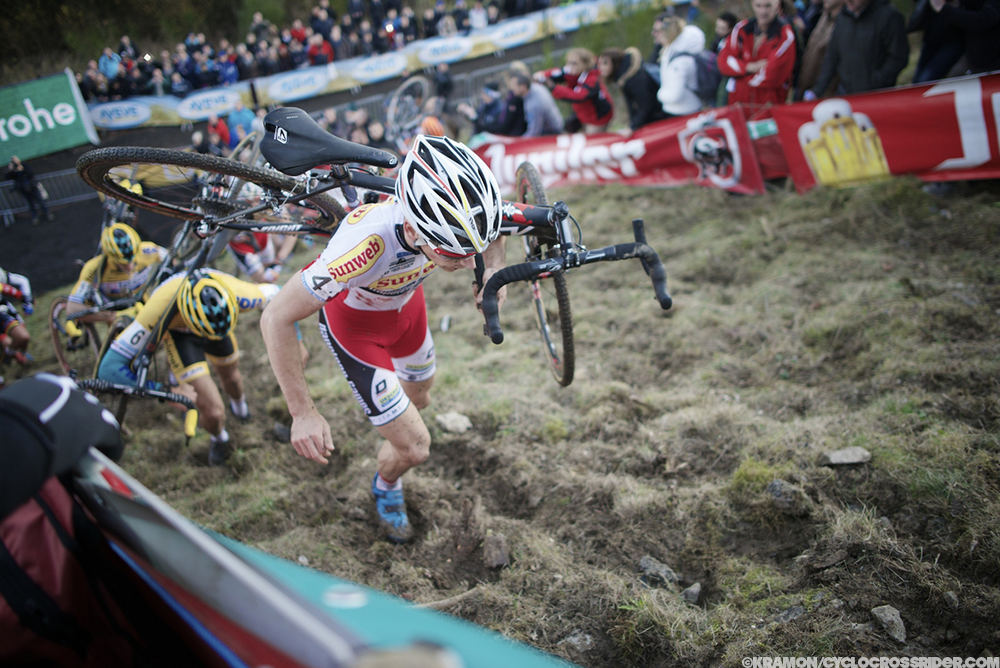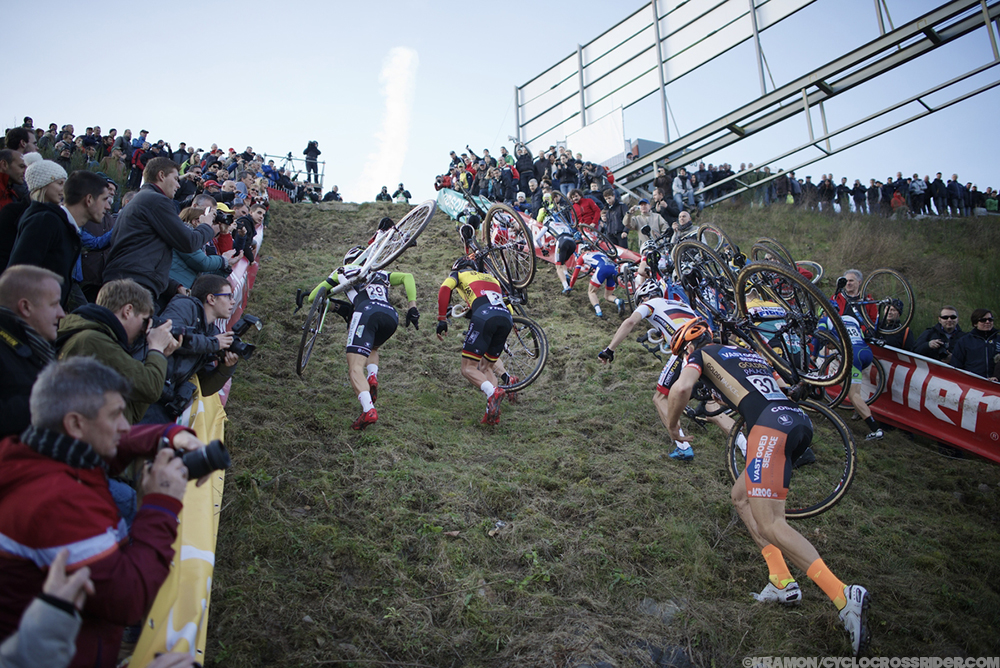 KEVIN PAUWELS was the man firing on all cyclinders around the new and varied parcours at the Spa-Francorchamps motor racing circuit and seized on a mistake by Lars van der Haar to take the chequered flag.
The Spa-Francorchamps grand prix circuit was said to be the fastest in Europe during the 1970s, but it also had a reputation for being dangerous and was a circuit for the brave. The racing drivers also faced a difficult challenge when on occasions the weather and track conditions differed from one side of the circuit to the other in the rolling folds of the forested Ardennes hills.
Puncture traps
Today's cyclocross course designers also prepared an interesting and unusual challenge to the racers with a little bit of everything thrown in, but a sizeable percentage of road – getting on for 50%. Despite the large amount of Tarmac there were also many puncture traps such as the large pine tree roots hidden in the forested descent. The near vertical 'Le Mur' climb harked back to similar course features common in the 1990s and led to a plateau with two flat muddy sections which presented a run or ride dilemma. An atypical course or an 'old school course' - there were several opinions, but if they can reduce the Tarmac here it has the potential of a future classic.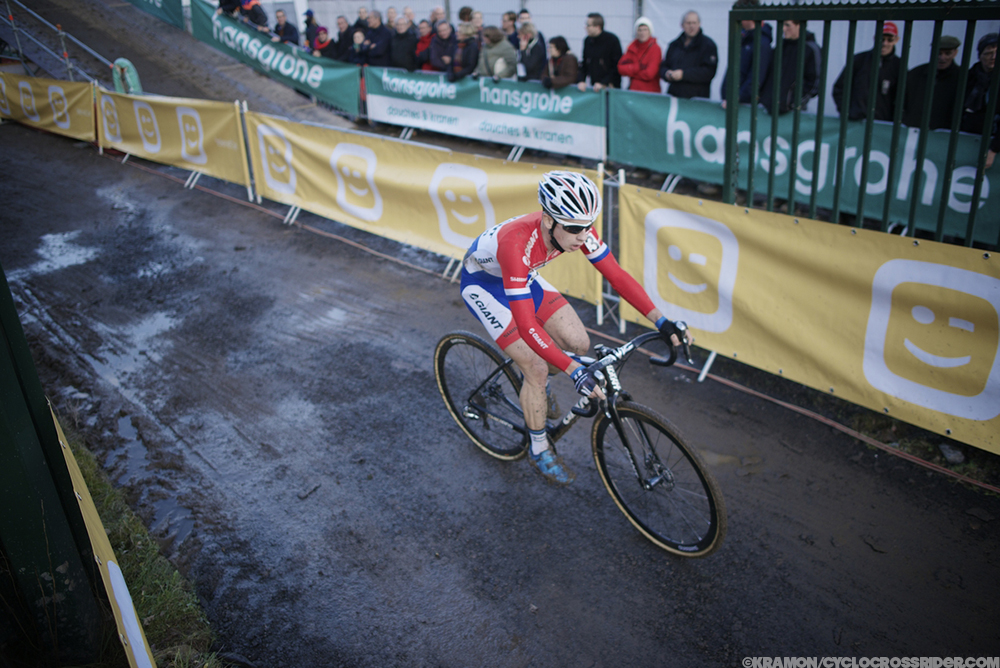 Dutch champion Lars van der Haar, who had suffered two days of gastroenteritis which prevented him from racing in Koksijde on Saturday, slipped on the final lap to hand Pauwels an easy victory. The Dutchman admitted that Pauwels was the stronger rider on the day, "Today I suffered in the wheel of Kevin Pauwels, but it gave me a nice second place."
For Pauwels it also meant that he took the overall lead in the Superprestige series (albeit on the same score as Van der Haar) to add to his World Cup leaders jersey from 24 hours earlier in Koksijde.
After the first, almost parade-type lap with the riders warming up their 'engines', there was a big bunch of 20 riders climbing the famous Raidillon curve, but a lap later it had reduced to ten. Joeri Adams and Philipp Walsleben both had a stint at pace setting before Pauwels showed his cards on the third lap opening up a small gap.
Around the muddy plateau the real action started
On the fourth lap of the eight lap race Pauwels and Van der Haar led a group of about 14 riders up 'Le Mur' banking with an under the weather Sven Nys hanging on bravely in sixth place. Around the muddy plateau the real action started and Pauwels and Van der Haar opened up a gap on Jens Adams in third as Nys slipped back to 8th place. Bart Wellens was one of the first puncture casualties and he soldiered on for a while before retiring.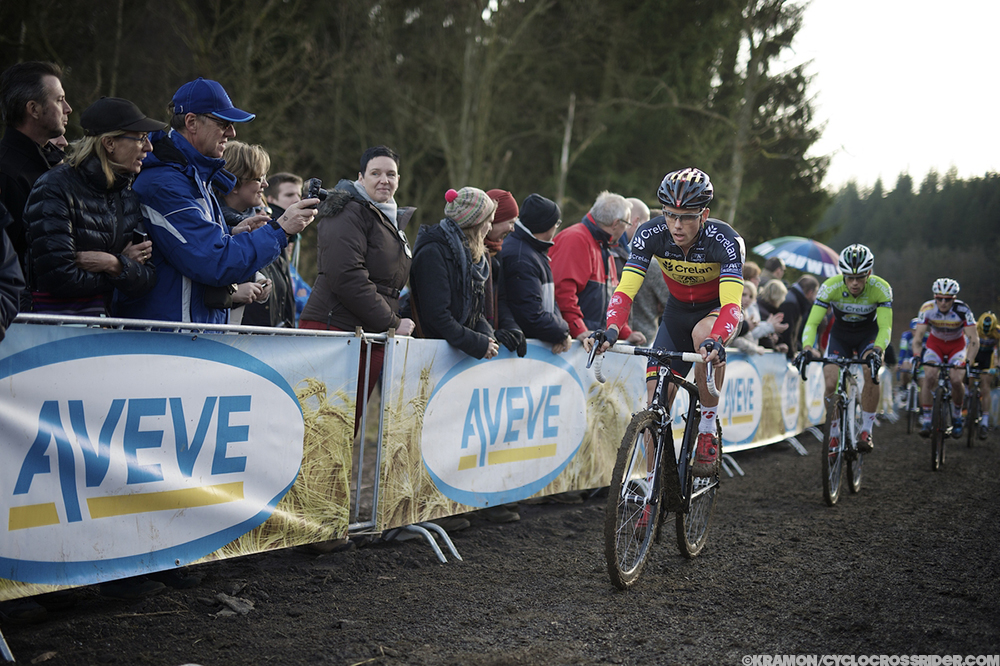 The Pauwels-Van der Haar pairing put in the fastest lap of the day to open up a 15 second gap on Nys who was now leading the chase group of six riders, but on the fifth lap the gap went out to 27 seconds. Up the Raidillon again to see 'three laps to go' and Nys and Walsleben had both lost contact with the chasing group of Adams, Mathieu van der Poel, Klaas Vantornout, Tom Meeusen and Corne van Kessel.
On top of 'Le Mur' the chasers had gained time and were 18 seconds in arrears with Sven Nys at 35 seconds and looking out of the running for a podium finish. After this muddiest of sections Pauwels had a problem re-clipping into his pedals, but strangely Van der Haar more or less waited rather than push on alone.
It was a busy day in the pits and tricky as well as most riders seemed to change going downhill (quite steeply) through the double pit. Chaos almost ensued when Jens Adams' mechanic dropped his bike in front of a long line of pitting riders - who immediately dropped their own bikes and ran onto their new ones - leaving poor Philipp Walsleben presented with a pile of bikes which he literally tried to ride over!
With two laps to go, and around 15 minutes of racing left, Van der Poel and Meeusen were chasing the two leaders together with Meeusen looking strong and with the bit between his teeth after losing time to a puncture. Pauwels and Van der Haar's cushion was still a healthy 23 seconds though with Nys at 30 seconds.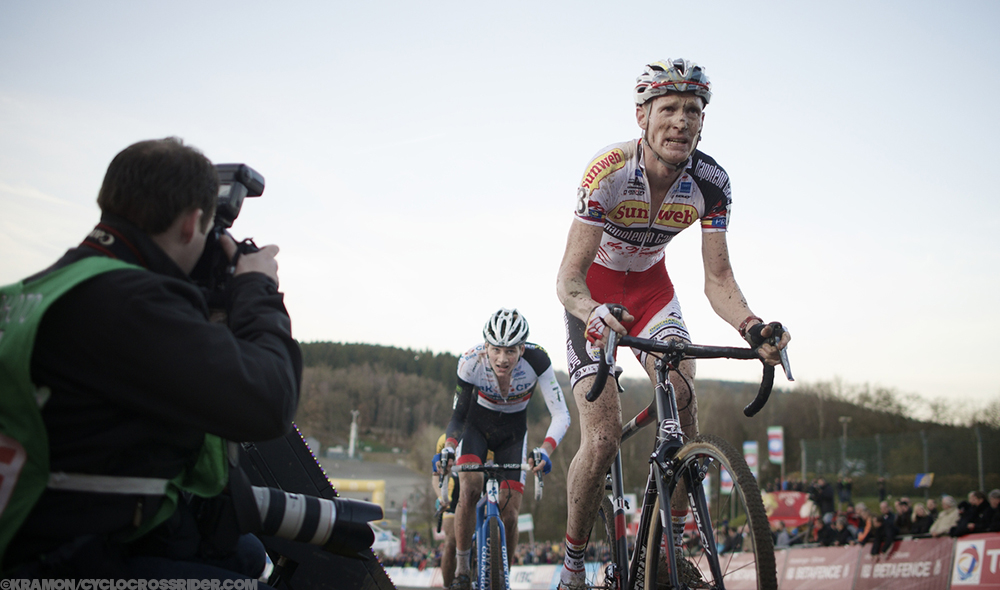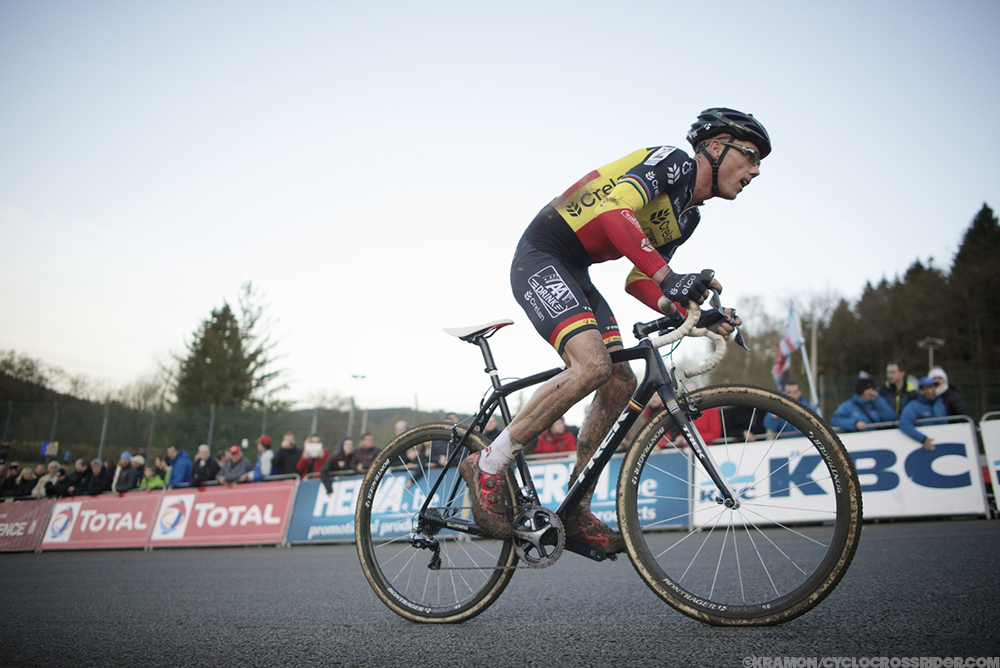 Pauwels began a series of digs to try to rid himself of Van der Haar, but the Dutchman bravely hung on as the chasers start to become spread out all over with Meeusen now alone in third and gaining ever so slightly.
Van der Haar dropped his bike allowing Pauwels to nip past and press on the pedals
At the bell the leading pair climbed the Raidillon eyeballing one another and Meeusen closed to 16 seconds with the rest at 34 seconds. Midway through the final lap came Van der Haar's mistake – leading on the soft, rooty, forested descent he lost his front wheel and dropped his bike allowing Pauwels to nip past and press on the pedals. You could more or less see that 'the fight' had drained from Van der Haar's face as he trailed by seven seconds across the muddy plateau and Meeusen began to see him in his sights.
As the light began to fade in this forested amphitheatre, all Pauwels had to do was maintain his power up the Raidillon for a final time as some way behind him Van der Haar weaved around the wide road to claim second.
Result: 1 Pauwels; 2 Van der Haar; 3 Meeusen; 4 Mathieu van der Poel; 5 Jens Adams; 6 Vantornout; 7 Van Kessel; 8 Nys; 9 Peeters; 10 Van Amerongen.
Overall standings (after 5 rounds): 1 Pauwels 63 points; 2 Van der Haar 63; 3 Van der Poel 62; 4 Nys 60; 5 Vantornout 59; 6 Meeusen 58.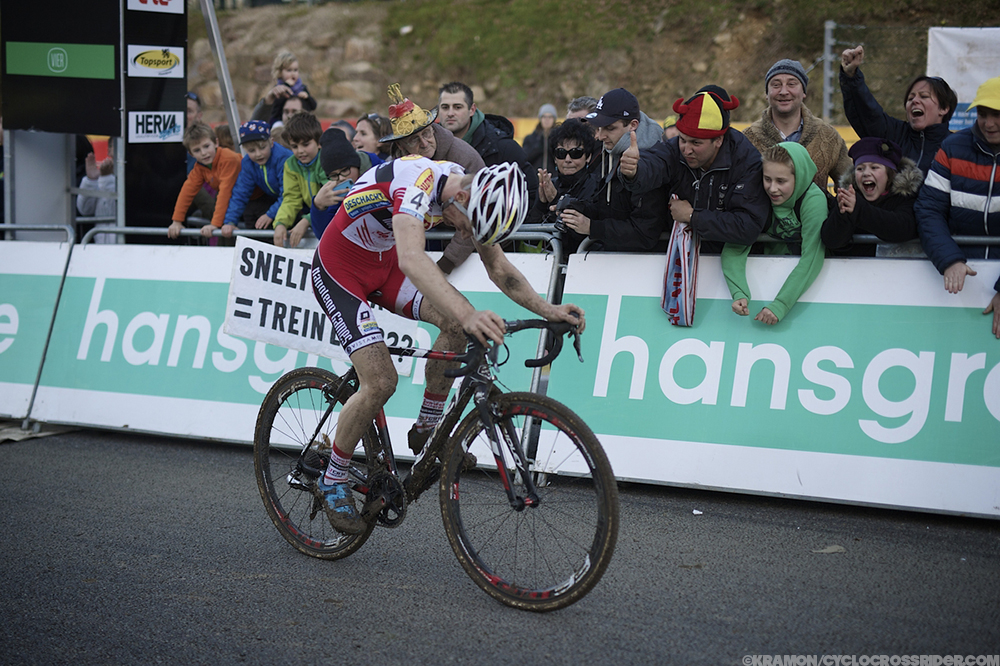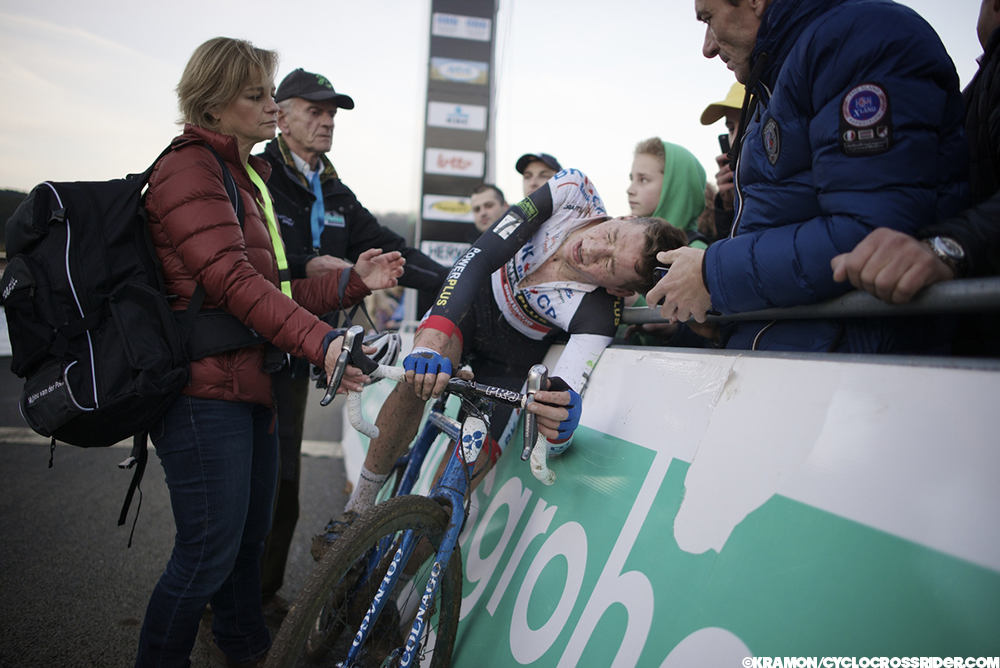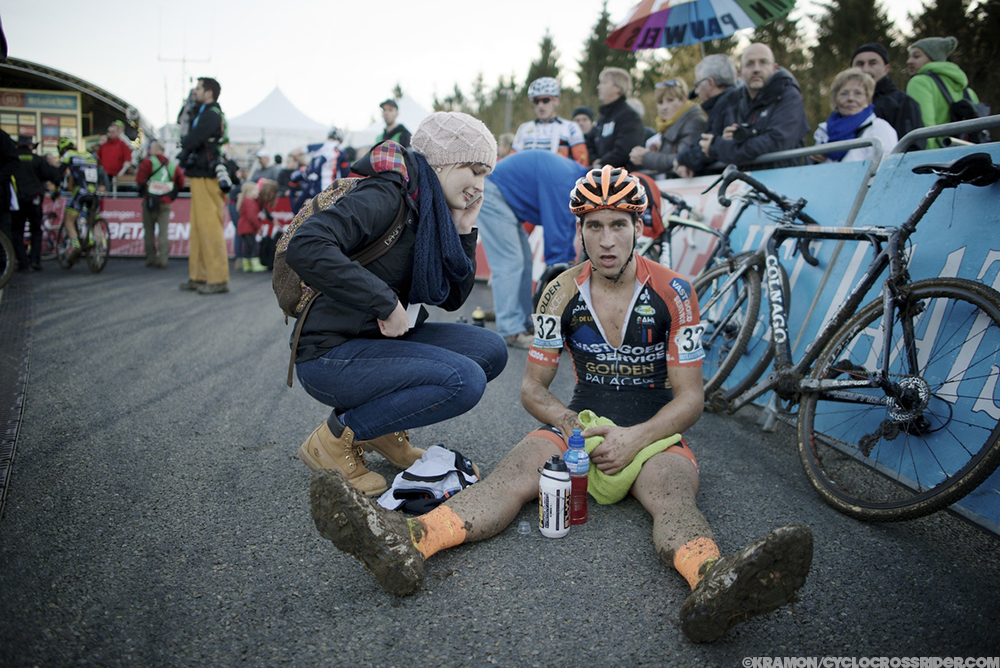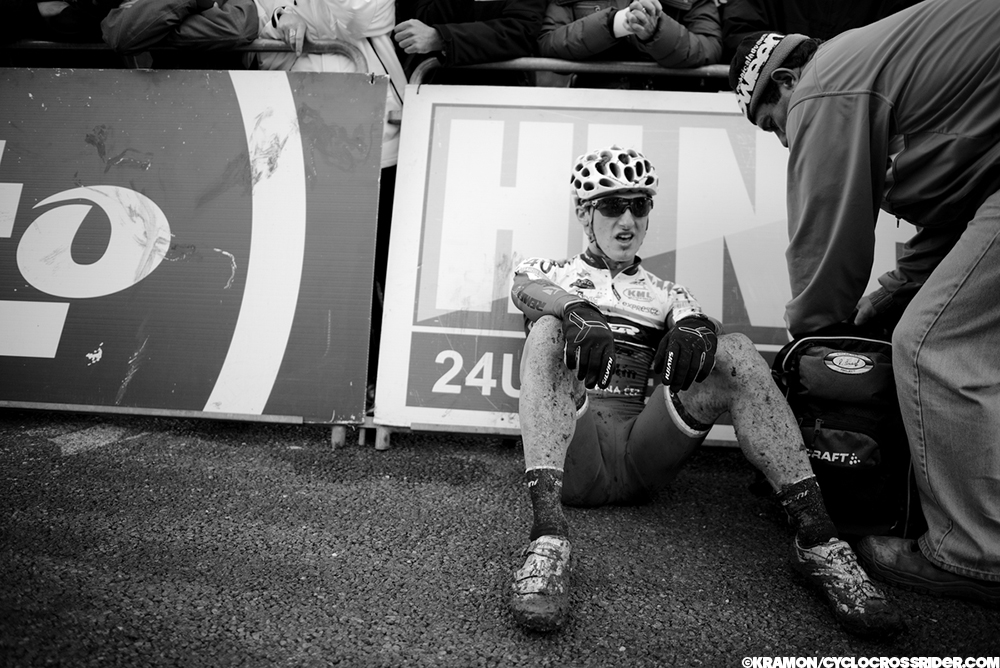 Photos: ©kramon/cyclocrossrider.com.