T THE end of last season when it became clear that American champion Jeremy Powers wanted to start a new, solo team project, we began wondering about what sponsors would remain by his side and which new partners he might involve for next season. During the spring everything was pointing towards Focus bikes remaining shoulder to shoulder with Jeremy, but on the eve of an official announcement (made on August 11th), we were still intrigued to know the rest.
"Rapha (clothing) and Focus Bikes will be the main sponsors again," Jeremy tells me. "Then we have Giro for shoes and helmets and Eco-Products, as a new large partner, which is a company that makes compostable (biodegradable) goods. Zipp, SRAM, Quarq, FMB tyres I'll race this year, Fizik and Crank Brothers and a few others like Patron Tequila." I raise my eyebrows at the last sponsor. "They might be partnering Rapha to promote 'cross and organise after-race parties here in the States," Powers explained.
There are going to be some good gains... everything will pay off when it pays off!
So while the backers may look pretty familiar there are other significant changes. Powers has decided to switch training approach for this upcoming season, moving from self-trained, as he has been in previous seasons, to collaborate with a new coach.
"I've been doing different work, he has worked with a lot of high level road guys (Jeremy prefers not to unveil the name of his coach, but he is involved with a major pro road team – Ed), and we're focusing on specific 'cross training. I've been running more than I've ever done during the summer, a lot of core work which is good for my upper body, around 40 days of mountain biking which is more than I've done in the past," Powers reveals. And what is more important, Jeremy feels more comfortable and adapted to his cross bike as a result.

"Yeah, with all that work I feel better prepared for cyclocross. I've also ridden my 'cross bike more than previous summers, which was not always possible because of the road racing (Powers previously raced road in the summer with the Jelly Belly team – Ed), and when I wanted to do it after a road race I used to feel rusty," he tells me.

Powers is pretty certain that he's benefitting from the specific cyclocross workouts with his new custom-made Focus Mares 'cross bike.
"I don't know exactly how it's going to go yet, but I definitely think there are going to be some good gains from doing all this work, so I let it go and I continue to do it. Everything will pay off when it pays off!"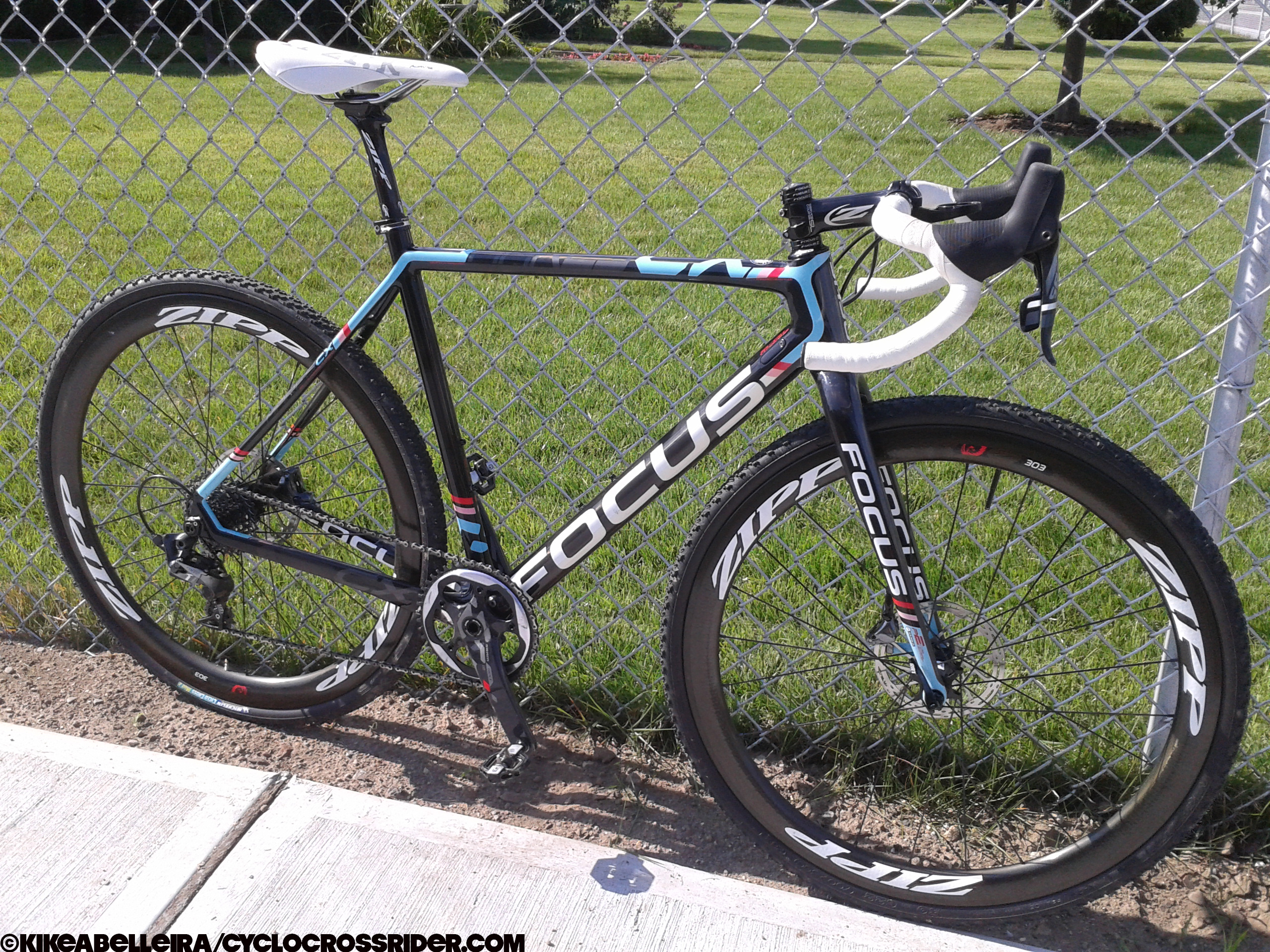 Jeremy has worked with Focus to make changes to the geometry and design of the Mares and his 2014-15 season bikes have been custom-made for him. This frame pictured, that he's been riding pre-season, is in the stock Mares colour way, but Jeremy's team bikes will be in red, white and blue.
The SRAM Force Hydro brakes feature a brand new caliper design and on this build - with SRAM CX1x11 - the crankset incorporates a new Quarq Elsa powermeter.
The Zipp wheels (a new sponsor) are prototypes with 15mm thru axle hubs - his first experience with thru axles - and he also switches to Zipp for seatpost and cockpit. The tyres pictured are for training before his FMB tubulars arrive.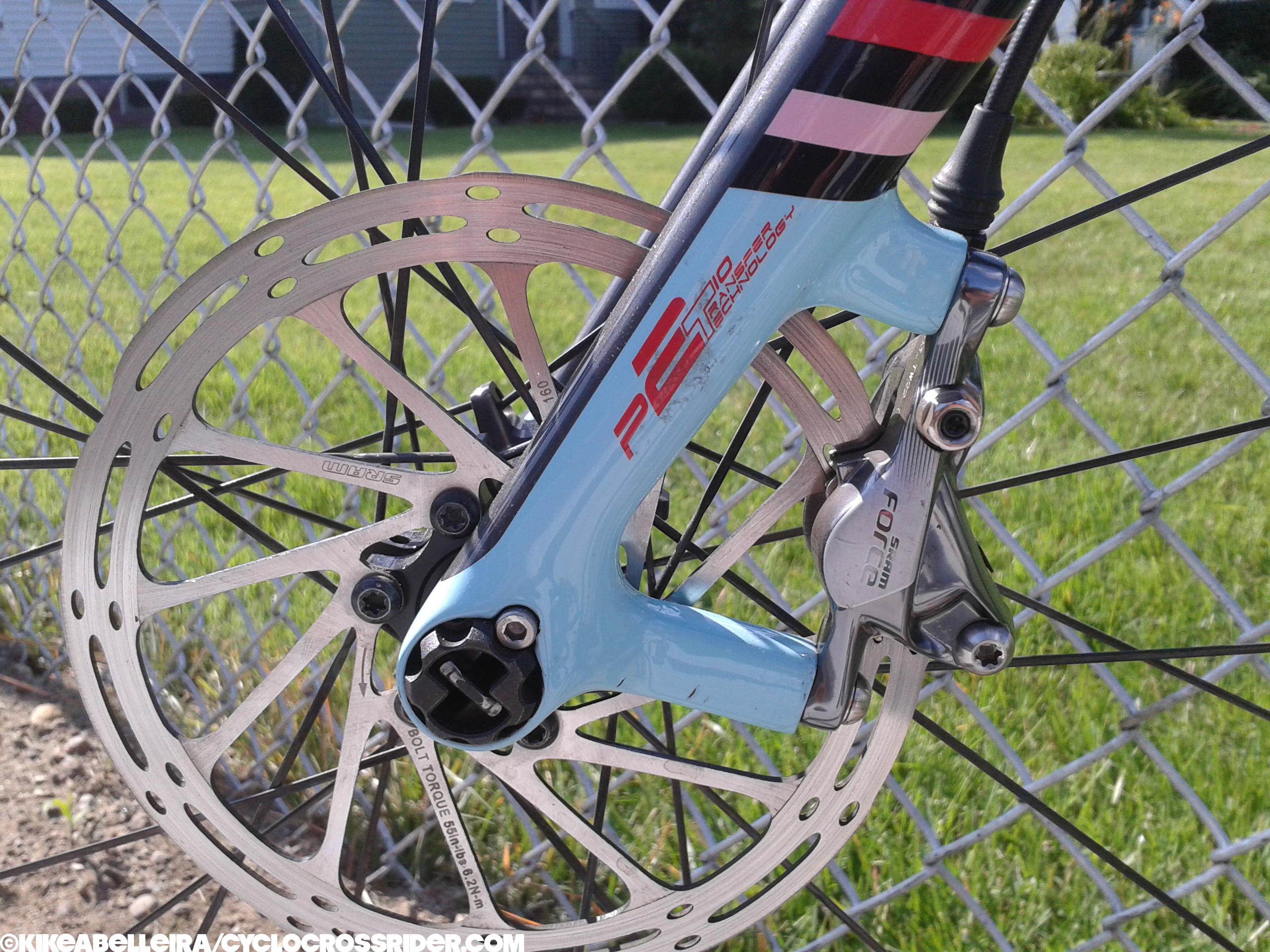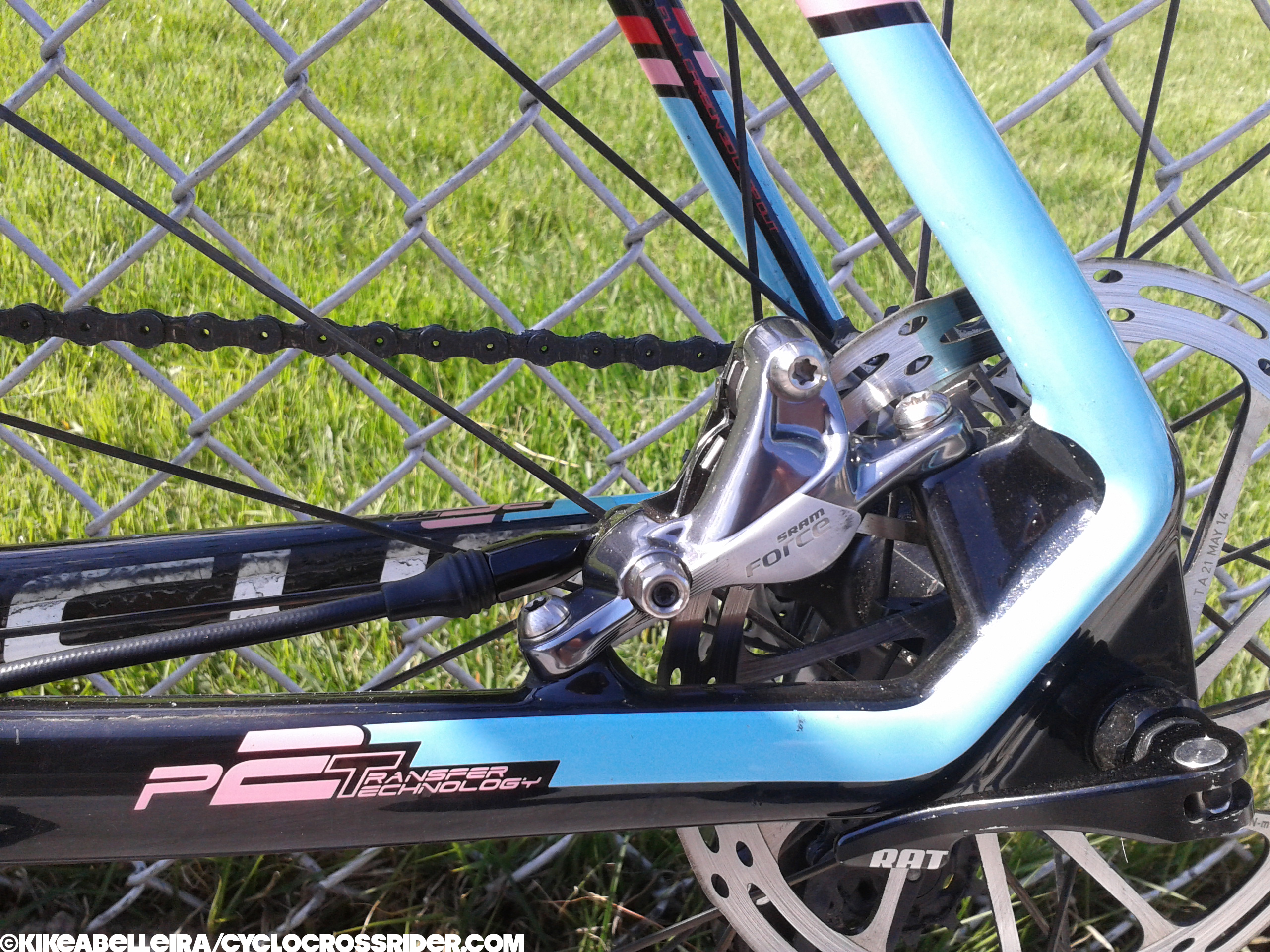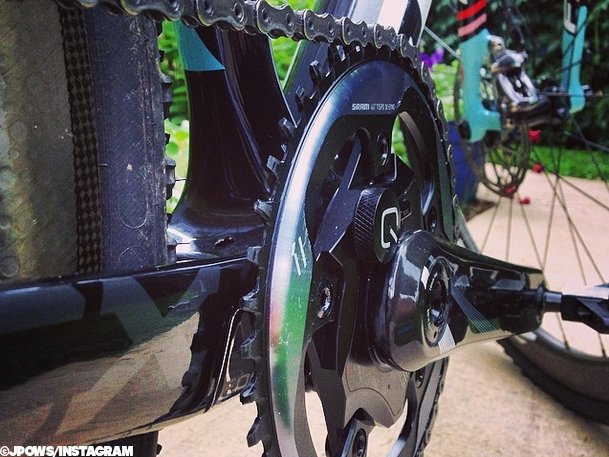 We then begin to talk about his racing calendar and Jeremy tell us that his focus is going to change quite radically compared to last season, as his chief plan is to peak for the seven UCI World Cup races.
"I'll start in the US with CrossVegas, Boulder, Madison, Providence, Gloucester, Rochester, then I fly to Europe for the first World Cup in the Netherlands. Back to the US for two or three more races, then I'm back in Europe for the World Cups in Milton Keynes (UK), Koksijde, Namur and Zolder," says Powers with the brevity of a seasoned traveller.
In order to pursue that goal, Jeremy will also change his European base and has decided to move out from Belgium to a recently established set-up just inside the Netherlands.
"I have the opportunity to partner with USA Cycling and have been offered the use of their facilities and resources at the centre in Sittard, Limburg which is towards the very south of the Netherlands," says Powers.
USA Cycling established a more focused European team facility in this 'cycling mad' province of the Netherlands in 2013 and signed a ten-year deal with the Limburg Sportzone. Limburg is home to the Amstel Gold Classic, has hosted the World road race championships on no fewer than six occasions and has also recently established the Caubergcross above Valkenburg as a highly popular World Cup venue.
I don't have to worry about all that... a better shot at getting better results
In Limburg, Powers will be spending both time and training with other US cyclocross riders who are based there, riders like 2013 American under-23 champion Yannick Eckmann (who we'll also be catching up with soon – Ed).
"I think all the additional help is going to make things a lot better for me and my mechanic and even though we could afford to rent a camper and a house in Belgium for the races, there's so much going on and we're always up against time. I shouldn't be worried about all those other things, but I do because they affect me directly," says Powers. "And well, it's much better if I don't have to worry about all that during the peak of my season. Having USA Cycling resources on hand can only be beneficial and give me a better shot at getting better results."
Sittard is also very close to the regional capital of Maastricht and its airport, so it makes even more sense with the training plans that Powers has as he can easily fly out to Girona in Spain for a training camp and escape any bad winter weather. Jeremy already knows Girona and the roads there as he did a long training block there last season, so he doesn't need to recon routes. Girona is also a perfect choice because it has an English-speaking road pro community he can drop into.
Jeremy continues to run through his season. "We are then into the busy Christmas period with races in Belgium, the Netherlands, a trip to Girona, then a short trip back to the States for the Nationals and then back to Europe for the rest of the season. I'm gonna do all of the World Cup races, that's for sure."
He has no current plans to race bpost bank Trofees or Superprestige races and wants to focus almost exclusively on the World Cups. Powers doesn't have any obligation with other organisers and, as he told me, it seems like coming from abroad, it can take a rider (or their management) a lot of time and energy to negotiate getting onto the start line of some races. Even if riders like Powers do get a start, on occasions the pre-agreed terms and conditions evaporate into thin air after the race.
"For the moment it seems like most guys are taking it more seriously at the World Cups, so that's what I want to do, and apart from those, probably I will only do more races in Europe if I like the track and it suits me well for my overall preparation," says Powers.
And what are his particular goals for the UCI World Cups? "Some seriously good races are the aim, like being in the top ten every time, if I can, that would be like a dream, if I can do some consistent World Cups." Powers' best World Cup placing to date was a seventh place in Tabor in 2012.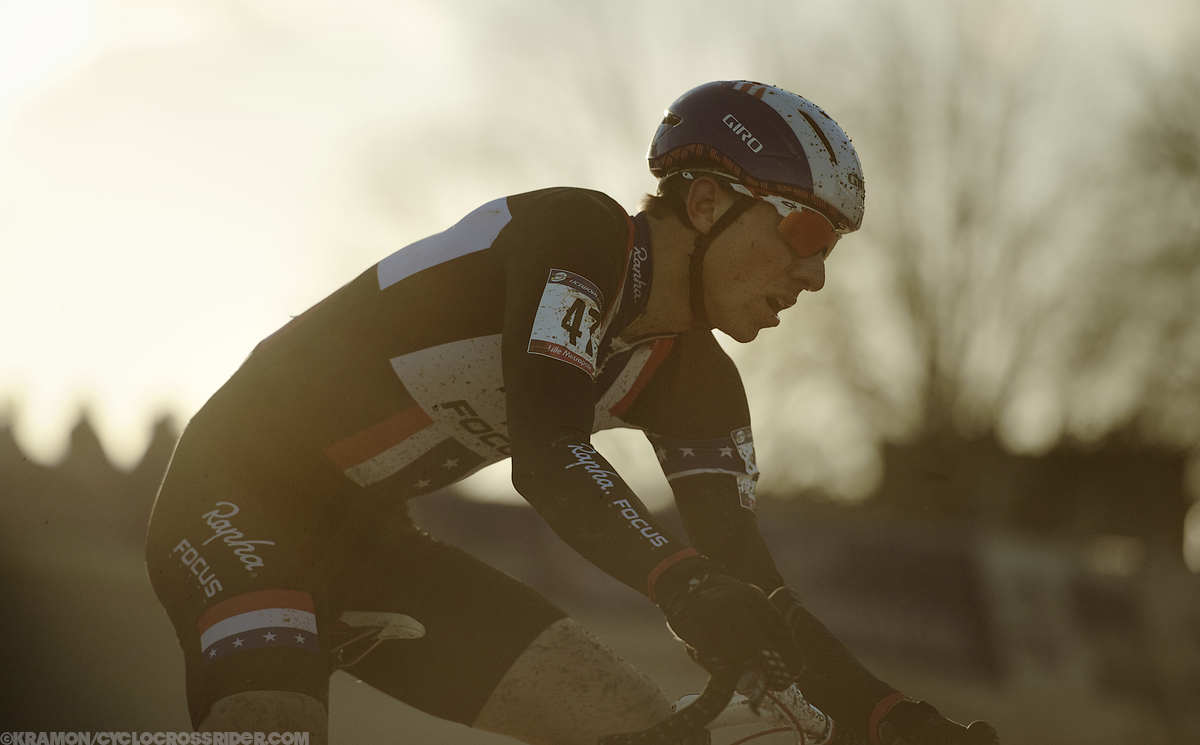 We know most of Jeremy's new sponsors, but the big change is that he's on a solo team now, moving from the former Rapha-Focus team where he had team mates last season in Gabby Durrin and Zach McDonald. We were interested in how Jeremy feels about not having other guys at the races racing with the same colours. "My former team mates were great and we had good camaraderie, but we're always racing for ourselves really, it's cyclocross not road, and of course we looked out for each other, but overall it's an individual sport. In many senses if something bad happens to one of the team that can also affect the rest."
For Jeremy, this change to a solo team has some downsides like losing some of that team spirit, comparing race notes and tales and supporting one another, but for him, this new, solo structure has more gains. "I feel better and less stressed if I can control all the variables, I feel like I'm in a better position to get the best results. Now with a solo team I can do things my way, I can bring my wife with me, I have my own mechanic who I know and trust. We do things our way, I hire the drivers, choose the hotel, the logistics, everything is in my hands," says Powers. "I can do what I like, market the team as I want, say the things that I want to the media. Of course, I have sponsors with their own requirements, but I don't have a manager telling me what to do."
For this first year Jeremy's solo team will run as he has described, but his dream is to continue with it, building it up along the way and adding some team mates in order to get a long-term structure before he approaches the final years of his racing career. Jeremy believes that the American cyclocross scene needs a good level, professional cyclocross team and he wants to be a part of that by driving his new Aspire Racing project to make that to happen.
Behind the Barriers.tv - we've upgraded... with more professional coverage
During last season, 'Behind The Barriers', the show about Powers' life at the races made a big step to become BTBtv and launch a new category alongside the existing BTB channels. Powers is truly committed to promoting cyclocross in the US and he believes that there is a lack of media coverage.
Last season BTBtv did a great job offering pre-weekend videos to introduce the races, the 'How the race was won' videos told you what had happened, there were interviews with the big US 'cross names and videos featuring young riders that otherwise wouldn't have access to the media. With Jeremy spending more time in Europe this season, BTBtv will be run by Jeremy's wife, Emily.
"Emily has great managing skills and we've upgraded BTBtv as much as we can and hired like-minded people with a sharp-eyed vision for what we want to accomplish this year. We'll continue with our media coverage of cyclocross, to make it more accessible and fun with more professional coverage."
At its inception, 'Behind the Barriers' was a show about Jeremy's racing life, a way to promote his racing and also the sport of cyclocross itself. Powers has proved though that, BTBtv is not just one big ego trip. 'Behind the Barriers' offers much more than just the Jeremy Powers' story, it shows viewers other people's stories, the people and races in cyclocross that are interesting, but may be overlooked by mainstream cycling media.
Ultimately, it is Powers' goal is to help to promote and grow the sport of cyclocross. We (Cyclocrossrider.com) are shoulder to shoulder behind him on this and wish him a successful and profitable season.
Kike Abelleira is Cyclocrossrider's Spanish correspondent based in Santiago de Compostela.
Main photos: ©kramon Others: ©kikeabelleira/cyclocrossrider.com