A WEEK ago 'our men on the ground in Belgium' got into conversation with someone who confirmed our inkling that some of Sven Nys' sponsors may move over to the Telenet-Fidea team with him once the current season ends. We broke the still unconfirmed news that when Sven takes charge of the team on March 1st the powerful team will announce a switch from Ridley to Trek Bikes (see our story here).

If the Telenet-Fidea switch goes ahead it would roughly halve Ridley's presence at the front of the big European races leaving them represented by Kevin Pauwels' Marlux-Napoleon Games team. Telenet-Fidea have also been big supporters of CrossVegas, which will kick off the UCI World Cup again next season, and this has given their sponsors, including Ridley, some US exposure.
Van der Haar to Marlux-Napoleon Games?
It's not been the best of seasons for Ridley-sponsored Marlux-Napoleon Games with neither Kevin Pauwels nor Klaas Vantornout really firing on all cylinders. Team boss Jurgen Mettepenningen is looking to strengthen his team and has offered Lars van der Haar (currently with the road-focused Giant-Alpecin team) a deal.
Signing Lars is a priority - Jurgen Mettepenningen
Mettepenningen was quoted on Sporza.be as saying, "His (Van der Haar's) arrival is not a must, because Michael Vanthournhout is progressing towards the top and we also have Kevin Pauwels. But I am looking to do some strengthening." Since then he's also been quoted as saying Van der Haar's signing is "a priority."
Twenty-four-year-old European champion Van der Haar, who was second in the World Championship, has a firm proposal on the table to consider.
Three-time World Champion Mario De Clercq, Mettepenningen's director sportif, is stepping aside to another role within the Marlux-Napoleon Games team leaving another vacancy to fill.
Mettepenningen told Sport Wereld, "The decision is not because of racing results. We've achieved over 21 podium places in the televised racing, few teams do better than that, so we do well, but perhaps we are missing the icing on the cake in the form of a few extra wins."
De Clercq was quoted as saying, "I'm about to be a grandfather for the first time and so my family will demand more time from me. Moreover, it has played on my mind for a while to step back after this season. In March I turn fifty and it is time for a new generation."
Richard Groenendaal, Danny De Bie and Jan Verstraeten are the three main candidates to replace De Clercq. "It is one of these three," says Mettepenningen.
Perhaps the real 'dream team' result for Marlux-Napoleon Games would be if they can reunite Dutchmen Van der Haar and Groenendaal again. Groenendaal won the World title in 2000 and was Van der Haar's sporting director before the latter's move away from the Rabobank team to Giant-Shimano, later Giant-Alpecin.
UPDATE (14 Feb '16): Lars van der Haar has told the Belgian media that he is due to start both the Criterium International (26-27th March) and the Scheldeprijs (6th April) road races for Giant-Alpecin. He also told Het Laatste Nieuws that "I am also secretly hoping that I get to race Paris-Roubaix, but currently I'm the second reserve."
The Dutchman also confirmed that a number of teams have approached him with deals because his contract is coming to an end but stated, "I am also negotiating with my current team."
Boom to Telenet-Fidea?
A move slightly less likely than Van der Haar's, involves the other Lars, team Astana professional Lars Boom who has been linked to the Telenet-Fidea team. None other than incoming team boss Sven Nys says that a conversation has taken place though.
2008 World champion Boom (below) is believed to have hinted that he may contest as many as 20 cyclocross races next season after managing to get up to 14th place at Zolder after starting on the back row of the grid.
Nys is quoted in Het Laatste Nieuws as saying, "There has already been contact with Lars, yes. It was purely an exploratory meeting, there is nothing concrete."

Nys takes full-time charge of Telenet-Fidea on March 1st but according to retiring teammate Sven Vanthourenhout he is "already busy and sending several emails a day." It is possible that there will be a role for Vanthourenhout at Telenet-Fidea, but not seemingly for Nys' right-hand man at the races Jan Verstraeten.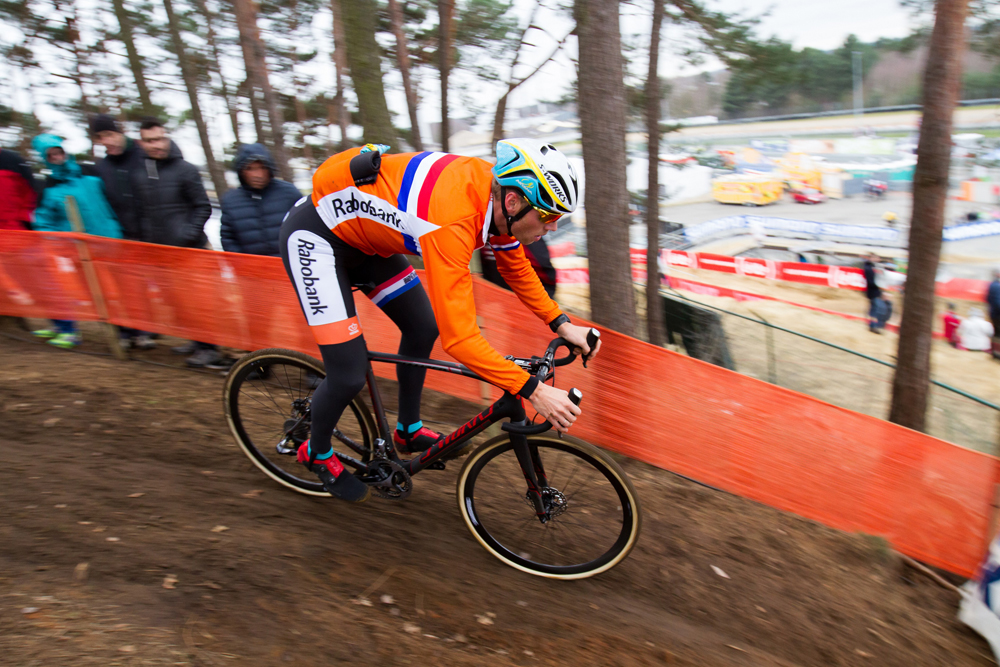 Photo: Kike Abelleira