THERE is still a very slim hope that World champion Mathieu van der Poel can salvage some kind of cyclocross season and even a defence of his global crown after he returned to training on New Year's Day. The Dutchman completed a near two hour road ride to continue to test the back issue he has been suffering with since May 2021. Van der Poel and his team maintain that he will not return to racing until he is "pain-free" from the swelling he's had on an intervertebral disc.
Specialists saw Van der Poel on Monday (3rd) though and his father is not optimistic about a return to racing this winter. Van der Poel Senior hinted on Sporza this afternoon in Gullegem that he expects Mathieu will be sidelined. Although, the Spring Classics are not threatened spring, Mathieu's 'cross season "may have already come to an end."
"But that is my personal opinion," Adri van der Poel told reporters.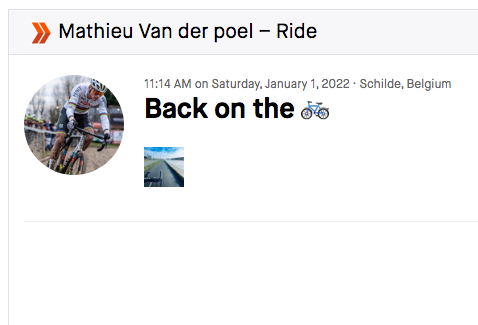 So far this season, Van der Poel has only finished one race (second to Van Aert at Dendermonde) and retired from one race (Zolder) and had scratched from racing the World Cup in Hulst. The next race on his original schedule was the Trofee race in Herentals on Wednesday (5th January) but it is understood he will not now start, followed by the Dutch Championship race in Zaltbommel.
.....
Our Partners with CX bikes in stock
Browse Cannondale, Cube, Specialized HERE
.....
Wout van Aert continued his unbeaten season in Baal on New Year's Day with his seventh victory from seven races. He looked to extend that run in Hulst (beaten by Pidcock, - Ed) and Herentals on Wednesday.
British champion Tom Pidcock who gave Wout van Aert a good battle at Baal on New Year's Day is set to race today in Hulst before Gullegem (4th) and possibly the British nationals (9th) followed by a warm weather training camp. It's still unclear whether Pidcock will actually defend his British title.
"I'll go away in the new year for a training camp and then should come back [to cyclocross] for the last couple of weekends in the best shape," Pidcock said in December.
"I'm looking to be peaking at the worlds – it's not the perfect course for me, but I think it's a good course for me. And yeh, I'm going there to win."
Where the Big Three race this week:
Sunday 2nd January: World Cup, Hulst: Van Aert, Pidcock (winner: Pidcock).
Tuesday 4th January: Gullegem: Pidcock (winner: Pidcock).
Wednesday 5th January: Trofee, Herentals: Van Aert, Pidcock.
Sunday 9th January: National Championships: Van Aert, Pidcock (prov). Van der Poel (prov).
.....
Our Partners with CX bikes in stock
Browse Cube and Vitus CX Bikes HERE
.....