WHILST the 2014 CrossVegas undoubtedly provided the usual early season razzamatazz and exciting, closely fought racing (see our men's and women's race reports) there was a negative issue that unfortunately reared its ugly head.
After the elite men's race, online observers, of which I was one, were still trying to fathom out whether Sven Nys had been disqualified or not (for visiting the pit too early) when a non-plussed Lars van der Haar was interviewed and complained about spectator behaviour during the race.
"If they keep throwing beer then I'm not coming back," proclaimed a clearly angry Van der Haar, "Beer went up my nose. That's not cyclocross, that's not cycling. There are some a**holes out there."
For the online viewer this was the only reference to what has since, in the week that has passed, become an intense topic of debate within the American cyclocross community leading to one major company present at the race, Giro, issuing an official statement yesterday (September 16th).
British and European champion Helen Wyman has also referred to the behaviour of parts of the CrossVegas crowd in her post-Vegas blog post.
Riders in the elite women's race, surely the strongest field ever assembled in the US outside of the Louisville Worlds, were not spared the beer-spraying antics of one element of the crowd. Furthermore, these professional women athletes were also thrown "Call Girl cards" (of the type you might see in public telephone boxes in the seamier side of a major city).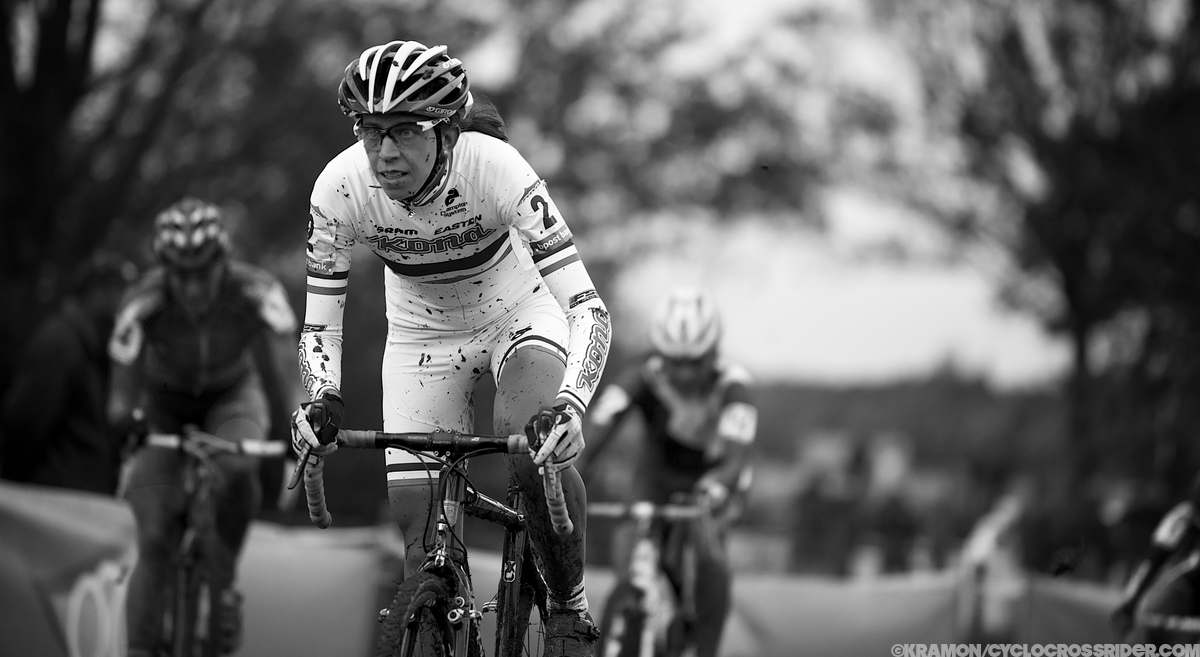 Wyman (above), third in last season's World championship, refers to the American 'cross phenomenon of the "hand-up" which she says is "not allowed in the rules of the sport in UCI events, but it's overlooked in the USA. Taking dollars, and even rubber chickens (yes, I once got beaten by someone carrying a chicken they took in a 'hand up' from the crowd) are pretty commonplace in racing here."
She continues, "In my mind, there has to be a limit of where this kind of thing is done. By taking these, we as riders, are encouraging (or potentially encouraging) things to escalate."
"As for beer," says Wyman, "keep it in a cooler, preferably on ice, and bring it to the pro-parking area after the race as there will be no shortage of people willing to have a beer with you. You'd enjoy your time with the riders and they'll tell you all about the race."
We hope you will join us in keeping cyclocross fun, safe, and fair
Giro in their Facebook post and official statement admit that rowdy behaviour took place in their trackside booth, "The conduct of certain individuals in our booth exceeded the bounds of appropriate spectator behaviour, and we'd like to join CrossVegas and Watts Marketing in calling for a stop to disrespectful fan behaviour at cyclocross events. We hope you will join us in keeping cyclocross fun, safe, and fair."
The statement continues, "Giro respects all competitors and encourages spectators to reject heckling, beer spraying, and other inappropriate behaviors. I regret that we did not do enough to control the guests in our VIP area at CrossVegas," said Greg Shapleigh, Giro's Executive Vice President and General Manager (September 16th, 2014)." The full statement from Giro is here.
Statement from CrossVegas
Race director Brook Watts also issued a measured statement on the race website stating that, "The incident was aggravated by the presence of alcoholic beverages that were brought into the venue without the authorization of, and against the policies, of CrossVegas," and calling on the cyclocross community to "treat our field of play no differently than an NBA arena or courtside at the US Open."
My own, more limited experience of 'spectator interaction' in cyclocross racing leads me to wonder whether it is just cyclocross that is changing or is it perhaps also the modern world that marches on?
A few seasons ago, I got a low, solid (railway sleeper) barrier wrong and went head first over the handlebars. Not that long ago the nearest spectator to an incident like that would usually show concern - "Hey, how are you (after landing on your head)?" On this occasion, the spectator, a generation (or two) younger than I, simply broke out into laughter.
Let's show some respect!
Postscript
We would like to thank 'cross pro Christine Vardaros for informing us that one Vegas beer thrower was identified by photos posted on twitter. American champion Katie Compton's husband Mark Legg asked for help to identify the man and demanded that he apologised to Katie for spraying beer in her face. The guy was identified and publicly apologised.
The Loenhout 'Beergate' in 2012
Back in December 2012 Belgian pro 'cross racing suffered a similar incident at a rowdy Christmas week race in Loenhout. One group of young lads were throwing beer all race long, but when one of the plastic cups hit the bike of Belgian champion Sven Nys, who as it happened was 'having a bad day at the office', he stopped and entered the crowd to give the lad a dressing down. The young man in question also publicly apologised after the event.
Nys after the incident asked for some respect and on his Facebook page posted succinctly (and humourously) - "Cyclo-cross is a little Flemish fairground. But cyclocross riders are not a fairground attraction that you are free to throw beer at, however dirty they are."
For American perspectives on the issue it's worth looking at The Radavist (John Prolly) and Dan Chabanov (for Peloton magazine) who writes, "I was mortified to hear one of the best cyclocrossers (Van der Haar) in the world receive such shitty treatment. Whoever sprayed the beer embarrassed US cyclocross. It's a letdown to all who love the sport."