The Under-23 men's World Championship – Live here 11.00 (CET) Sunday (unless geo-blocked)

THE Belgians need a gold medal on World Championship Sunday. The country at the centre of world cyclocross won two silver medals in the Saturday races for Junior men and Elite women.
A Belgian gold medal in the morning race seems most likely to come from either Laurens Sweeck or Michael Vanthourenhout, but as team mate Eli Iserbyt found out on Saturday (losing to the World mountain bike champion Simon Andreassen) nothing is 'nailed on' at the Worlds.
The biggest challengers for the Belgians should the French pair of Clement Venturini and Fabien Doubey and - in the most likely frozen conditions - the Czech pair of Jakub Skala and (senior Czech champion) Adam Toupalik cannot be discounted.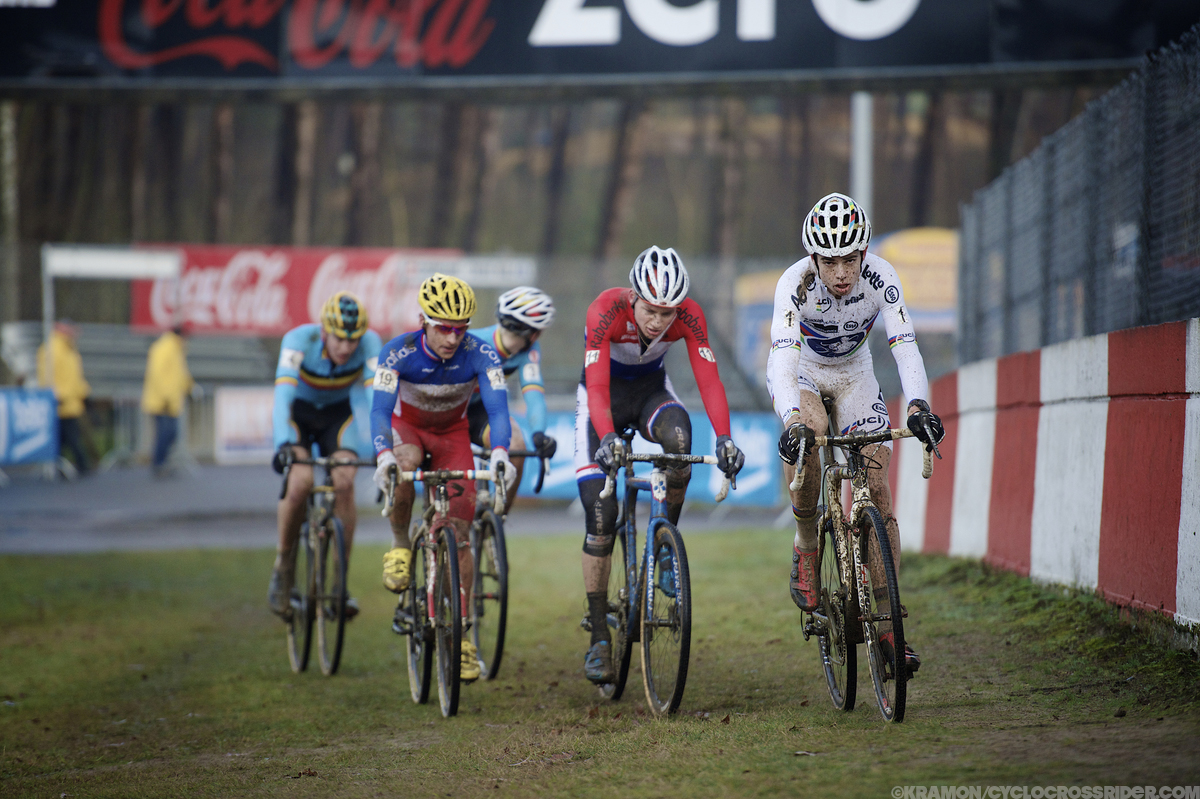 Without Van Aert (1) and Van der Poel (11) perhaps the way is open for Clement Venturini (19) and Laurens Sweeck (looking around).
Of last season's Under-23 Worlds podium only silver medalist Michael Vanthourenhout has decided to stay in this category – Wout Van Aert and Mathieu van der Poel making the early move up to the Elite race (summarised here).
Belgian champion Sweeck has been rider with the best form most of the season though – winning in Hoogerheide last weekend despite his on-off selection issue thanks to the Mertens case – and beating both Van Aert and Van der Poel in Zolder (above).
One thing is for sure on Sunday - the Belgian teams will not make the same mistake that cost Eli Iserbyt a decent crack at the gold medal on Saturday. In an elementary blunder, Iserbyt's mud tyres were not taken to the course, so when he struggled for grip in the opening lap he was unable to change treads. Only after someone was dispatched back to the hotel to bring them was the pre-race favourite able to swap and that was some 25 minutes into the race.
Someone has to save the day for Belgium!
The Elite men's World Championship – Live here 14.00 (CET) Sunday (unless geo-blocked)
Unfortunately a lot of countries are geo-restricted from the live UCI feed of the World Championships. If your country is geo-restricted it generally means that a broadcaster from your country has bought the rights to show the racing (live or delayed) – you can check the list of broadcasters on the UCI website.