Elite men's champion: Mathieu van der Poel (NED)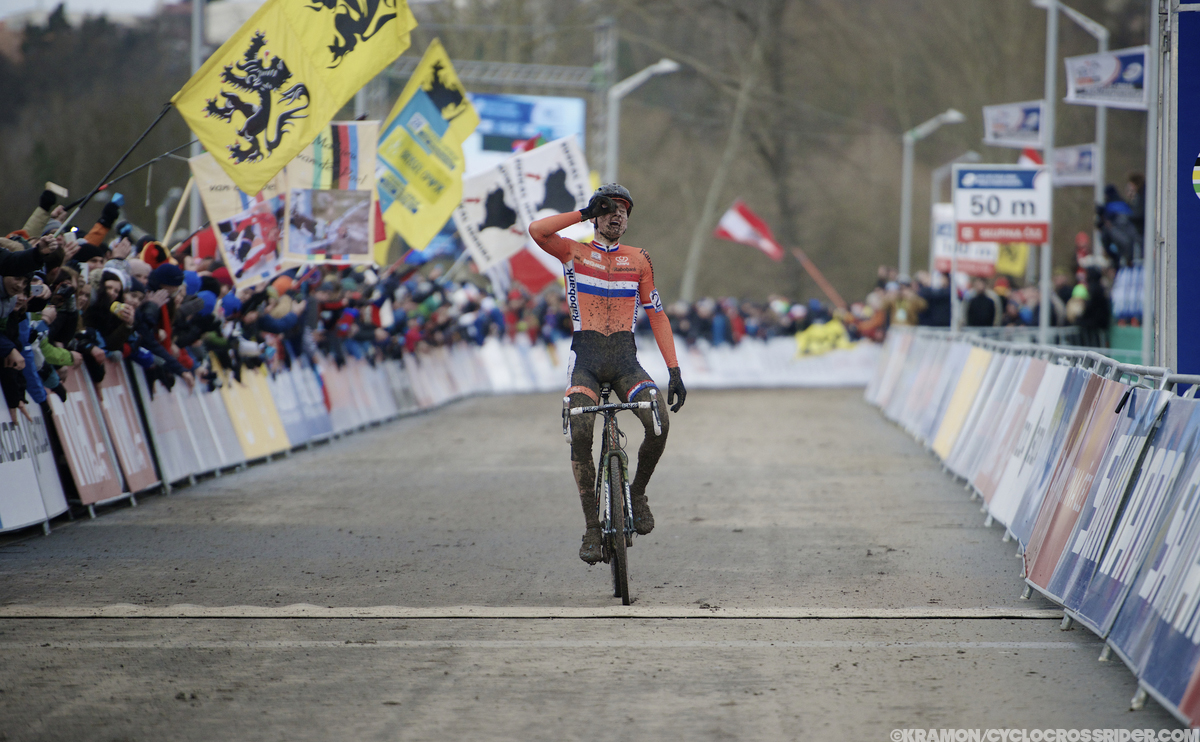 Average age of Elite podium is younger than that of Under-23 race!
Opvallend: elitepodium 142 dagen jonger dan podium beloften http://t.co/Y9gVwg2JwS #WKTabor pic.twitter.com/XGBjONycC5

— Sporza 🚴 (@sporza_koers) February 1, 2015
SUNDAY: Frozen ground this morning. No snow.

Under-23 men's champion: Michael Vanthourenhout (BEL)
WERELDKAMPIOEN! (foto Photopress.be) pic.twitter.com/TvPro3gT3W

— Pauwels Sauzen - Bingoal (@PS_BG_CT) February 1, 2015
Good morning crossers! D Day for U23 / Elite Men. Last official practice on a frozen ground. Are you up? #CXTabor pic.twitter.com/Jmo0POfwWM

— UCI Cyclocross (@UCI_CX) February 1, 2015
SATURDAY January 31st: No snow overnight but sub-zero temperatures
Elite women's champion: Pauline Ferrand-Prevot (FRA)
Agreed, best possible advert RT @UCI_CX: "This race was great for women's cyling" @FERRANDPREVOT World Champ #CXTabor pic.twitter.com/tWShd6COAT

— Brian Cookson OBE (@BrianCooksonOBE) January 31, 2015
Junior men's champion: Simon Andreassen (DEN)
Swiss Simon Zahner likes the frozen conditions he sees early on Saturday
DREAM conditions right now in tabor,now pleeeeease stay like that!!! pic.twitter.com/vynIPl7X2R

— simon zahner (@saimnsaaner) January 31, 2015
FRIDAY January 30th: Wintry conditions remain in Tabor with sub-zero overnight temperatures

Martin Bina rides the barriers, but does he have the form to challenge this season?
Twitter support for the British women!
[twitter id=561277506133970946]
Will new 'Glas-Rhino' tread be the secret weapon in Tabor? - Sportwereld
Richard Neiuwenhuis, the Dutchman who supplies many pro 'cross riders with Dugast tubular tyres, is understood to have developed a new tread especially for snow or icy conditions, Sportwereld has reported. The 'glas tyre' is a rhino tread with beads of glass in the compound believed to provide more grip on frozen or thawing surfaces. There is just one possible hitch at the moment, the UCI have still to approve the tread although Sven Nys' bike has been spotted with the new tread.

In 2010, many will remember, Neiuwenhuis' spiked Diablo tread (tested below by Sven Nys) intended for the Worlds in Tabor was not approved by the UCI and never used in racing.
THURSDAY January 29th:
Kevin Pauwels was de 1e Belgische prof in het hotel in Tabor en nadien ook op de WK-omloop. Hij fietste stevig door. pic.twitter.com/qr19vjRlIF

— Pauwels Sauzen - Bingoal (@PS_BG_CT) January 29, 2015
Pauwels re-cons and declares "It's not my course" - Sportwereld
Kevin Pauwels was the only Belgian men's race favourite to pre-ride the Tabor course in official training today (Sven Nys will wait until Saturday). Belgian team manager Rudy De Bie commented that it's the heaviest Tabor course that he's seen with some short shaded parts bone hard, but the rest very soggy. Pauwels told Sportwereld, "I'm not happy with the course conditions today, I prefer fast and dry and this is not my course."
Pauwels' (trade and national) team mate Gianni Vermeersch seemed to contradict this to Sporza however: "This course suits Kevin Pauwels well. He has really been working towards this race and I think he has a good chance of winning the title."
Thursday's Belgian TV round-up via Sporza.be
And 'Belgian blue' Colnagos appear as well...
Waarom @WoutvanAert en @peetersrob gunderden bij hun aankomst in Tabor? https://t.co/MRjOPLdlcf pic.twitter.com/UKQzbliuR9

— PauwelsSauzen-VGS CT (@PS_VGS_CT) January 29, 2015
Italian Franzoi summoned to doping inquiry – Cycling News
Cycling News has reported today that former BKCP-Powerplus rider Enrico Franzoi has been summoned to appear before the Italian anti-doping inquiry into Doctor Michele Ferrari at the end of February. Franzoi, who is 33 and has not raced since December 8th, was 13th in last season's Worlds. The Italian is ranked 46th in the UCI World cyclocross rankings and has won four Italian national titles (the last in 2009), but he was not selected for Tabor.
Weather report: Snow is back over the course in Tabor, but is melting away!
Good Morning Tabor! The snow is back... #CXTabor pic.twitter.com/IYze0KNUIs

— UCI Cyclocross (@UCI_CX) January 29, 2015
Belgian team check in to fly to Prague
@BELCyclingTeam has taken off for the Worlds Cyclo-cross in Tabor this morning! Good luck! @FlyingBrussels #Tabor2015 pic.twitter.com/Xcj5SEBav3

— Belgian Cycling Team (@BELCyclingTeam) January 29, 2015
WEDNESDAY January 28th:
Sven Nys : "Van Aert and Van der Poel will be affected by the pressure" - according to RTL

Sven Nys has experienced the pressure of being a favourite for the World title many times, but this year Nys believes that he has "nothing to lose, or to prove."
"Who knows if it that will not play in my favour? The course will be snowy and icy. I love that. While Van Aert and van der Poel still have everything to prove on this type of terrain," Nys is quoted as saying by RTL.
Helen Wyman speeds around the Tabor lap - course preview
TUESDAY January 27th:
"Van der Poel is not yet the World champion" - Rudy De Bie in Sportwereld
After Mathieu van der Poel's emphatic win in Hoogerheide on Sunday, Belgian team manager Rudy De Bie concedes that the Dutchman is favourite for the World title in Tabor.
"He should leave the confetti in the drawer though," added De Bie before the article goes on to stress that the favourite does not always win. It's common practice for riders and teams to tip opponents as the favourite though to shift the pressure a little - it's all part of the re-race game.
Nys unveils new 'Belgian blue' Boone on twitter
Double World champion Sven Nys revealed his new Trek Boone specifically painted for the Worlds in Tabor. The frame is in the same blue as the Belgian national team colours and the chainstay carries his 'Cannibal from Baal' nickname.
Here he is! Brand new. My new baby! #boone #taborwk @TrekBikes pic.twitter.com/3JXlvYo9fD

— Sven Nys (@sven_nys) January 27, 2015
Weather forecast: Snow is expected but will it stay for the weekend?
SUNDAY January 25th: WORLD CUP FINAL, HOOGERHEIDE

"Van der Poel stars in his father's show - the dress rehearsal for the Worlds" - photo gallery on Cyclocrossrider.com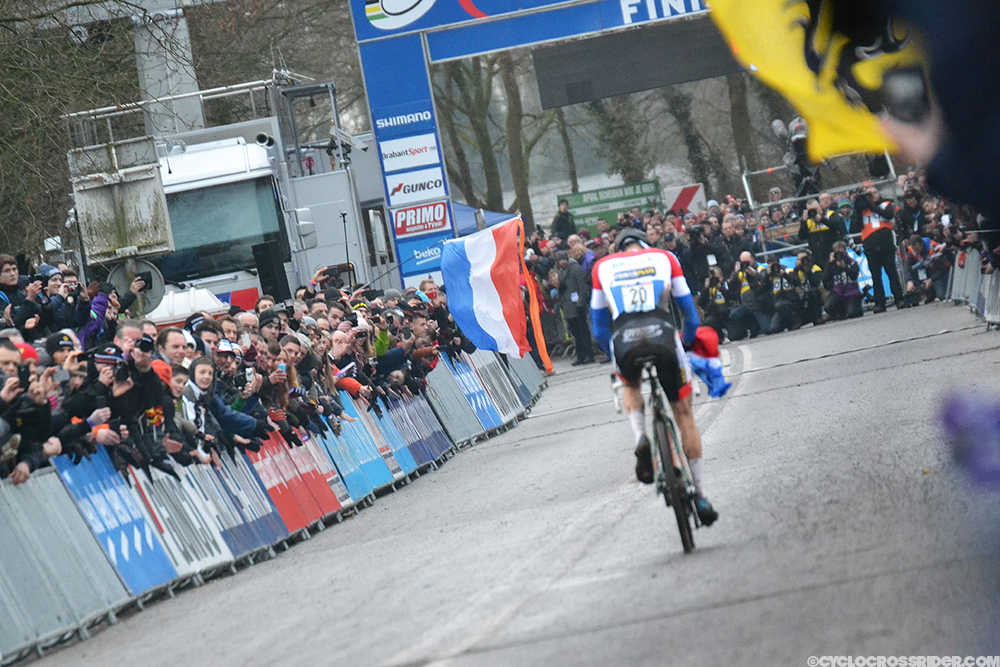 Newly crowned Dutch elite champion Mathieu van der Poel is the star of his father's 'show' – the GP Adrie van der Poel - in the Hoogerheide World Cup final a week before the Worlds.
"Vantornout was sick and on antibiotics" - team insists on Sporza after scepticism
Klaas Vantornout was not a popular winner of the 2015 Belgian Championship title earlier this month. Not only was he criticised by some for seemingly blocking other riders when he dismounted (unintentionally in our opinion), but others questioned how ill he actually was when he sat out most of the tough Christmas period of racing prior to the Championship.
Vantornout won his 2013 Belgian title in a similar set of circumstances and feathers were ruffled once again on Sunday in Hoogerheide when Vantornout pulled out midway through the race. The tall, west Flandrian's team insisted to the press that he had been ill again and on antibiotics, but that he fully intended to travel to Tabor. We would not be surprised to see Vantornout (below) right at the front of the race on Sunday despite his ailments!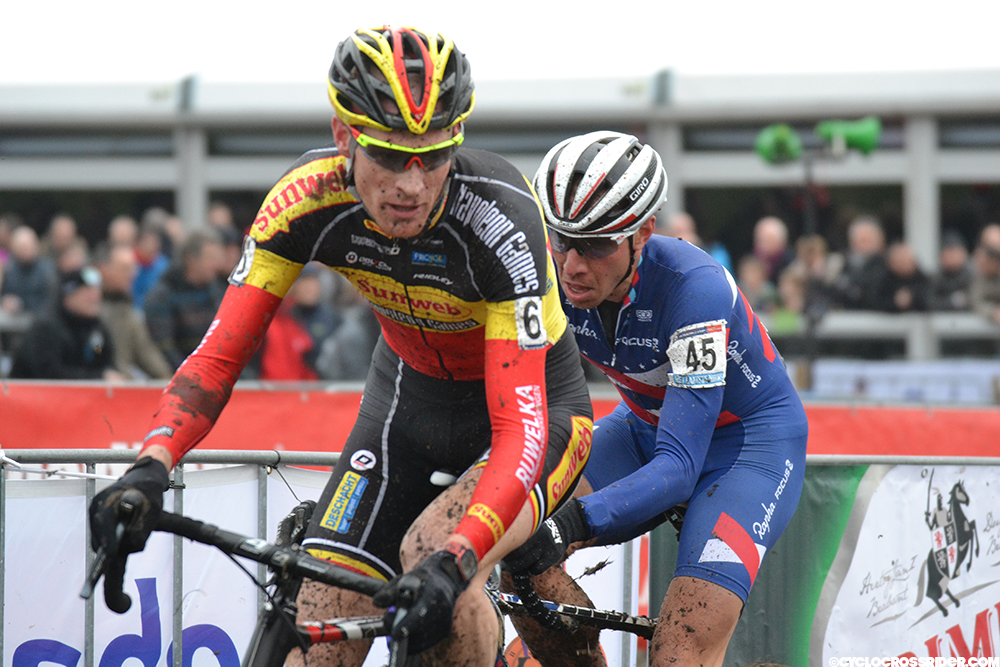 SATURDAY January 24th:
"Van Aert lacks ambition" - Adri van der Poel implies to Sportwereld
Nieuwsblad.be kicked off the pre-Worlds 'war of words' on their Sportwereld pages: Adri van der Poel, the 1996 World 'cross champion and father of Mathieu and David, pronounced Wout Van Aert as the favourite in Tabor. In the article Van der Poel is also critical of Van Aert's own statements: "If you (Wout) want to cast yourself as the underdog, then you are a silly boy. I would let him ride Under-23s and give his place to someone with ambition."
EARLIER CYCLOCROSSRIDER FEATURES:

From Tabor to Tuscany - cyclocross' latest rivalry: Paul Maunder tells us about the Van Aert-Van der Poel rivalry, their decisions to race elite and predicts the future here.
Van Aert profile: We look at Wout Van Aert's 'cross career and his successes this season here.