THERE was a twittering of disquiet on Sunday afternoon as fans outside Belgium and The Netherlands realised that they had no access to view the racing at Zonhoven whether they wanted to pay for it or not.
The frustration prompted Gregg Germer (of the Chainstay cycling house in Oudenaarde) to suggest in a tweet that the Benelux-only subscription deal done this season is the Superprestige organisation's 'jumping the shark' moment. I may well agree and at the very least it was a highly significant day for the sport in it's Belgian heartland.
Whether the deal came about purely because of the money being offered by Telenet or the Flemish national broadcasters being under financial pressure is still unclear, but it provides a short-term injection of money to an organisation which added a regular elite women's race to it's programme for the first time this season. Many fans of women's racing were therefore denied seeing something they had celebrated when the series was announced.
"Jumping the shark"

origin:

The phrase "jumping the shark" was coined in 1985 by Jon Hein's roommate at the University of Michigan, Sean Connolly, when they were talking about favorite television shows that had gone downhill, and the two began identifying other shows where a similar "jump the shark" moment had occurred (an episode of Happy Days was the spark where the Fonz character performed a water-ski stunt). Hein described the term as "A defining moment when you know from now on … it's all downhill … it will never be the same." In 1997, Hein created a website to publish his current list of approximately 200 television shows and his opinions of the moments each "jumped the shark"; the site became popular and grew with additional user-contributed examples.

Subsequent meaning and usage: The usage of "jump the shark" has subsequently broadened beyond television, indicating the moment when a brand, design, franchise or creative effort's evolution declines.
Cross fans have been lucky over the past few seasons, but last weekend it became apparent that the 'cheeky' online feed (for non-Benelux fans) era is over for races within the once mighty Superprestige series - which established in 1983 predates the UCI World Cup by some ten seasons.

We warned readers at the beginning of October (here) and the writing was on the wall on Saturday when Telenet's digital channel broadcast the Polderscross to it's paying subscribers only and no one outside of Telenet's regional reach got a subsequent sniff of the footage.
My focus, like the sport's, is at risk of slowly shifting elsewhere
So sure enough on Sunday our twitter feed started to 'crackle' with disappointed people, including former US champion Tim Johnson, expecting to get a glimpse of one of the sport's most spectacular races. There was a complicated 'workaround' that meant viewers could pay-to-view, but after 15 or so years of following the sport in Europe and being unable to attend Zonhoven for the first time in several seasons, I know I am not the only one who is simply tired of finding workarounds. My focus, like the sport's, is at risk of slowly shifting elsewhere
International brands like Trek, Giant and Colnago - even title sponsor Hansgrohe - may also be taking note of the fans of cyclocross left out in the cold by the new broadcast deal.
We can also see that riders will continue to place more focus on the UCI World Cup (with it's higher points earning potential as well as widespread live online exposure) and travelling to neighbouring countries such as Switzerland and Luxembourg for 'easier' UCI points. Belgium's Superprestige series races might face a future which is even less international and more Flemish.
We might be proved wrong, of course, if large numbers of Belgians are paying the monthly subscription fee to Telenet (seemingly available to the Dutch via Sport1.nl and all those with the purse strings are happy with viewing figures, media coverage and gate receipts.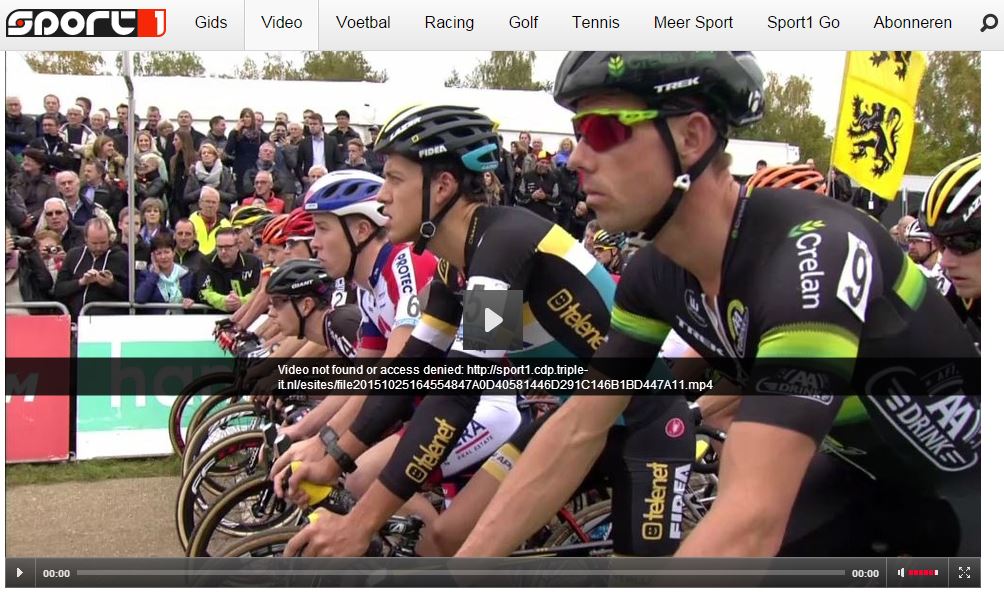 Dutch Sport1 have a highlights package but "access is denied" if you are outside The Netherlands and the same goes for Sporza in Belgium.
Free to share or geo-restricted?
The sharing of race highlights (or sharing technology) is something that Belgian broadcasters seem to have a difficult relationship with. No other country except The Netherlands has a big enough audience to warrant buying TV rights to European pro cyclocross so the Belgians seem unsure whether to let anyone outside of their borders watch it or not (live or highlights). And it's a dilemna that they cannot seemingly resolve yet.
Last season Cyclocrossrider received a (standard) email from the Flemish national broadcasting company accusing us of breaches of copyright. It arrived not long after one of their websites - Sporza - made embed codes visible on race highlight videos which essentially allowed anyone such as ourselves to place that content to be viewed on our/their own website. We pointed this out in a reply to our accusors and asked if they could indentify where we had breached their copyright.
Of course we did not receive a reply from them, but Sporza have removed the video embed option and now even Sunday's highlights are only viewable on Belgian soil. So on top of not being able to make live action (officially) available to those outside Benelux they are also losing the foreign website traffic that is desperate to see mere scraps of race highlights.
In this strange case of apparent narrow mindedness it's any international companies involved in the sport who miss out on some extra 'bonus' exposure.
And the longer term impact? It's likely that it will result in the Belgian circuit becoming even more Belgian and that means having to rely on a small pool of sponsors for a sport shown less on free-to-air national television.
The Belgian pro 'cross scene - outside perhaps of it's UCI World Cup rounds which are viewable free online - looks set to remain a "little Flemish fair" to coin an expression used by Sven Nys (after the beer throwing in Loenhout in 2012).
Perhaps, after all, that is the way it should be? Veldrijden is Flemish but cyclocross is for everyone.
Elite men - final lap
Elite men - highlights
Elite women - highlights