Fingers pointed in Bredene Versluyscross (C2-ranked)

Neither Sven Nys nor Lars Boom – both former World Champions - threatened the podium in Wednesday's race on the Belgian coast as Dieter Vanthourenhout claimed victory. Vanthourenhout was followed home by team mates Michael Vanthourenhout and Klaas Vantornout and it's the tactics of another Sunweb-Napoleon Games rider, Gianni Vermeersch that particularly angered Sven Nys. Nys finished twelfth after a controversial final lap and Boom did not start which throws any further appearances in cyclocross this season into doubt.

Nys claims that Vermeersch used dangerous tactics during the race near the Belgian coast and that it's not the first time that the young Belgian's riding has been called into question.
"I'm not the first victim of Vermeersch's behaviour – it's already happened several times," Nys told reporters straight after the race. "I can tolerate a lot, but at some point there is a limit and it's time to say something. It's a pity that today there was no television broadcast."
"I have nothing against a tactical race where a team tries to dominate - that is tactics. But Gianni showed aggression towards me and others and that crosses the line," Nys concluded.
The tactics of the Sunweb-Napoleon Games team seem to have been premeditated perhaps inspired by Tom Meeusen's successful solo win in Loenhout on Tuesday and so they planned to use their strength in numbers. It's possible that Vermeersch took the agreed tactics a little too literally.
Vanthourenhout's win overshadowed
For his part Dieter Vanthourenhout was obviously delighted telling reporters "This has to be one of the most beautiful victories of my career" he told Sporza. "Last year I had bad luck with a knee injury and so it's nice to win again in Belgium. I must thank my teammates. I spent almost an hour alone and without them I would not have won."
Nys vented his anger publically on Twitter: "What happened today is going over the line. My respect for Gianni Vermeersch is completely gone." Adding to TV reporters "During the last lap it was way over the line. They have forced me into the barriers. If these tactics become part of cyclocross, then we are going down the wrong path."
Nys also seemed annoyed by something in Loenhout and confronted Vermeersch after the finish in Bredene after crossing the line in twelfth place. Photos from the race – which was not televised – back up Nys' complaints and show that he was not the only victim of Vermeersch's riding. Vastgoedservice-Golden Palace rider Tim Merlier was also on the receiving end and joined in the complaints after the race (main photo). Meriler finished 10th, Vermeersch 5th and Nys back in 12th place after efforts to chase were thwarted.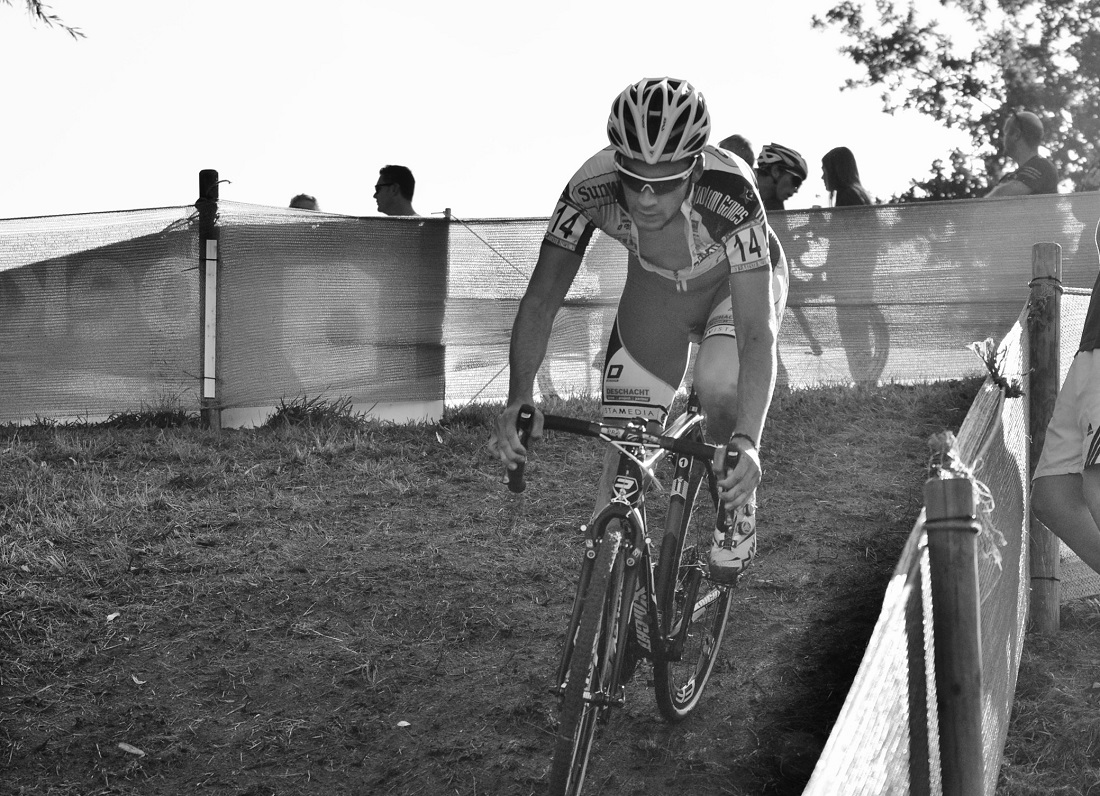 Vermeersch (above) it would appear has learnt his lesson and quickly apologised.

"In my youthful exuberance today, during the final lap I have been little too agressive. My sincere apologies to Sven. It was not the intention to bring him down him. My respect for the sport and for Nys remains immense."
Nys also tweeted that the apology had already accepted - "I hope you learn something from this. Let the race in Baal be a party. End of discussion."
Vermeersch's team changes title sponsor on New Year's Day and so let's hope 2016 brings close, exciting, but clean racing. For Nys, New Year's Day will be an emotional day as the bpost Bank Trofee comes to his hometown course for the GP Sven Nys and who wants to bet against the controversy having ignited Sven into an inspired performance in Baal?
Brief local TV highlights here
Results:
Elite women: 1 Thalita de Jong (NED); 2 Joyce Vanderbeken; 3 Laura Verdonschot.
Elite men: 1 Dieter Vanthourenhout; 2 Michael Vanthourenhout; 3 Klaas Vantornout.
Boom expected to start Surhuisterveen on January 2nd
The 2008 World champion Lars Boom did not start, as originally thought, in Bredene and the only remaining race on his program is Surhuisterveen on January 2nd.
In the Zolder World Cup the Dutchman could finish only 43rd (at 7:15) behind winner Mathieu van der Poel. "I was really nowhere today," Boom said afterwards. "My back hurt and I did not feel good on the bike. I had a reasonable start but things got worse. I could never really grasp the pace, even on the road. It just was not good."
The Dutchman complained of lower back pain partly due to the firm and fast conditions currently being experienced in Belgium - "It was my first 'cross - a technical track, tossing and turning, it goes so fast. You may train offroad, but that is not the same as in a race."
In Loenhout yesterday (December 29th) Boom finished in 31st place some 4:07 behind solo winner Tom Meeusen. Boom missed his first two planned races through illness so any hopes of contesting the Worlds at Zolder on January 31st are now extremely slim.
Mani and Venturini win in Normandy (C1-ranked)
The finale of the C1-ranked French Cup was held at the picturesque Château Flamanville in Normandy.
The women's race was won comfortably by the favourite, US-based Frenchwoman, Caroline Mani who remains on a high after two very strong World Cup performances over Christmas – second place in Namur and fifth place at Zolder.
Cofidis' Clement Venturini, the 2011 World Junior Champion, also lived up to his billing as favourite in the men's race winning easily. Sixth place in Zolder, Venturini had eight-time French champion Francis Mourey to contend with. Mourey has finished on the podium in France and Switzerland this season but his World Cup appearances have been below par – 13th in Valkenburg and 22nd in Namur (a race which he won in 2013). Mourey finished third behind Venturini and Steve Chainel.
Related articles
Zolder: Full dress rehearsal for Worlds


Main image: Jeff Corcoran - corcoransphotos.com