BELGIUM has had an abundance of cyclocross stars but Kevin Pauwels has been one of the most popular. The quietly spoken Belgian who won junior and under-23 World titles, two UCI World Cups and no fewer than five elite World Championship bronze medals is calling time on his career after 13 successful pro seasons.

Kevin, now 34, has been one of the best technical riders of his generation and also had the largest fan following of any rider, even in the era of Sven Nys, Niels Albert and Zdeněk Štybar. His Supporters Club took a coach load of fans from the Antwerp area to races further afield for many seasons and an ever-present at trackside was his grandmother.
Pauwels added the World junior rainbow jersey to a Belgian title at Zolder in 2002 and it was to lead to a long and fruitful professional career. Quickly signed by Hans van Kasteren of the Spaar Select team, Kevin added a World under-23 crown in 2004. Van Kasteren's team, with new sponsors, became the mighty Telenet-Fidea and Kevin became a high profile rider in a golden period for the sport.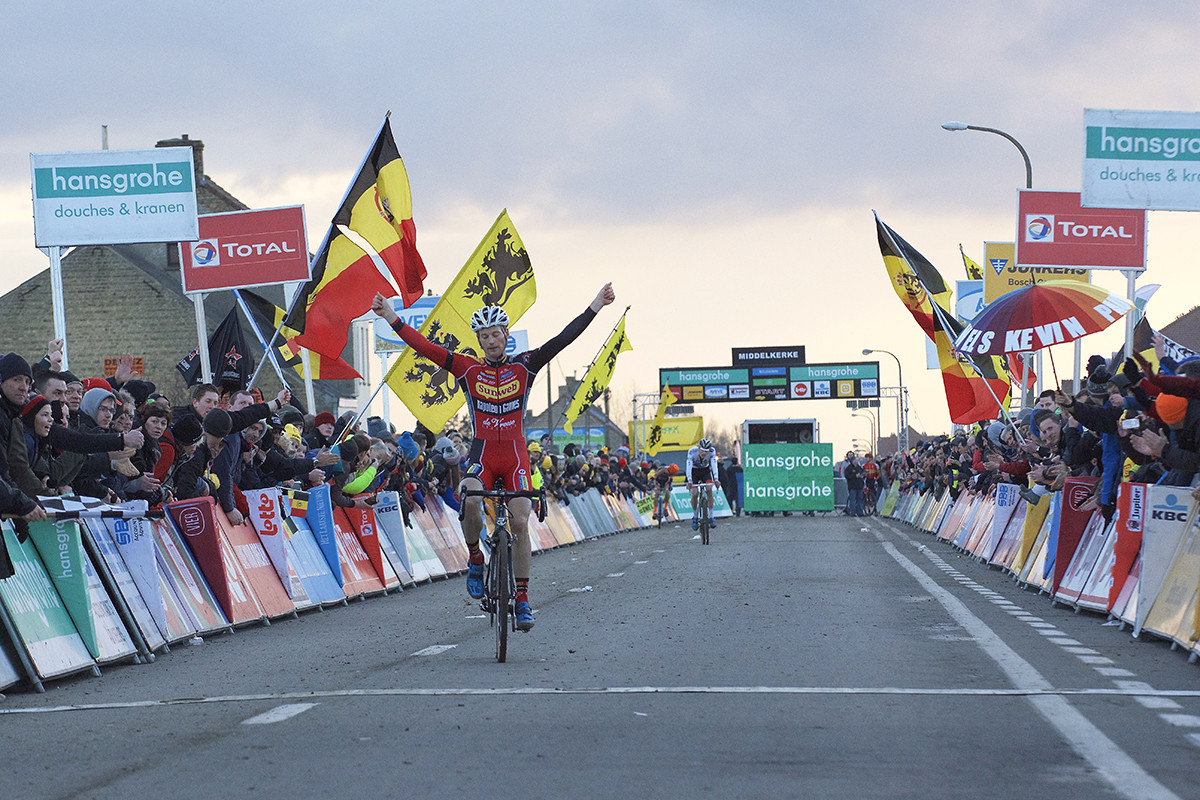 Kevin beats Mathieu van der Poel and Wout van Aert to win at Middelkerke in 2015 (Paul Burgoine).
Pauwels' team mates in 2004 included World elite champion Bart Wellens, Erwin Vervecken (who was to win that title three times) and Kevin's older brother Tim. Over the next six or more seasons Fidea became the team to beat with strength in numbers. Zdeněk Štybar, Klaas Vantornout and Tom Meeusen were all added to the team during the noughties and many races were characterised by Sven Nys trying to counter successive attacks by Kevin and the massed ranks of Telenet-Fidea.
Despite his cycling success Kevin is a quiet and introverted character some of which is undoubtedly a product of a loving family background which has been touched by tragedy.
The Pauwels family are from Ekeren an ancient municipality now close to the huge docks on the Scheldt river which stretch from the north of Antwerp. Kevin's father Jos had to juggle his own cyclocross racing with pig farming yet was selected by Belgium for two Amateur World Championships. Jos, like Kevin, enjoyed a long 'cross career (between 1966 and 1984) with over 20 amateur victories but one which did not really take off. He turned down one Worlds selection in order to look after the pigs and his career also coincided with a golden era for Belgian cyclocross. Jos finished fifth in the 1970 Belgian Amateur Championship behind the great Robert Vermiere who won six Amateur World titles.
Jos' first wife was tragically killed in a car crash on their way to a cyclocross race but over time he began racing again and with second wife José has two sons Tim and two years later Kevin.
Tim followed his father into cyclocross racing as a teenager and Kevin became attracted to the sport as well.
Strength through adversity
The brothers raced together regularly and signed for the same Fidea professional team. In the 2003 Belgian Under-23 Championship Tim finished fourth and Kevin fourteenth. At the beginning of 2004 Kevin won the World Under-23 title in Pontchateau but sadly tragedy was just around the corner.
Tim - aged just 23 - died from heart failure during the Erpe-Mere race in September 2004. Naturally Kevin had looked up to his elder brother and his death must have had a huge impact on the twenty-year-old, but deep inside he found the strength to carry on his racing career.
And after former rider Marc Herremans became Kevin's coach, success in the elite category starts to come.
"The two understand each other. Moreover, Marc understands Kevin, knows what he needs and especially what he does not need," according to the Gazet van Antwerpen.
Kevin's first win as a professional came in 2008 over the tough Overijse course and he went on to win many more of the classic Belgian races including: Zolder; Gavere; Zonhoven; Namur; and Middelkerke. Since 2011 Kevin has raced for the teams of Jurgen Mettepenningen (Sunweb and Marlux) for which younger riders - Michael Vantornout, Eli Iserbyt and Denise Betsema - are now the new stars.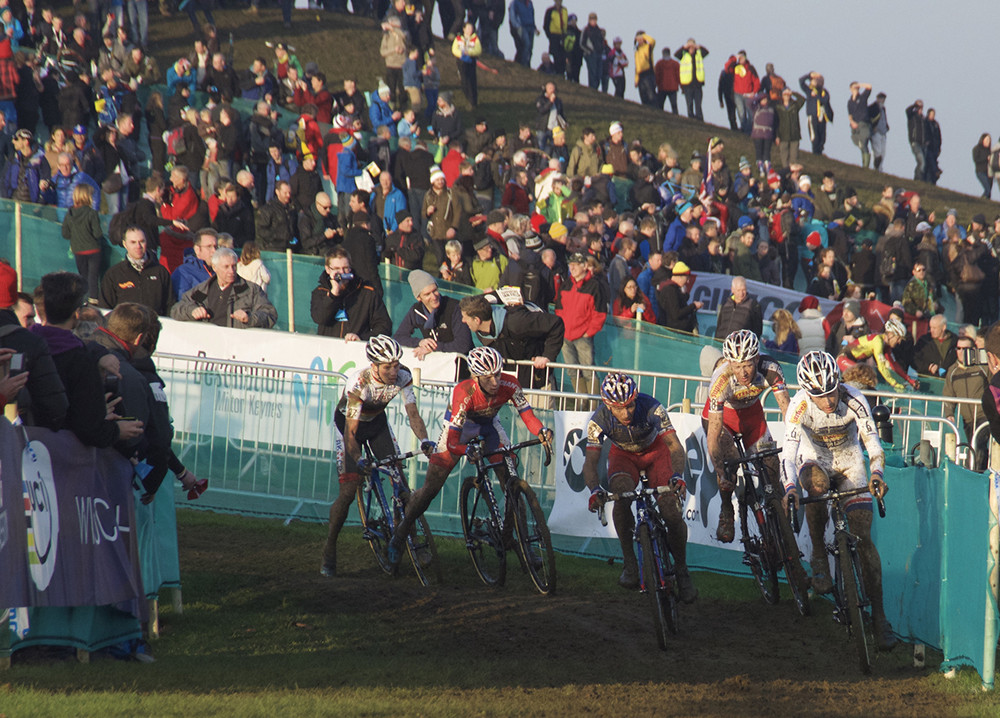 Kevin leads the World Cup race at Milton Keynes wearing the leader's jersey (Paul Burgoine).
British cyclocross fans will also remember Kevin for his victory in the tough World Cup race at Campbell Park, Milton Keynes. Kevin out sprinted his team mate Klaas Vantornout and the victory helped him to secure the World Cup title for a second time. Kevin has also showed his prowess in road racing winning a bronze at the 2002 Belgian Junior Championship and scoring a number of elite wins. He also won two Belgian elite mountain bike titles.
Kevin won his fifth bronze medal at the Worlds in 2017 but despite that was not selected for 2018 Championship in Valkenburg. This season Pauwels has won at Hasselt (Soudal Classics) and Zonnebeke but as Helen Wyman (also retiring at Oostmalle) pointed out he is the oldest rider ranked in the male top 30 by the UCI.
"I won two more 'cross races [this season], but there have not been enough good things to keep on doing everything," Pauwels said via a team press release. "If I did not make the decision now, it would have probably be next year. I can no longer deliver the performance that I want. Because of my age I am getting get less and less fast at the start of races."
The Oostmalle race is held beside a huge airstrip deep in a sandy Kempen forest and on Sunday the familiar "Kom op Kevin" will ring out around the trees for the final time.
Photo: Jeff Corcoran.
.....
Browse Specialized CX Bikes HERE
Browse other CX Bikes HERE
Browse CX Bikes from £640 HERE
Browse Kinesis CX framesets HERE
.....

.....