ANNA Kay's recent signing by the Belgian Experza-Footlogix Team comes against a backdrop of a number of British cyclocross riders making a big splash in the world class Belgian-Dutch 'cross racing scene and is further evidence of a wave of 'cross exports, many from Yorkshire and the north east of England.

British riders who have been signed up by the Belgium 'cross teams in the past two seasons include Ben Turner at Mathieu van der Poel's Corendon-Circus outfit, Ben Tulett at Sanne Cant's Team IKO-Beobank and Derwentside's Thomas Mein (formerly of Hope Factory Racing) who was recently snapped up by the Tarteletto-Isorex team, home of Koppenbergcross winner Kim Van de Steene.
Anna's signing is significant in that she becomes the first British female rider to join a dedicated Belgian 'cross team since Nikki Brammeier joined Telenet Fidea in 2011. So how has an under-23 rider from Gateshead found herself racing with the Belgian squad that was the home of former world champion Thalita De Jong?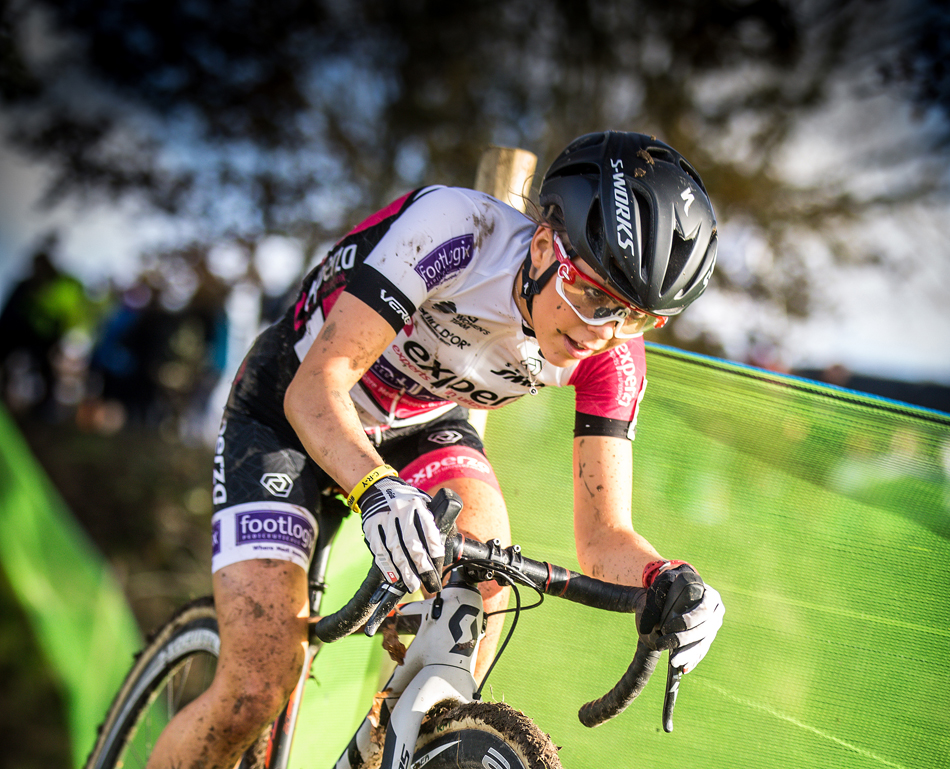 Anna's cycling life began when her dad, Bill Kay, bought twin daughters Anna and Megan bikes for their tenth birthday. He "taught" them to ride, by telling them he had hold of them, whilst calmly watching them disappear off down the road. The sisters were soon bitten by the cycling bug as was Bill when his knee gave out and could no longer play squash. They began mountain biking and joined the Hetton Hawks club where they were able to mop up coaching in MTB, road and cyclocross at the club's excellent Hetton Lyons Country Park training facility, coincidentally the venue for the 2018 British National Championships. But more of that later.
Why 'cross, we asked Anna when we spoke to her. "I loved the mud and the friendly atmosphere at 'cross races and, being an off-road rider, the idea of track in the winter didn't sound fun!" recalls Anna.
She also gives huge credit to the Hetton club for giving her the best possible start, with coaches like Dave McLean and Mike Charlton showing her the way. Plus, having a twin has meant that "I've always had two training partners… my dad and my sister!" Anna's support team also includes her mum, who she describes as a "bit of a foodie" which helps with the nutrition side of training.
The path to success
Anna's mountain bike skills caught the attention of Nutcracker MTB race organiser and team manager Adey Dent and, with the full support of the Hetton coaches, she joined the team. This proved to be a great move for Anna as she has developed a really positive coaching relationship with Adey that continues to this day, despite her joining other teams along the way. As her career developed, Anna moved on to the Edco-Continental team with a view to transitioning to road racing, but that year she ended up having her best ever MTB season, winning the junior National Series, but also finishing second junior at the Cicle Classic, the notorious English road race that includes numerous sections of 'strade bianche', Italian for dodgy, unsurfaced country lanes.
Anna's performances caught the attention of the Storey Racing team, whom she joined last year. Under their banner, she completed a full season of national road racing in 2018, alongside team-mates Beth Crumpton and Ffion James, before they became off-road rivals at the start of the current 'cross season. This talented trio remain remarkably good pals despite knocking seven bells out of each other at every round of the British National Trophy Series to date.
One reason the racing is so tight between them is that they probably know each other's strengths and weaknesses all too well and are always well placed to predict and counter moves: "Beth is a really punchy rider, like me, her acceleration out of corners is insane and she has amazing skill on the bike", enthuses Anna. "Ffion also is a very skilful rider coming from a mountain bike background and I would say she is a very strong rider: she's able to put out a monster pace as she has got a massive engine and is a good runner too!"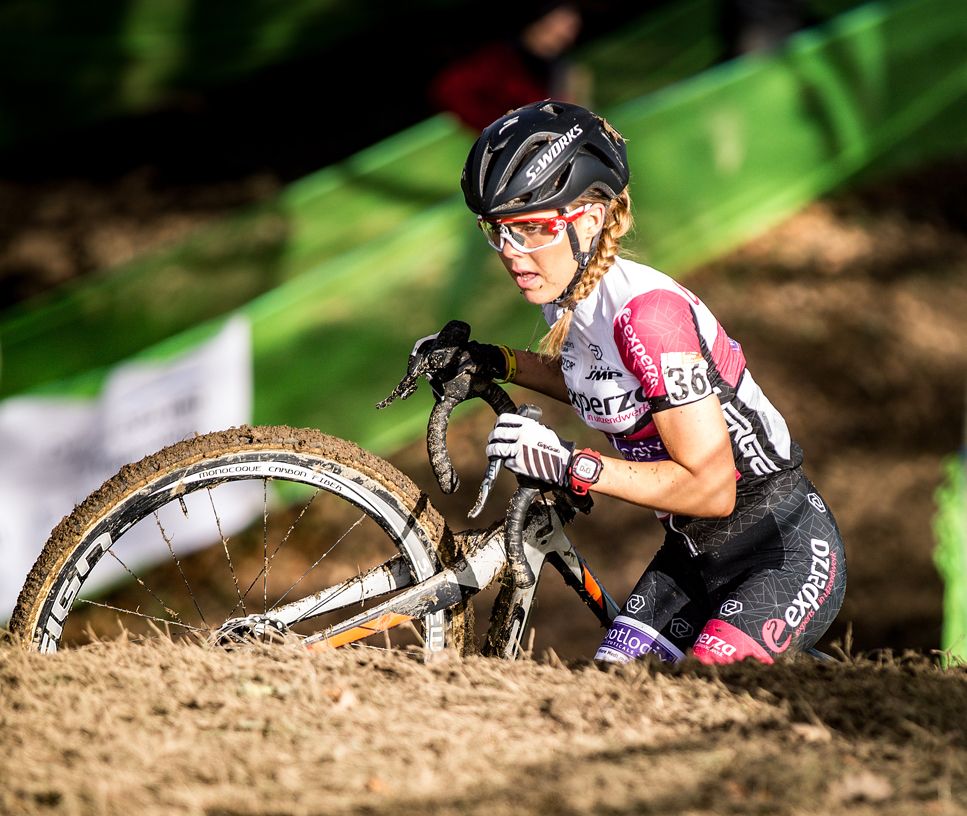 One thing that immediately strikes you about Anna is her diminutive stature and she does admit to sometimes having a bit of a struggle over 'cross's many obstacles. But she counters that with punchy acceleration and apparently effortless climbing skills.
Looking back on her road season, Anna clearly enjoyed racing with the Storey Team. In particular, she enthusiastically recalls the Tour De Yorkshire, which was over two days, and the final stage finish up the Cow and Calf climb at Ilkley. Here at Cyclocrossrider we were super excited about this race when we heard that Thalita De Jong's Experza-Footlogix team were coming over to race in Yorkshire, but although the former World champion wasn't in the squad, her Team Manager Christel Herremans did make the trip [De Jong has since had her contract ended - Ed]. Christel was already familiar with Anna from a trip to Belgium the previous year and Anna's ride over two tough days in Yorkshire, where she finished 26th overall and 26th on that brutal, final climb, confirmed to Christel that here was a rider who was both a character and a fighter.
The offer from Belgium
Christel is highly experienced in developing female racers with the Topsport Vlaanderen team, working with star names like Lotte Kopecky, Jolien D'Hoore and Nicky Degrendele, so she knows what to look out for. While the two were able to have a conversation during the Tour De Yorkshire, it was only during Anna's trip to some early season Flemish and Dutch 'cross races, that a firm offer was made. It was not without some trepidation, but also huge support from Storey racing, that Anna decided to join the Belgian outfit for the remainder of the 'cross season (signing on November 2nd).
And it's hardly surprising she's been noticed: Anna was soon finishing in the top ranks of races that feature Sanne Cant, Ellen Van Loy and Katie Compton and she really started to make a mark with 16th at Gieten and then found herself sprinting for 12th place against Sophie De Boer at Jaarmarktcross.
When you watch her going toe-to-toe with the sport's best riders, it's easy to forget how young and inexperienced Anna still is. Her first experience racing 'cross overseas came as recently as last season. Selected by British Cycling, she began with a" baptism of sand" at Koksijde, the first of four World Cup races, plus the Euros and finally the Worlds at Valkenburg. In between, she got stuck into some 'regular' Belgian and Dutch racing too that so impressed Christel.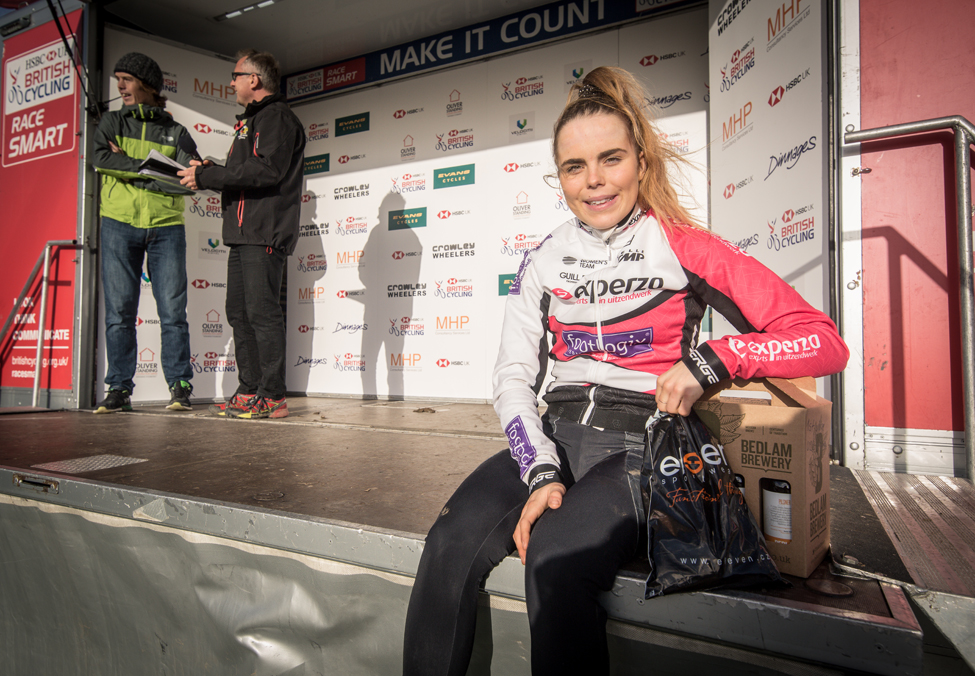 So, what does Anna make of the European style of 'cross? "The racing is a bit more aggressive, you have to stand up for yourself a bit more, even if you're little. You can easily get intimidated by all the big names on the start line with you but I just always have to tell myself we're all just people and try not to be a fan girl too much. The courses are so technical in Europe compared to the UK races, so it's about going into course practice open minded and remembering that it's okay if you can't ride something, because you can just get off and run!"
Anna's dad, Bill, has a similar perspective: "the courses are more technical and the mud is more damaging to the bikes! You really need support when racing over there in the pits and between races to ensure that all your equipment is working."
However, none of this seems to intimidate Anna: "it was a big step racing against the best in the country and then the best in the world, but I think instead of demotivating me it actually spurred me on. I found that when I made the decision to commit to cycling the step up to elite racing actually gave me that push I needed."
Despite racing world famous courses like Koksijde and Valkenburg it's refreshing that when asked what her favourite race was, Anna replied without hesitation "definitely the UK National Championships last season at Hetton, as I achieved one of my best results to date. I was able to do it on the home ground of my first club, where my first race was and in front of everyone who has helped me to get to where I am today!"
A father's highlights
Bill Kay, with a dad's perspective, has other favourite moments: "she raced National Trophy last season in Abergavenny along with Beth Crumpton and [Italian champion] Eva Lechner and Anna dominated the race and it was so exciting to watch. To be on a podium with such accomplished riders was a real highlight for me and more recently I've just watched her win her first elite women's National Trophy at Crawley. The way she rode and the self-belief she demonstrated was a real breakthrough moment for me."
One thing that caught our attention at the Hetton National Championship race was the huge flags of the Anna Kay Supporters Club. Huge fan club flags are part and parcel of the European racing scene, emblazoned with the visages of Sophie De Boer, Kevin Pauwels and the rest. So, who were Anna's super-fans? It turns out to be the guys from Anna's old workplace, Pedalling Squares café near Gateshead, a cycling themed café where they show all the big races from the continent. What a nice touch and perhaps an insight into the affection for Anna in her native north east.
As we start to come full circle, with the 2019 National Championships not too far away, we can expect to see Anna race the remainder of the cyclo cross season with Experza-Footlogix: "my plan is to have a bit of time at home after Koksijde, before heading back out the first week in December for the second half of my season. I will stay out there until the British National Championships in Kent in January. Next year I will be based more in the UK for the summer road season, racing for the UK-based Brother UK –Tifosi p/b OnForm team. I'm hoping to race more in Europe and on an international scale with my new team travelling out as and when I can."
We wish Anna well and look forward to seeing her in action in the European races and at the National Championships!
If you want to support Anna yourself, you can via her gofundme page: https://uk.gofundme.com/european-racing-dream

Anna Kay's Bikes and Tech
Bill Kay talks us through Anna's equipment:
"Kit selection is driven by a number of factors – team support / sponsors / race requirement / personal cost etc. Anna has been supported for many years, right from her days at Nutcracker Racing with a local company EDGE Sports UK. Simon and Mike from EDGE also have a recently opened bike shop in Yarm called The Bike Rack. They have been unbelievable over all of Anna's race career supporting her with EDGE bikes and wheels on road / CX and MTB. As she moves to teams the kit and sponsor requirements change, but EDGE Sports UK have always been in the background to support as required.
For the early part of this 'cross season Anna was given a joint package of CX bike support from her employer Leathers Accountants and my race team MTS Cycle Sport in Durham. They built her some Scott Addict CX bikes with SRAM Force single ring groupsets (36T front – 11/28 rear cassette) and EDGE Sidewinder Carbon tubular wheels. She has been riding Vittoria Terrano tubular tyres in Dry, Mix and Wet tread patterns.
Anna Kay's Specialized S-Works Crux bikes
Anna will move to a different bikes now as part of her transfer to Experza-Footlogix. She will ride Specialized S-Works Crux bikes with Shimano Di2 Ultegra groupsets. As with most Euro bike set-ups these have a double chainset up front. The bikes are fitted with Miche tubular wheels, Challenge tubs and Selle SMP saddles. A mid-season bike change is always going to be tricky, but Anna will switch to her new Experza-Footlogix Team bikes at Koksijde. We can't wait to see her in the sands!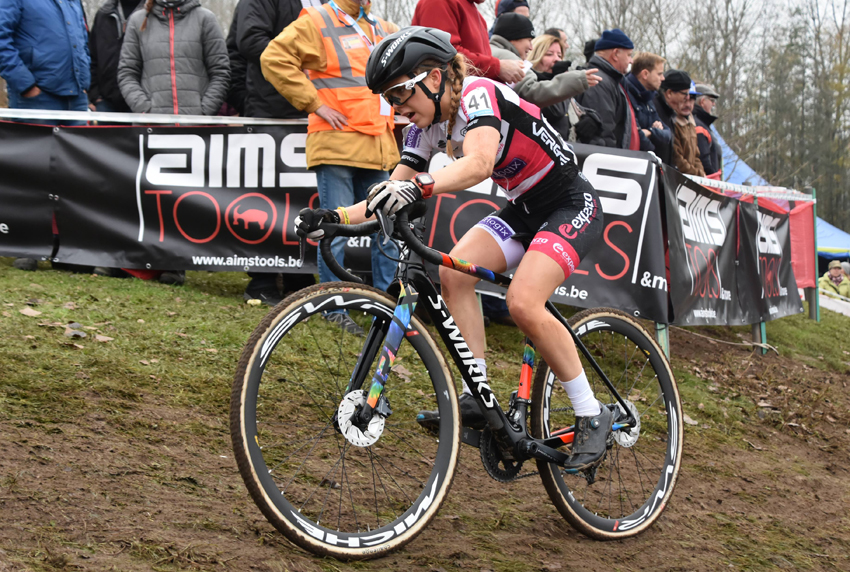 Photo: Geert Nachtergaele.
Shop Specialized S-Works CRUX Bikes HERE
Browse Specialized CX Bikes HERE
Browse other CX Bikes HERE
Browse CX Bikes from £640 HERE
Browse Kinesis CX framesets HERE
Other PRO BIKE features HERE