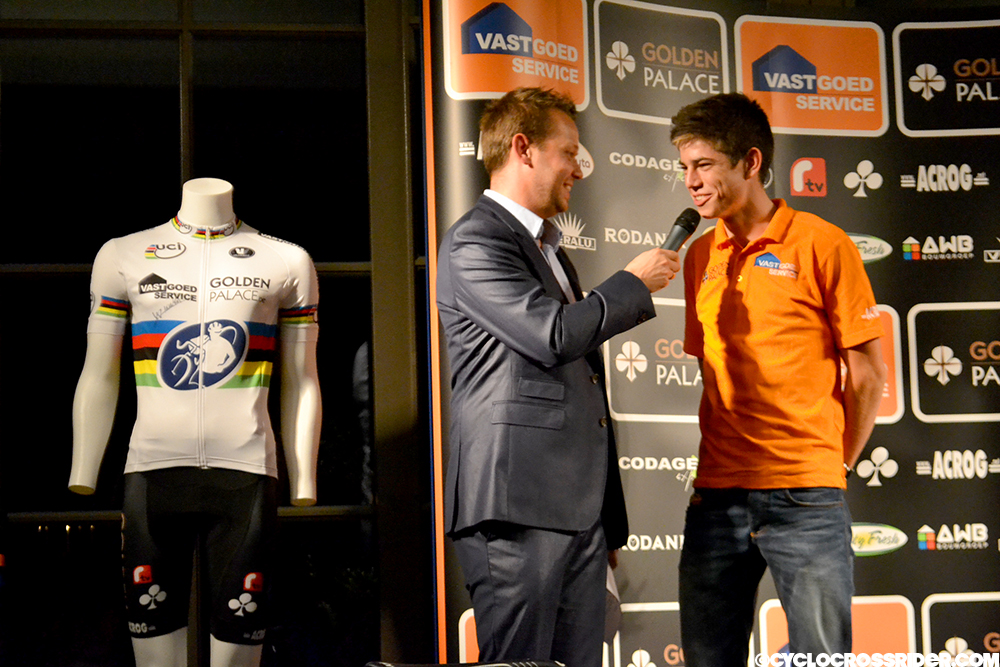 WITH Belgian Champion Sven Nys approaching the end of his career and the forced retirement of Niels Albert earlier this year (see our appreciation here) the phrase that this season has been labelled with is "The battle of the generations."
A handful of highly talented, under-23 riders have matured and are popping up in elite races and threatening the established order. Those who wondered whether there would be the characters and excitement to fill the void left behind after the many Nys versus Albert battles need look no further.
Belgians Wout Van Aert (Koppenberg) and Michael Vanthourenhout (Ardooie) and Dutchman Mathieu Van der Poel (Gieten) have all scored professional elite victories this season and the Sweeck brothers Laurens and Diether are surely not that far behind either (Van der Poel also won in Heerlen at the end of last season).
It's an exceptionally good crop of youngsters and should guarantee more great racing in future seasons as they come up against the likes of Lars Van der Haar, Tom Meeusen and Kevin Pauwels on a more regular basis.
Van Aert (pictured above at his team launch) and Van der Poel are however, managing to avoid one another for much of this season – as the Dutchman is racing elite in the Superprestige whilst the Belgian has chosen the Trofee - but they will continue to meet in World Cups and championships. Michael Vanthourenhout won the first round of the World Cup in Valkenburg though beating both of them.
European Championship this Saturday
This Saturday the European Championship is held in Lorsch, Germany and Belgium will send an incredibly strong line-up of Van Aert, Vanthourenhout, the Sweeck brothers, Toon Aerts, Quinten Hermans, Yannick Peeters, Daan Soete and Jens Vandekinderen. Van der Poel has decided to give the race a miss with an elite Superprestige race in Ruddervoorde on Sunday. Michael Vanthourenhout is the defending European Under-23 champion.
So, future exciting clashes between this group of riders are inevitable - as long as they all remain in cyclocross and are hopefully not tempted away by the professional road teams.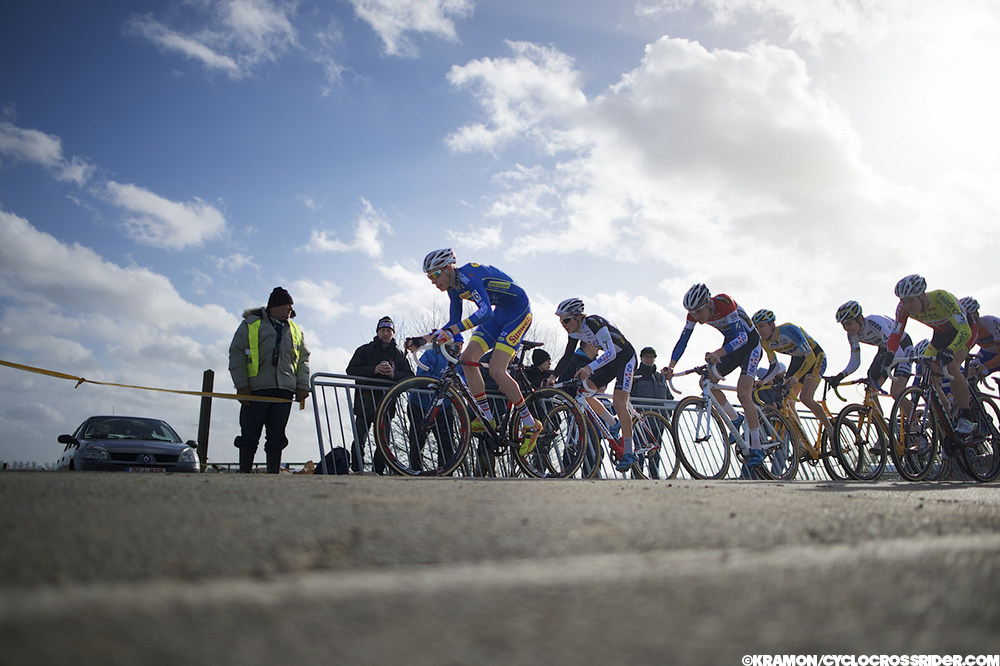 Above: The Under-23 race in Middelkerke last season with Vanthourenhout, both Van der Poel brothers, Wout Van Aert and Laurens Sweeck prominent. Below: Van Aert wins in Zonhoven.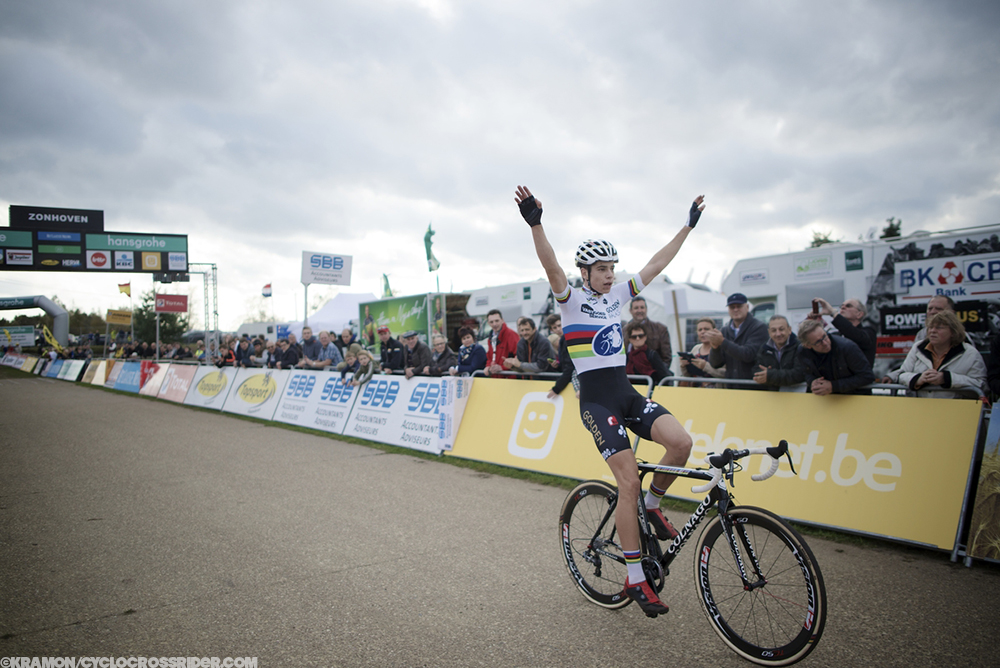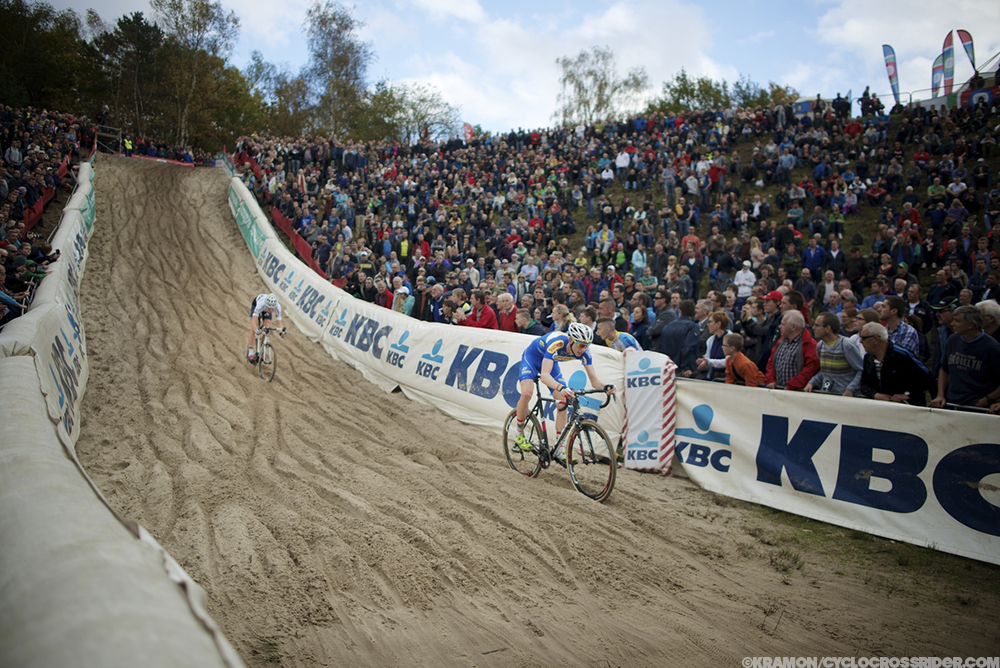 Zonhoven Under-23 race
WORLD champion Wout Van Aert won by the large margin of 46 seconds over the sandy Zonhoven circuit to score an impressive weekend double – and ominously soon after his broken collar bone.
Quinten Hermans, second to Ian Field last weekend in Southampton, was the early leader, but was quickly joined by Michael Vanthourenhout and Van Aert to make a formidable leading trio. Van Aert soon eased away though, through Zonhoven's giant sand pit and Vanthourenhout struggled to get on terms again before falling back and then coming under pressure from the Sweeck brothers. At the finish, Vanthourenhout, the European champion, hung on to second place from Laurens Sweeck by just two seconds.
Result: 1 Van Aert; 2 Vanthourenhout; 3 Laurens Sweeck; 4 Diether Sweeck; 5 Toon Aerts; 6 Quinten Hermans... 33 Ben Sumner (GBR); 35 Jack Clarkson (GBR); 37 Jack Humphreys (GBR); 39 Nick Barnes (GBR); 41 Billy Harding (GBR).
Overall standings (after 2 races): 1 Van Aert 30 points; 2 Laurens Sweeck 27; 3 Vanthourenhout 26.
Junior Result: 1 Eli Iserbyt (BEL); 2 Johan Jacobs (SUI); 3 Jens Dekker (NED)... 35 Alfie Moses (GBR); 40 Chris Barnes (GBR). Overall: 1 Iserbyt 30 points.
Race highlights here.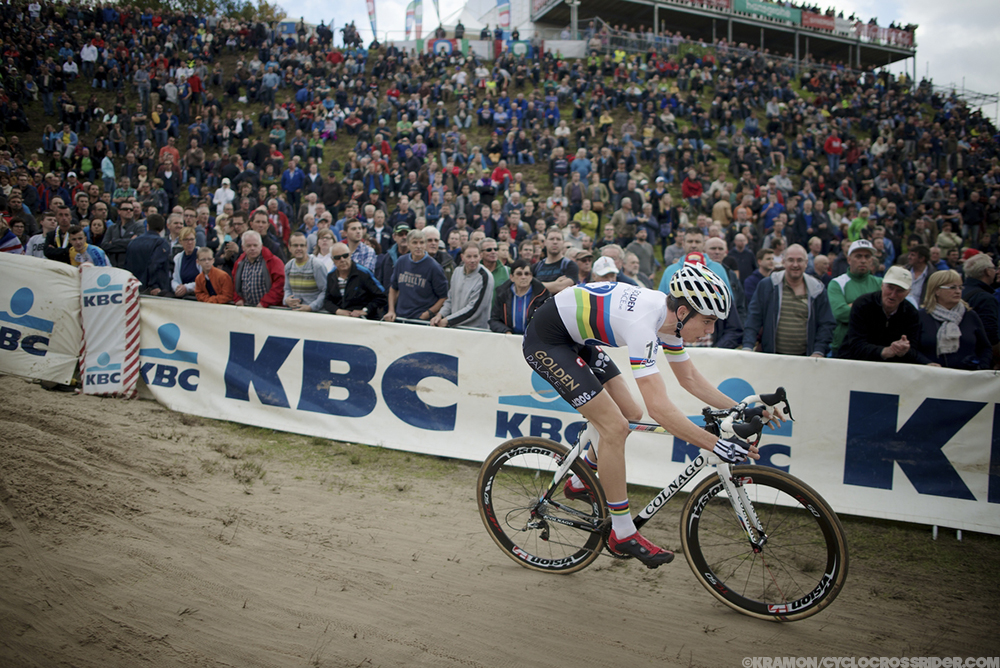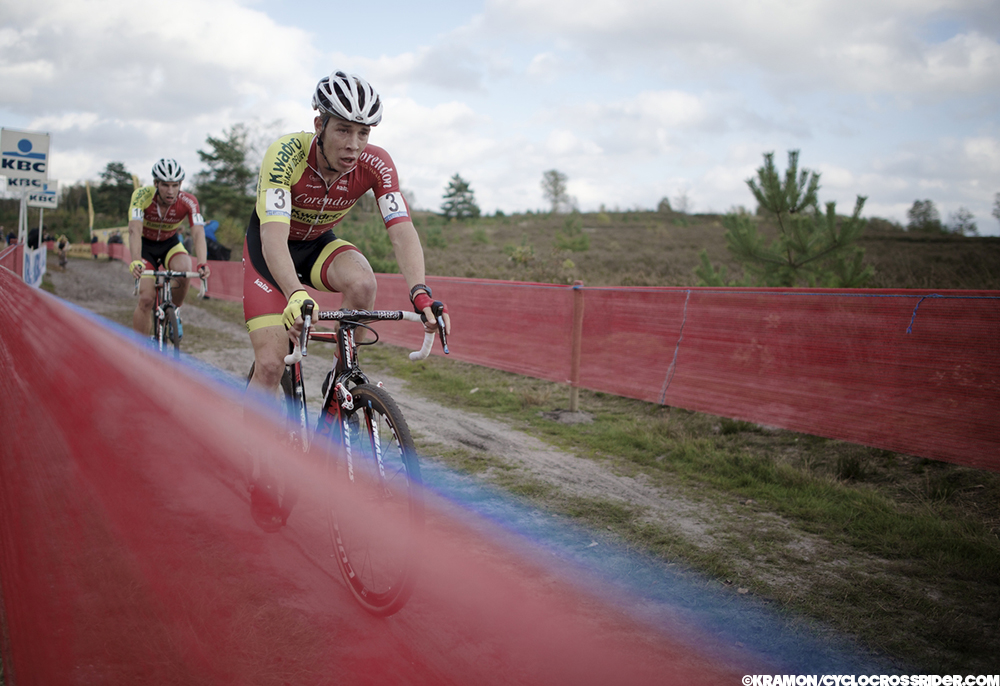 Laurens Sweeck leads brother Diether.
Photos: ©kramon/cyclocrossrider.com
.....
Browse Specialized CX Bikes HERE
Browse other CX Bikes HERE
Browse CX Bikes from £640 HERE
Browse Kinesis CX framesets HERE
.....