Sunday: Superprestige, Hoogstraten

THE final destiny of the Hansgrohe Superprestige title will be decided in Middelkerke in six days time, but today in Hoogstraten the four main contenders have the opportunity to strengthen their bid, or indeed with bad luck, drop out of the running.
The Superprestige is professional cyclocross' longest-running series (first held in 1982-83) and the one major 'klassement' still to be decided this season after Kevin Pauwels won the UCI World Cup and Wout Van Aert took the bpost Bank Trofee title.
The elite men's series has developed into a four-way scrap between Mathieu van der Poel (below yesterday in Lille) who holds a one point lead over Pauwels and Lars van der Haar and Tom Meeusen who are also still in close contention.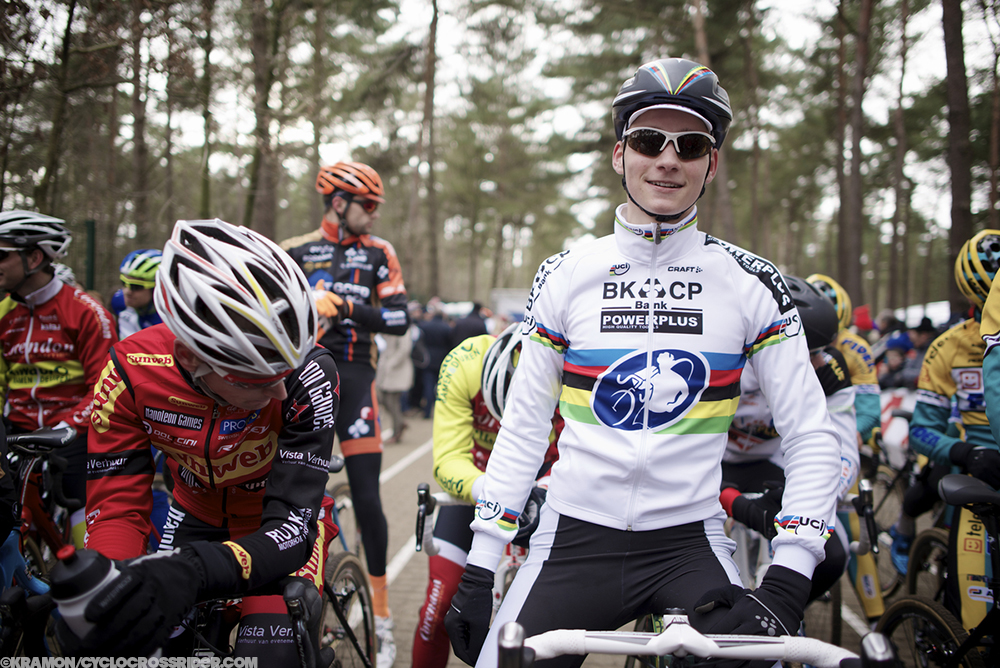 This is the series that Van Aert had chosen to dispute with the Under-23s this season (Van der Poel chose to race elite), but with his decision to race elite at the Worlds he now cannot 'return' to Under-23 racing. World Under-23 champion Michael Vanthourenhout will be aiming to strengthen his lead in that category today – he leads Toon Aerts by 16 points.
If Van Aert was to attack early today it would give Van der Poel an interesting choice between following him or concentrating on his main klassement rivals. After his third place in Lille yesterday, Sven Nys is once again a rider than cannot be ruled out either as he looks to end his difficult season on a high.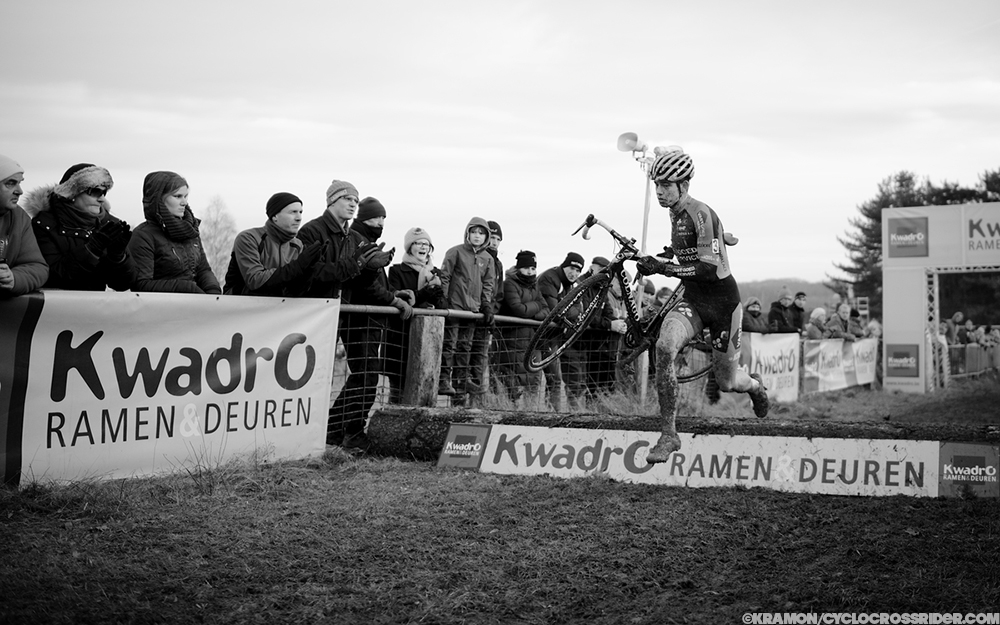 Van Aert has won two races in 2015. Baal above and Zonnebeke.
The favourite on current form though has to be Van der Poel. Victory in Lille yesterday was the new World champion's fifth win of 2015 and he will no doubt be aiming to remain unbeaten this year – the year that has well and truly seen his 'coming of age'.
Drier conditions?
The recent cold and dry weather across Belgium should ensure a faster and drier race than twelve months ago when Sven Nys won in the deep mud. Wout Van Aert won the Under-23 race here last season with Mathieu van der Poel down in fifth place.
Today will present a different set on conditions and a different cast to twelve months ago but as always with cyclocross drama is guaranteed.
The women's race, where no overall klassement is awarded, could well become a straight Belgo-British contest. British champion Helen Wyman and last season's winner Nikki Harris should provide the strongest challenge to Belgian's Sanne Cant and Ellen Van Loy.
Live coverage today comes from Vier.be (starting at 14.45 CET)
Main races: 12.30 (CET) Elite women, 14.00 Under-23 men & 15.30 Elite men.
Overall standings (after 6 rounds)
1 Mathieu Van der Poel

77 points
2 Pauwels

76
3 Van der Haar

75
4 Meeusen

72
5 Vantornout

64
6 Nys

60
2014 Race coverage
2014 results: 1 Sven Nys. Elite women: 1 Nikki Harris. Under-23 men: 1 Wout Van Aert.
Highlights of previous round in Diegem
Saturday: bpost Bank Trofee, Lille

WOUT Van Aert may have already clinched his first-ever elite klassement (series victory) in the penultimate Trofee round in, but he appears to have every reason to also win the final round in Lille today.

There will, of course, be a host of riders challenging Van Aert (above) and standing in his way, most notably, will be the newly crowned World champion Mathieu van der Poel. The majority of the Belgians riders raced in Maldegem on Wednesday (in the C2-ranked Parkcross won by Kevin Pauwels), but this will be Van der Poels first race in his elite rainbow jersey.
So, here are five reasons pointing towards a Van Aert victory!
Firstly, Van Aert will want to avenge Van der Poel's Worlds victory ahead of the Belgians (below).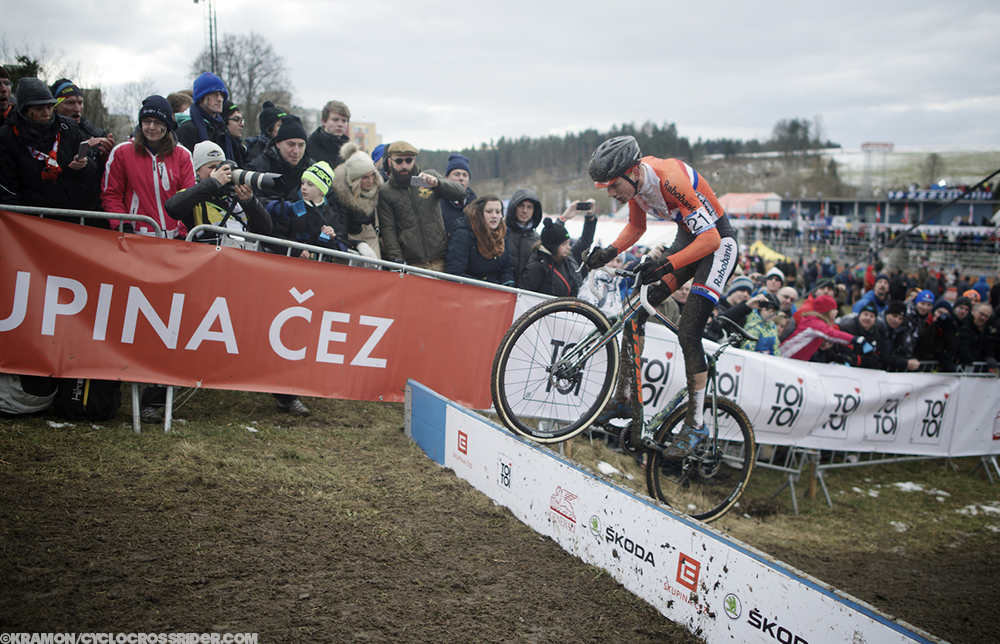 Secondly, by winning Van Aert could really hammer home his terrific Trofee series victory (he leads Kevin Pauwels by over six minutes) as many of his main rivals have one eye on Sunday's Superprestige race in Hoogstraten.
Thirdly, The Lille course has stretches of lakeside sand and is the type of course where Van Aert has revelled this season (his elite wins have included the sandy courses of Koksijde and Mol).
Fourthly, the Krawatencross at Lilse Bergen is the venue of next season's Belgian championship and so a win here would put down a, albeit long in advance, mark in the sand.
Finally, and perhaps most importantly, Van Aert is the local boy returning to his home patch as an elite rider for the first time.
The elite women's Trofee title should be decided between leader Ellen Van Loy and Sanne Cant who needs to beat Van Loy by nearly two minutes to take the series from her.
Main races: 13.00 (CET) Elite women & 15.00 Elite men.
Live coverage on Sporza.be
Overall Trofee standings (after 7 rounds)
1 Van Aert

2 Pauwels

+6:07
3 Nys

+ 7:09
4 Meeusen

+7:34
Overall Trofee standings (after 7 rounds)
1 Van Loy

– new series leader
2 Cant

+1:54
3 De Boer

+3:29