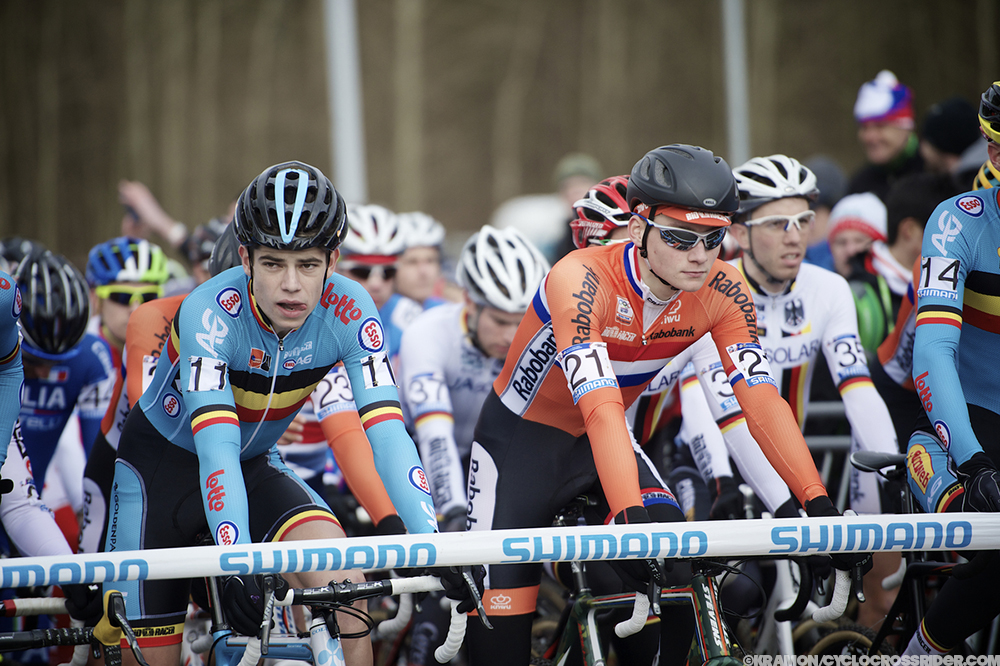 IT only took young Mathieu van der Poel one lap of the tricky Tabor track to turn the unpredictable 2015 World Championship into a something altogether more predictable. A small slip by his main rival Wout Van Aert was all the encouragement Van der Poel needed to go on the attack and he successfully repelled mid-race pressure from both Kevin Pauwels and Lars van der Haar.

For Belgian Van Aert it was a day to forget although he eventually salvaged the silver medal with Dutchman Van der Haar taking bronze. Sven Nys was unable to feature at the front and finished down in 17th place.
There was no plan beforehand, I make my decisions in the race always - Mathieu Van der Poel
"I had good legs today," Van der Poel told the press. "Every time riders got closer I made an effort to make sure they did not get in my wheel. There was no plan beforehand, I make my decisions in the race always." He added.
The seven likely candidates to win this very open title (vacated by Zdenek Stybar) were all up near the front around the opening bends – Tom Meeusen led Van der Poel, Van Aert, Pauwels and Van der Haar whilst Klaas Vantornout and Nys sat in eighth and ninth place.
Shoulder-to-shoulder
Within minutes, the two twenty-year-olds - Van der Poel and Van Aert - went literally shoulder-to-shoulder around a right hand corner and it looked like it might be the prelude to an hour-long aggressive scrap. For now though the pair had Meeusen and Pauwels for company with a small gap back to Van der Haar and the rest.
More drama soon followed at the end of the first lap as first Van Aert slipped, allowing Van der Poel a gap, and then unshipped his chain as he turned onto the Tarmac.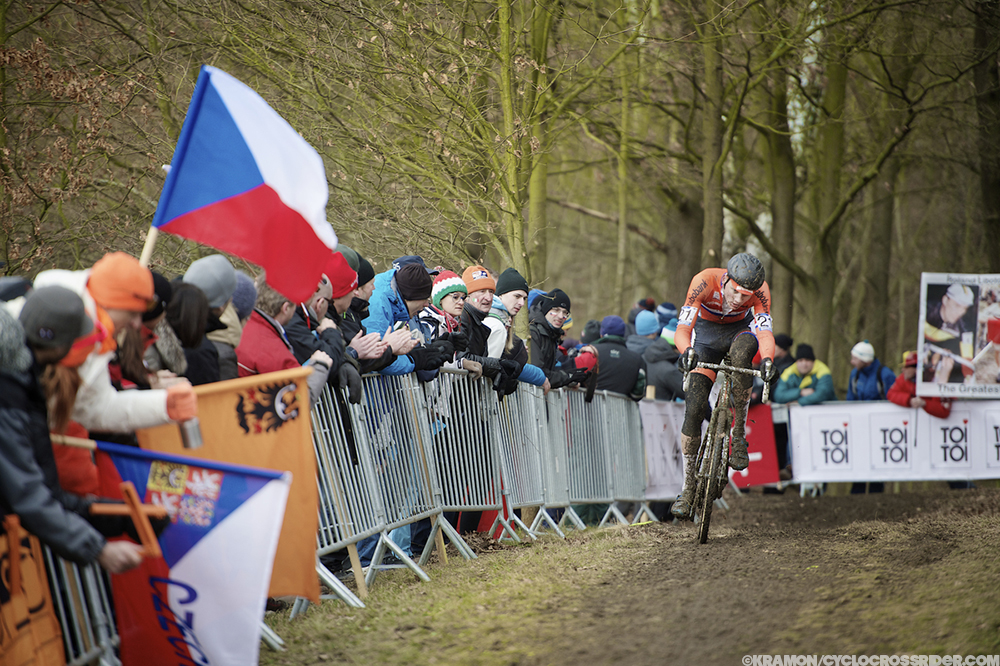 This gave Van der Poel even more impetus and Meeusen and Pauwels trailed him by seven seconds with Van Aert back up and running a further seven seconds behind them. Sven Nys was riding in 11th place and British champion Ian Field in 18th place.
Van Aert made his way back up to Meeusen and Kevin Pauwels went in pursuit of Van der Poel, but these were early days. After Van der Poel had pitted there was a brief moment with six riders all riding in line together: Van der Poel, Van Aert, Pauwels, Van der Haar, Meeusen and Vantornout (Nys the only rider missing from our seven pre-race contenders).
When Van Aert dropped his chain for a second time though, Van der Poel took advantage again and around the third lap he built up an eight second lead over the five pursuers. Despite being 17 seconds down at this point, Van Aert claimed after the race that he was not too concerned. The incident that really spoilt his chance of the title was a heavy crash as he tried to recover the lost ground.
"I tried to stay in Mathieu's wheel until my chain dropped. Even after the second time, I still believed that I could come back but on the third lap I was too fast into a corner and crashed hard hurting my shoulder. It took me a lap to recover. After that it was a long chase back, but I still believed in a medal," Van Aert told reporters.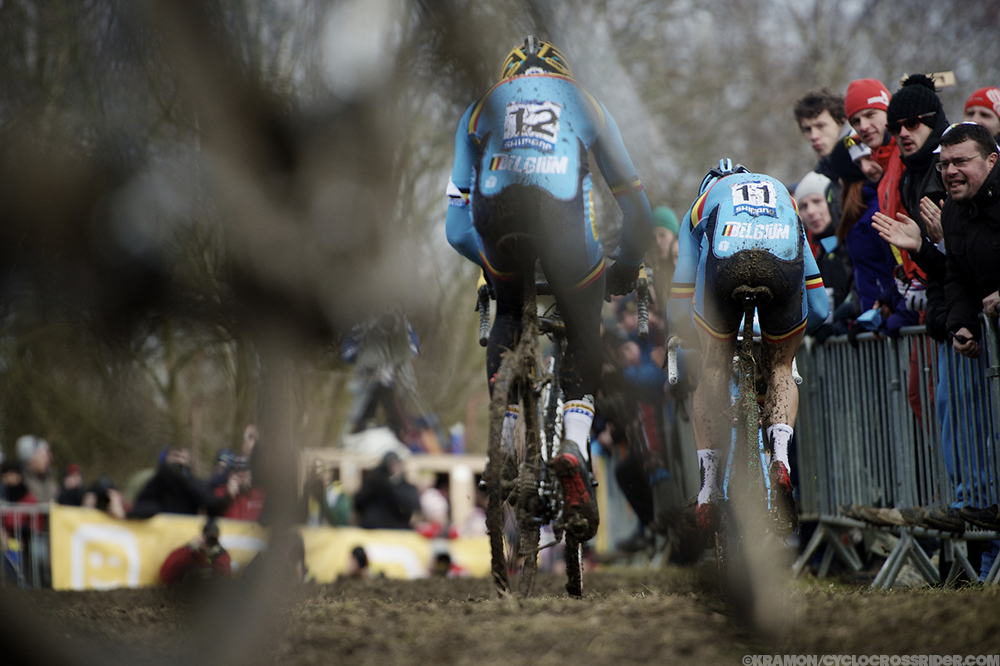 At the end of the third lap Van Aert was 50 seconds behind his long-time rival in the junior and Under-23 ranks and it was looking like a lost cause.
We were now approaching halfway in the eight-lap race and as Pauwels began to close on Van der Poel, the leader reacted and increased his lead again. The top ten at this point was: Van der Poel; Pauwels; Van der Haar; Meeusen; Vantornout; Van Aert; Gianni Vermeersch; Michael Boros; Nys; and Francis Mourey (with Ian Field still in 18th).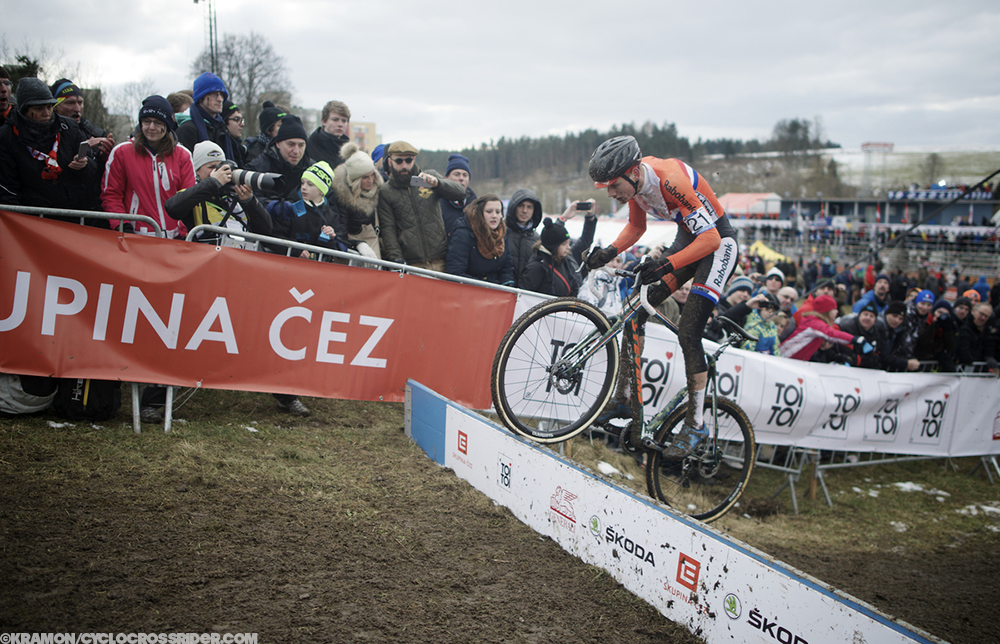 Van der Poel was not immune to errors though – he had been bunny hopping the barriers (once or twice almost coming unstuck) and on the fifth lap he crashed himself. At the same time his compatriot Van der Haar decided it was time to make his move and try to rid himself of Pauwels.
Dutch agreement
There was an agreement between the two Dutchmen that neither would chase each other if they had company. Van der Haar duly broke Pauwels and was free to launch his pursuit of Van der Poel over the remaining three laps.
With three to go, Van der Poel led Van der Haar by 12 seconds, with Pauwels at 16 seconds and Van Aert now at 35 seconds, but by mid-lap the gap between the two Dutchmen had halved to just six seconds.
"I saw that Lars was coming," Van der Poel said. "I think it was three seconds at one point so I made an effort to increase the gap again. I knew I was taking seconds each lap at the barriers. I bunny hopped every lap except the last."
Van der Poel successfully snuffed out his countryman's challenge and increased his lead again to over ten seconds as Van Aert moved past Pauwels and into third place.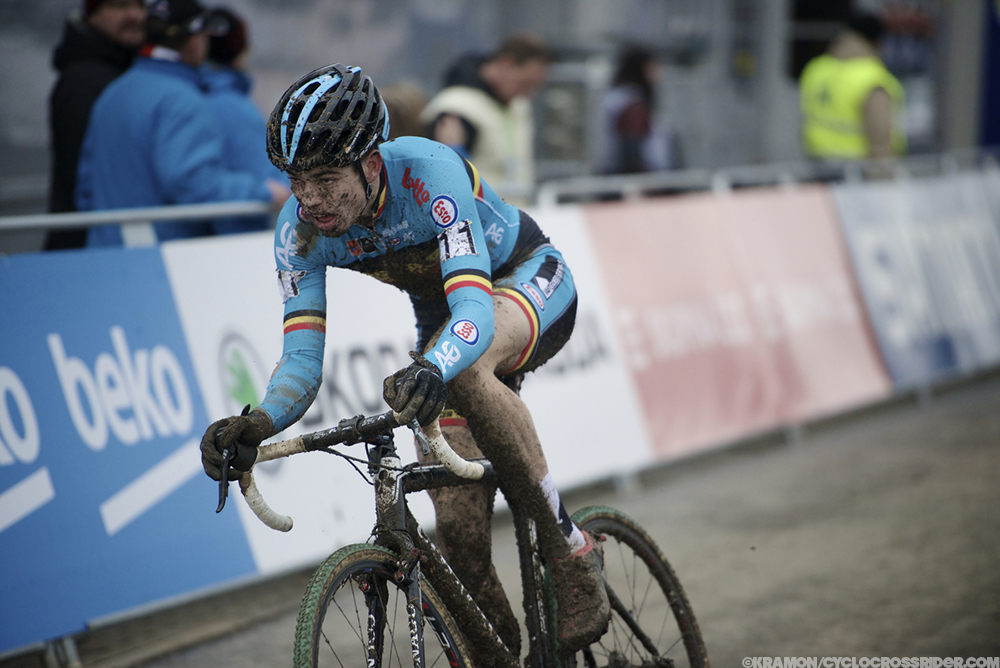 Van Aert was on a charge, but a puncture just before he caught Van der Haar delayed him yet again.
Around the final lap Van der Poel held a 23 second lead and was under no real pressure from behind. He crossed the line with arms aloft celebrating whilst also trying to hold back the tears of an emotional victory.
Van Aert dived in front of Van der Haar on the very last corner and outsprinted the Dutchman for silver. The average age of the elite podium, it was calculated afterwards, is younger than the average age of the Under-23 men's podium!
Van Aert was gracious in defeat (the pair have a friendly rivalry) and said, "It wasn't going to be my day today. I think Mathieu will be a nice world champion and show his jersey all year round."
We showed that we made the right decision today. It was the best choice of my life, so far
Van der Poel added, "We showed that we made the right decision today (to race elite). It was the best choice of my life, so far. I had an awesome day and it's going to be awesome to ride in that jersey."
IAN FIELD CONTENT: "That's a good result."
British champion Ian Field eventually finished 21st (his best ever placing in the senior race) and told our reporter after the race, "That's a good result, but I was completely on the limit, my heart rate was through the roof and I was breathing so hard. I crashed down pretty hard as well and with five to go I didn't even think I was going to finish the race.
Ian had told us in his Diary before the race that he had an aim, "I really wanted top twenty and I was close to catching Mourey on the line so it was close. I gave it absolutely everything and I got everything out so now it's time for a break and rebuild for next season," he reflected afterwards.
Today was Van der Poel's third World cyclocross title - after two junior race victories in 2012 and 2013.
"It's a good day for Nederland," bronze medalist Van der Haar said afterwards, but it remains to be seen how many more seasons Van der Poel will see 'cross as his main target before he is most likely lured into making road racing his focus.
In 2013 he also won the World junior road race crown. After following in his father's footsteps in Tabor, Mathieu's grandfather – French Tour legend Raymond Poulidor - may now begin to start feeding him some Tour de France tips.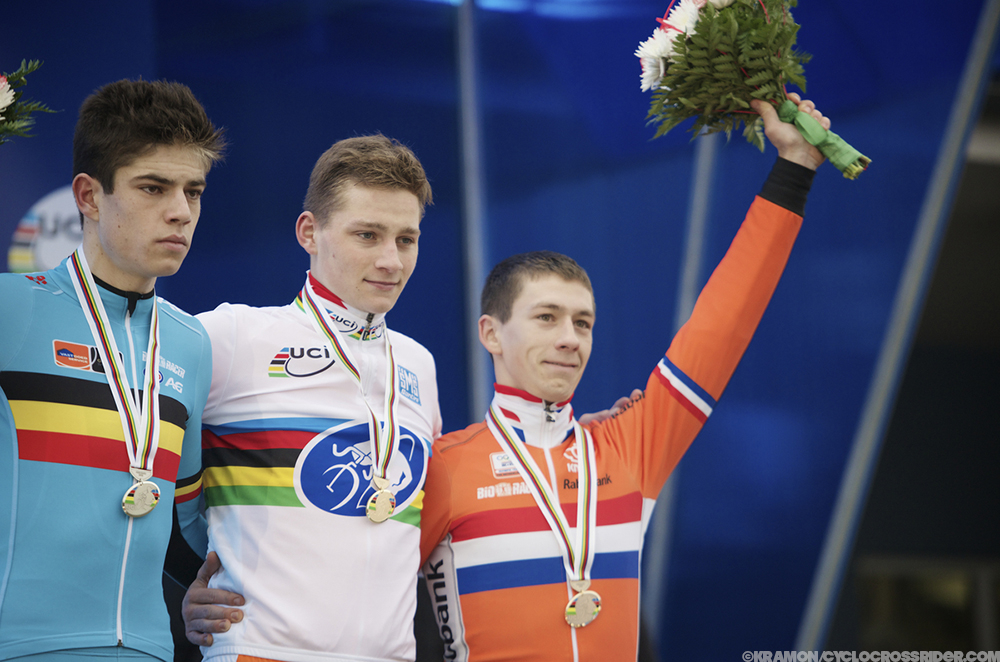 Results
1 Mathieu van der Poel

69:12
2 Wout van Aert

+0:15
3 Lars van der Haar

+0:17
4 Kevin Pauwels

5 Klaas Vantornout

6 Tom Meeusen

7 Gianni Vermeersch

8 Marcel Meisen

9 Philipp Walsleben

10 Marco Fontana