No USA for MVDP or LVDH

The new cyclocross season will kick-off without two of the biggest young stars. Neither Lars van der Haar nor 2015 World Champion Mathieu van der Poel will travel to America for the two opening rounds of the UCI World Cup, in late September, leaving the way clear for Wout Van Aert to steal a march on them.
Dutchman Van der Haar has confirmed that he is suffering from a hamstring injury - an inflamed tendon - and has struggled with it for the last four weeks. On September 1st, the twenty-five-year-old tweeted that he "needed to make the hard decision that I won't make it to Vegas and Iowa." Van der Haar was the runner-up to Belgian Van Aert in last season's World Cup series.
Van der Poel, meanwhile, underwent surgery on both his knees at the end of July and resumed training in mid-August. The twenty-one-year-old ditched plans to qualify for the Olympic Games mountain bike race and was unable to complete his road racing preparation for the new 'cross season.
Injury - resulting in surgery - also affected Van der Poel twelve months ago and he missed part of the season before winning the last four rounds of the World Cup.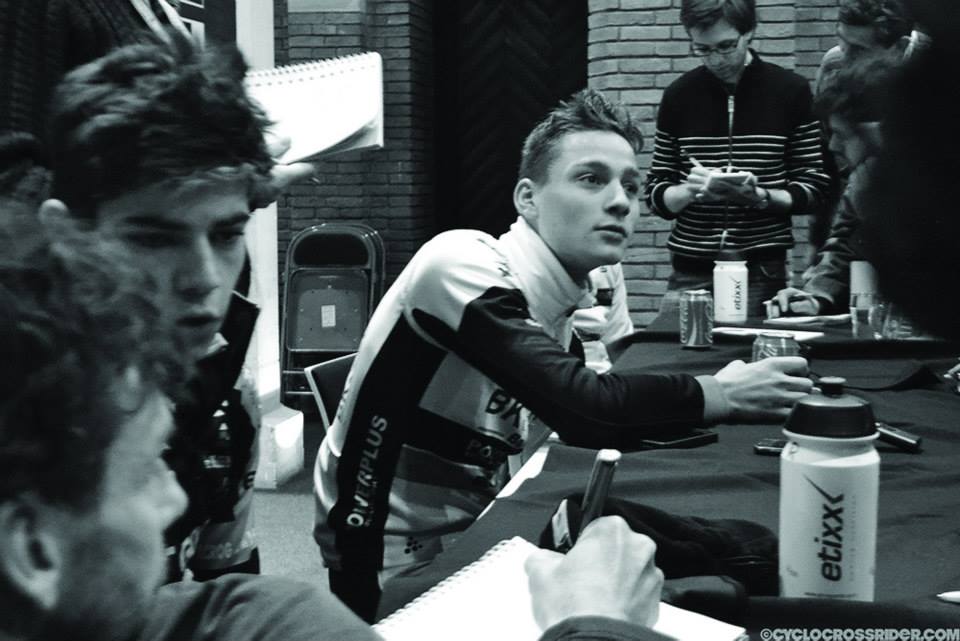 Mathieu van der Poel and Wout Van Aert (nearest camera).
Meanwhile Van der Poel's arch rival Wout Van Aert won the tough UCI 1.1 ranked Schaal Sels road race at the end of August to show that he is on top form to defend his World Cup title. The UCI World Cup starts at CrossVegas on September 21st.
Van Aert extended his contract with the Crelan-Vastgoedservice team to the end of 2019 during the summer which would indicate that his immediate future is very much concentrated on cyclocross.
"I am really enjoying myself in the team," Van Aert told the Belgian press in June. "There were very few stumbling blocks during the talks."


Peeters and Kachorek win UCI opener in China
The Qiansen Trophy once again opened the UCI cyclocross season - a little early - on August 31st.
The race winners in dry and dusty conditions were Belgian Rob Peeters and American Emily Kachorek. Racing continued with a second UCI race in China on September 3rd. Marcel Wildhaber (SUI) and Dutchwoman Ceylin Alvarado won the second races.
The first big European UCI-ranked race is the new Brico Cross in Geraardsbergen on September 11th.


Three Peaks looming large
For many British cyclocross racers the famous Three Peaks Cyclocross - held over three Yorkshire mountains - is looming on the horizon at the end of September. To get you in the mood we present some reminders of this gruelling race including an extensive 'Photo Tour' of the 38-mile course. CLICK HERE